These hand-held Mini Cherry Pies with a whole wheat crust are bursting with juicy cherry goodness and are the perfect make ahead summer dessert.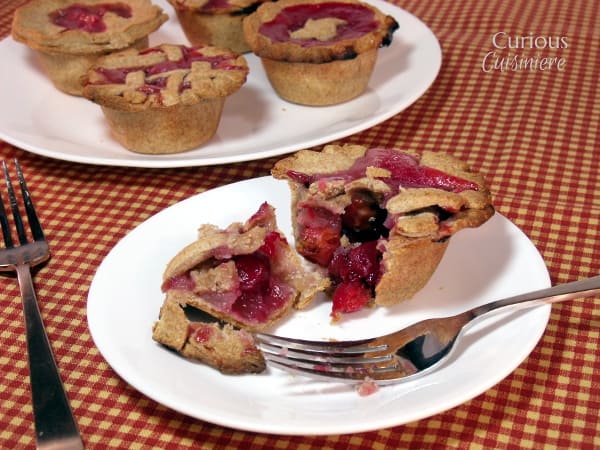 It's Labor Day weekend.
How did that happen?
Did it sneak up on you as much as it snuck up on us?
All of the sudden they're telling us it's September. And I'm not ready to believe it.
But, ready or not, the fun part is that your weekend will hopefully be filled with fun summer gatherings. (Notice I didn't say "end of the summer gatherings.")
Our Mini Cherry Pies: A Make Ahead Desserts
Summer food is hand-held food. So, we decided to make one of our favorite summer desserts hand-held too.
These little pies do take some time to come together, but the good news is that you can make them ahead of time and refrigerate them.
Just a quick stint in the oven and they're good to go.
Or, you can take an afternoon and bake up a really big batch. Once cool, pop them in a sealed container or bag and freeze them.
Down the road, after you've forgotten your afternoon of baking and you need a classy sweet, grab a few from the freezer, wrap them in aluminum foil, and pop them into a 400 degree oven for one hour.
You've just whipped out a tasty dessert without any hassle at all.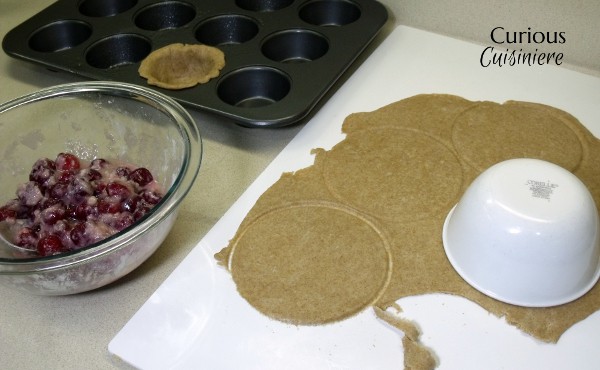 How To Make A Lattice Crust: Whole Wheat Crust
Now, on to the one complicated part: the lattice crust.
I'm still a bit intimidated by a whole lattice pie, so I figured mini lattice-ing might be just the place to start. Fewer pieces makes the process less scary.
The basis of the lattice is the over, under, over, under pattern, and what really helps here is a crust dough that holds together well.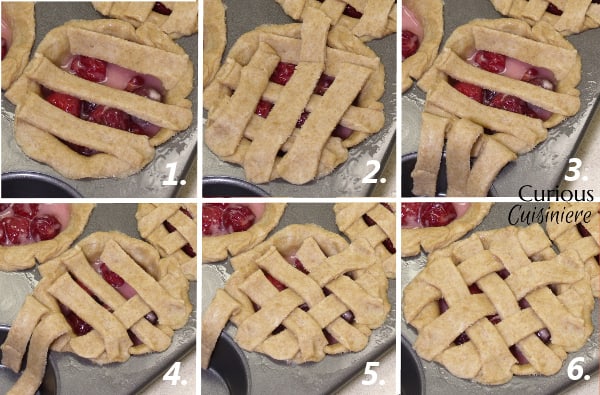 1. First, lay one set across the pie. Crimping them down on one edge.
2. Next, lay the other direction. Crimp these guys down on one side too.
3.Peel back the top layer, you're about to start weaving. (This is where crimping the edge well comes in handy.
4, 5, & 6. Taking one strand at a time, weave them through, alternating going over or under the first strand.
Really, it just looks hard. But, once you get the technique, you'll be latice-ing all day!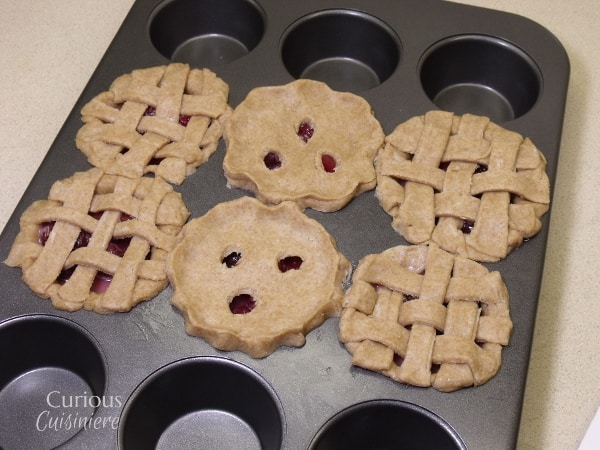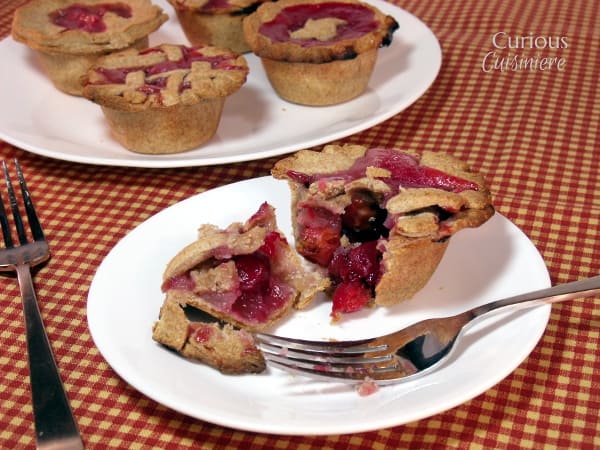 Mini Cherry Pies with a Whole Wheat Crust
These hand-held Mini Cherry Pies a bursting with juicy cherry goodness and are the perfect make ahead summer dessert.
Yield: 12 mini pies
---
Ingredients
For the Crust
2

c

whole wheat flour

(or unbleached all-purpose flour)

1

tsp

salt

16

Tbsp (2 sticks)

unsalted butter,

cold, cut into cubes

8

- 10 Tbsp

water,

ice-cold
For the Filling
6

c

tart cherries,

washed and pitted

1 ½

c

sugar

¾

tsp

almond extract

1/8

tsp

salt
Instructions
Preheat oven to 425F.

For the crust: In a large bowl, mix flours and salt. Add butter, and using a pastry blender or a fork cut in the butter until the butter chunks are the size of peas. Add 4 Tbsp of ice water, and mix well. Continue adding 1 Tbsp of water at a time, mixing between each addition, until mixture holds together. Divide dough in half.

For the bottom crust: Roll half of the crust dough out, 1/8" thick. Cut 12 circles roughly 5" in diameter. (We found a bowl that was about that size to use as a cutter.) Carefully place each round into the bottom of a greased muffin tin so that there are no air-bubbles under the crust, and the top lips over the edge of the tin.

For the filling: In a medium bowl, mix all filling ingredients together. Spoon a half cup of filling into each bottom crust.

For the top crust: Roll the second half of the dough out, again 1/8" thick. Cut this crust roughly 3 ½" in diameter if you are doing a solid top crust. If you are doing a lattice top crust, cut strips ½" x 3 ½". For the solid top crust: cut air vents in the crust before placing it on the pie. Tightly pinch the edges. For the lattice crust: using six strips per pie, pinch the strips to the bottom and side of the pie and layer as show above.

Place the muffin tin on the middle rack of your preheated oven. Place a cookie sheet on the rack below your muffin tin (this will catch any spill over).

Bake 20-25 min, until pies are bubbly and the crust is golden.

Remove pies from the oven and let cool 10 min in the pan on a wire rack. Once the pies are cool enough to touch, gently twist them in the tins to loosen before completely removing them.
---
If you liked this recipe, here are some similar dishes you may enjoy!