Crock Pot Wings are incredibly simple to make and a sweet mango mustard sauce makes these wings irresistible.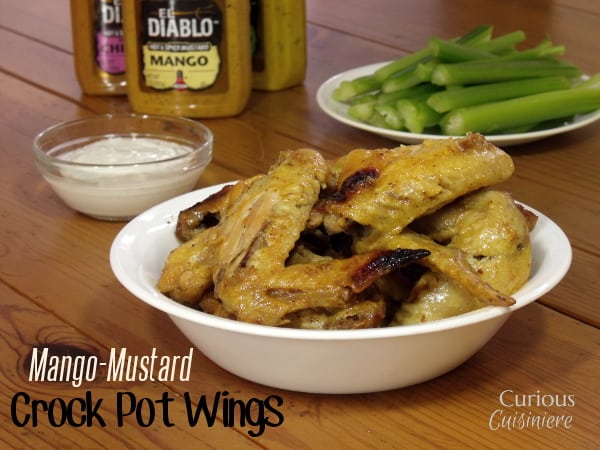 For Tim, a game-watching party isn't really complete without a plate of wings. Buffalo, BBQ or some other fun flavor, as long as there are wings, he is happy.
That's not to say the sauce isn't important.
The sauce is (almost) the reason for the wings. So, it has to be perfect.
With Tim's wing passion, we were surprised when we realized that we had actually never cooked wings at home.
I think some of the reasoning was that we don't like to venture into deep-fried territory. But, like with nearly everything deep-fried, there is a way around the vat of oil.
In the case of wings, there are a few options: grilled, baked or baked and simmered, to name just three.
Since game day parties require food that can be kept at eating temperature for a couple of hours, we went with the baked and simmered option because it let us make use of our crock pot. (Like yesterday's Pulled Pork.)
Baking the wings before tossing them in the crock pot with the sauce, locks the juices inside, similar to searing the meat, resulting in incredibly moist wings. It also crisps up the skin, so it doesn't get overly soggy in the sauce. (It won't stay crisp though, so if you're looking for that crisp skin, we'd recommend using the baked-only method.)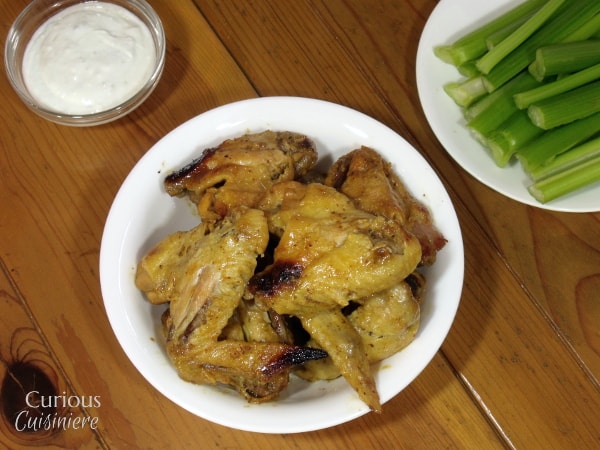 So what sauce did we pick for this first endeavor?
One of the #10DaysofTailgate sponsors, El Diablo Hot and Spicy Mustard, generously sent each of the bloggers a sample pack of their six mustard varieties.
It was hard to pick which one to use, but we love the sweet and spicy combo, so the Mango Mustard won out.
If you're not big on spicy food, these crock pot wings are the way to go. The spice mellows during the extended cooking time, leaving you with a sweet and tangy mustard sauce that carries a fraction of the initial heat.
I do feel like we need to apologize to the El Diablo people for cooking their heat down, though. Flavorful heat, after all, is their motivation. But, if you like it hot, you can always use some of their mustard as a dipping sauce for the wings. That'll kick the heat right back up. (Trust us. We just might have done that ourselves…)
Mango-Mustard Crock Pot Wings
Author:
Sarah | Curious Cuisiniere
Ingredients
3 lbs chicken wings (thawed if frozen)
½ c El Diablo Mango Mustard
2 Tbsp honey
Instructions
Preheat your oven to 375F.
Place the wings on an aluminum foil lined baking sheet. Bake wings for 20 minutes.
Remove the wings from the oven and place in a 2-3 qt crock pot.
Mix mustard and honey in a small bowl. Pour over wings and mix to coat.
Cook on high for 2-2 ½ hours or on low for 3-4 hours, until wings are tender. If possible, stir occasionally to ensure the wings are evenly coated with the sauce.
Notes
Based on nutritional guidelines, 4 oz of chicken wings is a serving. Depending on the size of the wings this can be 1-4 wings. We found that this isn't a particularly accurate gauge for how we actually eat wings. But, at least you know what the 'technical' serving size is.
DISCLOSURE: We received samples of El Diablo Hot and Spicy Mustard that we used in this recipe. We were not compensated for our time. As always, all opinions are our own.
---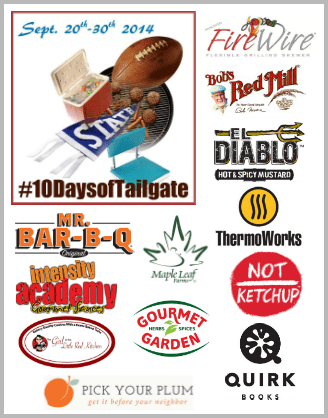 Here's what the team brought to today's game!
Starters
Sips
Dips
Mains
Sides
 A huge thank you goes to
Culinary Adventures with Camilla
for putting together the #10DaysofTailgate event, and to all our sponsors who have graciously donated prizes for our readers.
If you liked this recipe, here are some similar dishes you may enjoy!