If you like this dish, sign up for our newsletter to get tasty, cultural inspiration straight to your inbox. Where will you travel this week?
Sweet and spicy. Deep and smoky. These tender chipotle bbq pork chops get a bright sweetness from mangoes!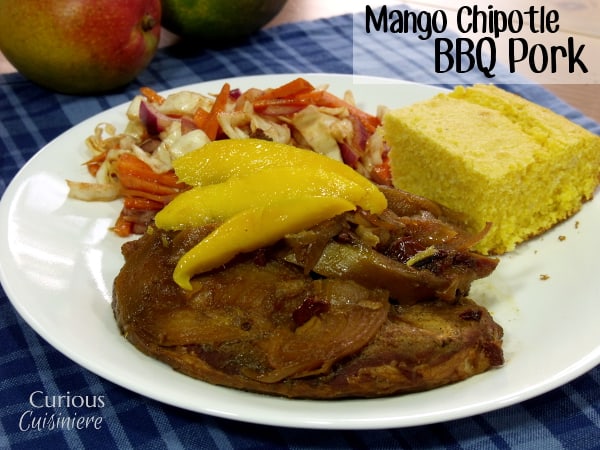 Loving Mangoes
I love that when you eat a mango, you just feel tropical. Something about that bright, fresh burst of flavor can transport you to an island paradise in one bite.
It's a beautiful thing.
Outside of the mental benefit of the momentary feeling of enjoying a tropical vacation, mangoes pack a ton of other (more well tested) health benefits.
As a source of Vitamin A and beta-carotene, they are good for your eyes. Like many fruits and vegetables, they are high in fiber, which helps with digestion and may lessen the risk of heart disease. (Women need 25g a day and men need 38g!) They are also a great source of Vitamin C and potassium.
Really, what's not to love?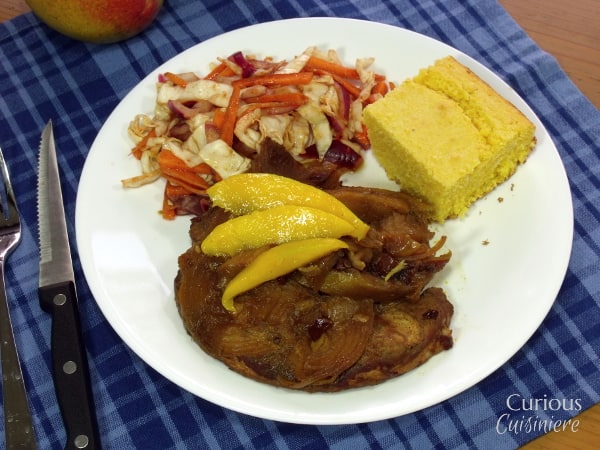 Slow Cooker Pork Chops: An Easy Meal
And, for those summer nights when you need a meal quick or you don't feel like grilling, pulling out the crock pot is a great option.
The crock pot is such an underrated summer cooking tool. We just have to get out of thinking about crock pots for soups, chili, and stews.
It can do so much more!
Like BBQ pork.
Without the grill.
And, with nearly no work at all.
Our Mango BBQ Sauce
Really, this recipe is all about the sauce.
Sweet and spicy. Deep and smoky. These tender pork chops blend chipotle spice with bright mango sweetness.
Mango gives this pork a summery brightness, while chipotle peppers bring some heat and depth of flavor. With just a splash of molasses , you've created your own Chipotle Mango BBQ sauce!
This pork is perfect on its own, but we won't tell if you make an extra big batch, shred it, and use it for some killer Mango Chipotle BBQ Pork sandwiches.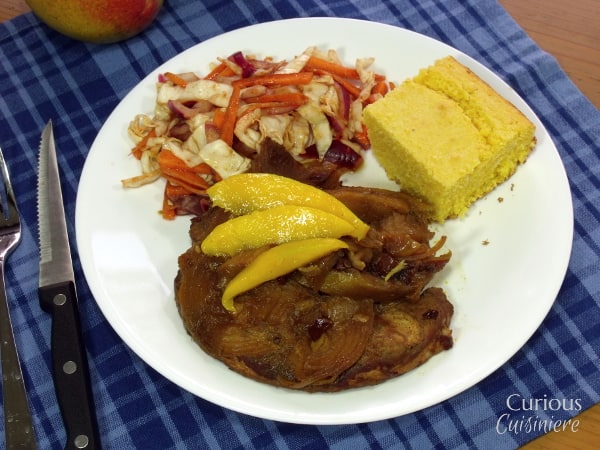 Mango BBQ Sauce and Slow Cooker Pork Chops
Sweet and spicy. Deep and smoky. Chipole Mango BBQ Sauce is the perfect accompaniment to tender, slow cooker pork.
---
Ingredients
1

lb

boneless pork sirloin chops,

frozen*

1

onion,

sliced

1

mango,

pitted, peeled, and sliced

2

chipotles in abodo,

minced

½

c

water

1

Tbsp

molasses
Instructions
Place pork chops in the bottom of a 2-3 qt crock pot. Layer onions, mango slices, and chipotles over the pork. Mix molasses and water. Pour over the ingredients in the crock pot.

Cook 3-4 hours on high or 5-6 hours on low.

Serve pork chops with a cabbage slaw and, if desired, top with fresh, sliced mango.
---
Recipe Notes
*If your pork chops are thawed, reduce the cooking time by 2 hours.
Feeling the mango craving? Check out some other ways we love mangos:
Mango Chicken Curry
Mango Lassi
Mango BBQ Chicken Pizza
Mango Creme Brulee
Mango Lime Fajitas
If you liked this recipe, here are some similar dishes you may enjoy!