Smooth and creamy pumpkin pie with a nutty pecan crust. These mini pumpkin pies are lightened up versions of the holiday classic, so you can feel good about indulging. 
Who loves pie?
In my family, you can't have Thanksgiving without pie. Actually, you can't have Thanksgiving without copious amounts of pie.
The first Thanksgiving Tim attended with my family, his eyes nearly popped out of his head when he saw the table we had set up just to serve the pie.
Chocolate pudding pie. Cherry pie. Apple pie. Lemon meringue pie. And, of course, pumpkin pie. Actually, a couple of pumpkin pies, because one of my cousins always requests an extra be made for him to take home.
We just like our pie. Can you blame us?
When my mom brings the pie, you always know it is going to be a treat because typically you can count on her to bring Blueberry Pie or her Deep Dish Pumpkin Pie. (If you're lucky, she'll bring both.) Her Deep Dish Pumpkin Pie is made in a 9×13 pan, and is really more of a pumpkin pie bar with tons of beautiful, thick pumpkin custard. A pecan crumb crust replaces the traditional rolled crust, and it is topped with a sprinkling of pecan crumble. It is heaven.
But that's not the pie we're talking about today.
Well, sort of.
Our mini pumpkin pie recipe
We were given the challenge to lighten up one of our favorite holiday pies, and the first pie that popped into our mind was my mom's Deep Dish Pumpkin Pie.
To start things off, we made the big pie into individual servings. Making mini pies is great for portion control, but, honestly, our reasons are a bit more selfish. Mini pies mean more crust! (And, we all know that's the best part!)
Lightened up mini pumpkin pies!
To lighten up the pies, we reduced the butter in the crust and substituted skim milk with a little cornstarch and brown sugar for the sweetened condensed milk that would normally be found in a pumpkin pie filling.
I'll admit, we were a bit unsure how the milk would act as a replacement for the thick and creamy sweetened condensed milk. But, we were SO impressed with how these turned out.
Cornstarch is the key. When using a thinner liquid, like skim milk, the pie needs something extra to thicken it up and help it set.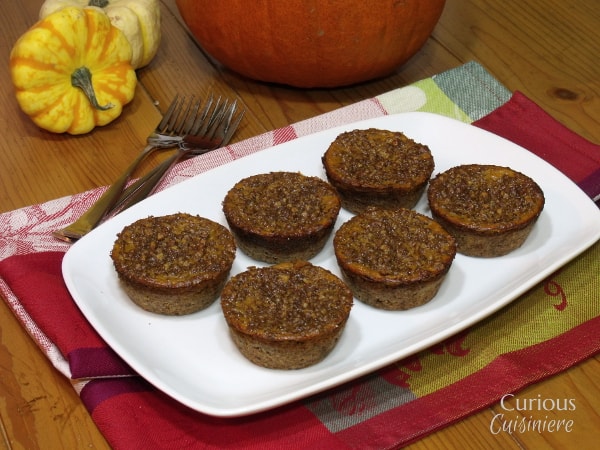 While not as rich as my mom's Deep Dish Pumpkin Pie, these mini pies make for quite a tasty, lighter option.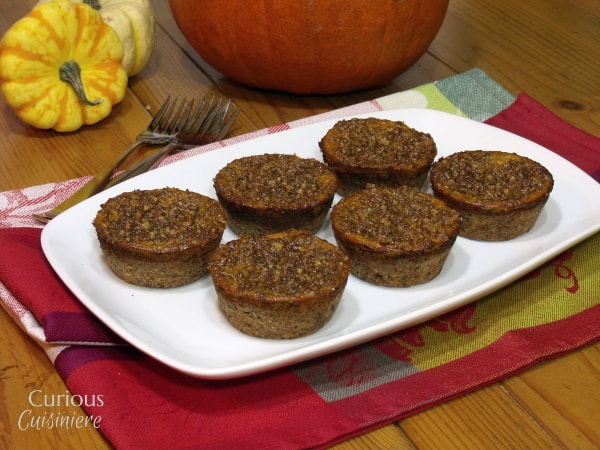 Lightened Up Mini Pumpkin Pie
Smooth and creamy pumpkin pie with a nutty pecan crust.
Yield: 12 mini pumpkin pies
---
Ingredients
For the Crust
½

c

rolled oats

½

c

pecans

¼

c

flax seed,

ground

2

Tbsp

brown sugar

4

Tbsp

salted butter,

softened, cubed

1/3

c

water
For the Filling
2

cups (1-15oz can)

pumpkin puree

(NOT pumpkin pie filling!)

1/3

c

brown sugar

1

Tbsp

cornstarch

2

eggs

2

tsp

cinnamon

½

tsp

allspice

½

tsp

ginger

½

tsp

salt

1 ½

c

skim milk
For the Topping
¼

c

pecans

2

Tbsp

brown sugar
Instructions
Preheat your oven to 350F.
For the Crust
In the bowl of your food processor, place the oats and ½ c pecans. Pulse until finely chopped.

Add flour, ground flax seed and 2 Tbsp brown sugar. Pulse to combine.

Add butter cubes and pulse to cut the butter into the mixture, until it resembles coarse sand.

Add the water, 1 tablespoon at a time, pulsing after each addition, until the mixture begins to stick together. (If you press your finger into the dough, it should hold its shape and not crumble apart.)

Press 1 tablespoon of dough into each of the wells of a well-greased muffin tin. Press the dough up the sides of the tin, to line the tin with crust.
For the Filling
In a medium bowl, whisk pumpkin puree with 1/3 c brown sugar, corn starch, eggs, cinnamon, allspice, ginger and salt. Add milk and mix until combined.

Pour roughly ¼ c of filling into each crust-filled muffin tin.
For the Topping
Pulse ½ c pecans and 2 Tbsp brown sugar until the pecans are finely chopped.

Sprinkle the topping over the pumpkin custard.
Baking and Beyond
Bake the pies for 45-50 minutes, until a knife inserted in the center pie comes out clean.

Let the pies cool in the pan for 10-15 minutes before running a knife around the outside of each of the pies to loosen the crust.

Once loosened, invert the pan over a flat baking sheet and give the muffin pan a couple of shakes. If the tin was well-greased, the pies should pop right out. Turn them right side up and cool completely on a wire rack.

These pies will keep up to one week in the refrigerator.
---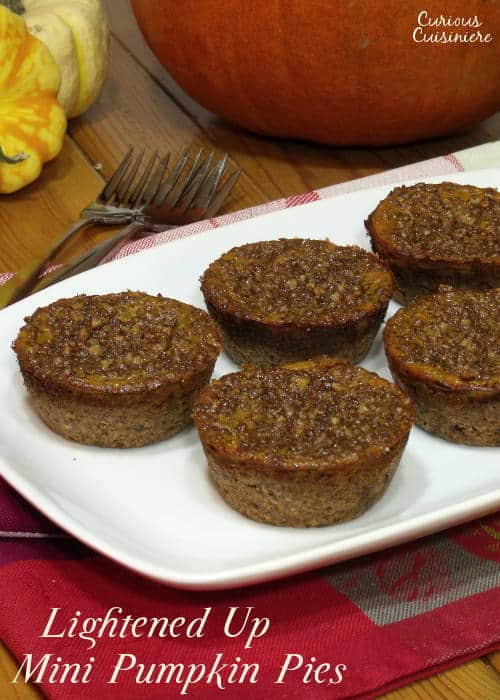 If you liked this recipe, here are some similar dishes you may enjoy!