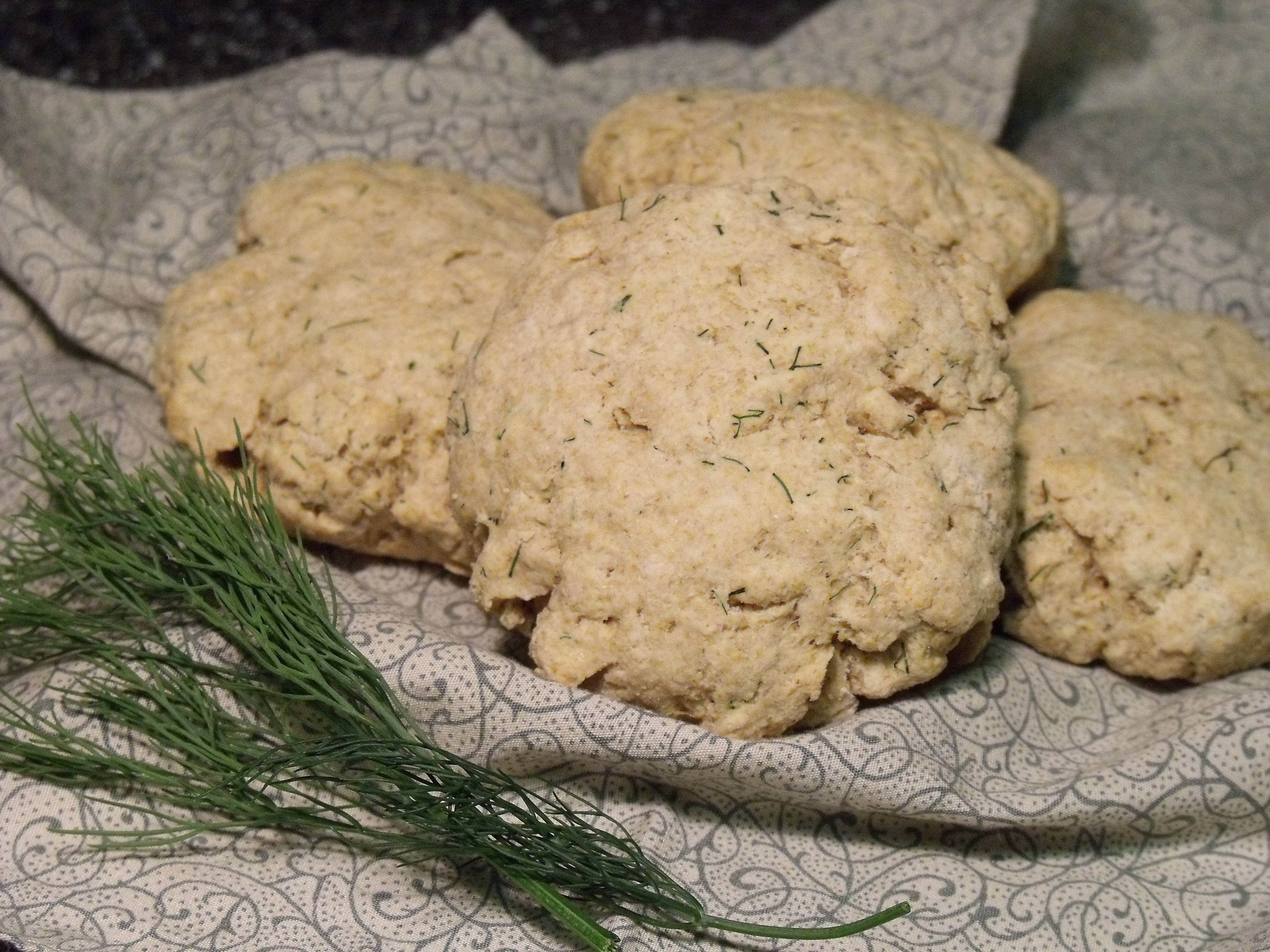 I was given a large bunch of dill from a friend's market surplus and immediately the gears started turning for how I could use the dill.
I LOVE biscuits, but don't vary my ingredients much because, really, who can mess with a perfect, buttery, warm and slightly crisp biscuit?  Even it's simplest form is heaven.
Why change a good thing?
After making these, I think I need to branch out of my box a bit.  I'm not cheating on the original, but a little creativity now and again can be a wonderful thing.
These dense little biscuits are bursting with the summery flavor of lemon and dill, and they made a great change from the typical morning biscuit.  I guess you could put jam on them (like I do for  normal biscuits), but these seem more suited as an accompaniment to a light summer salad.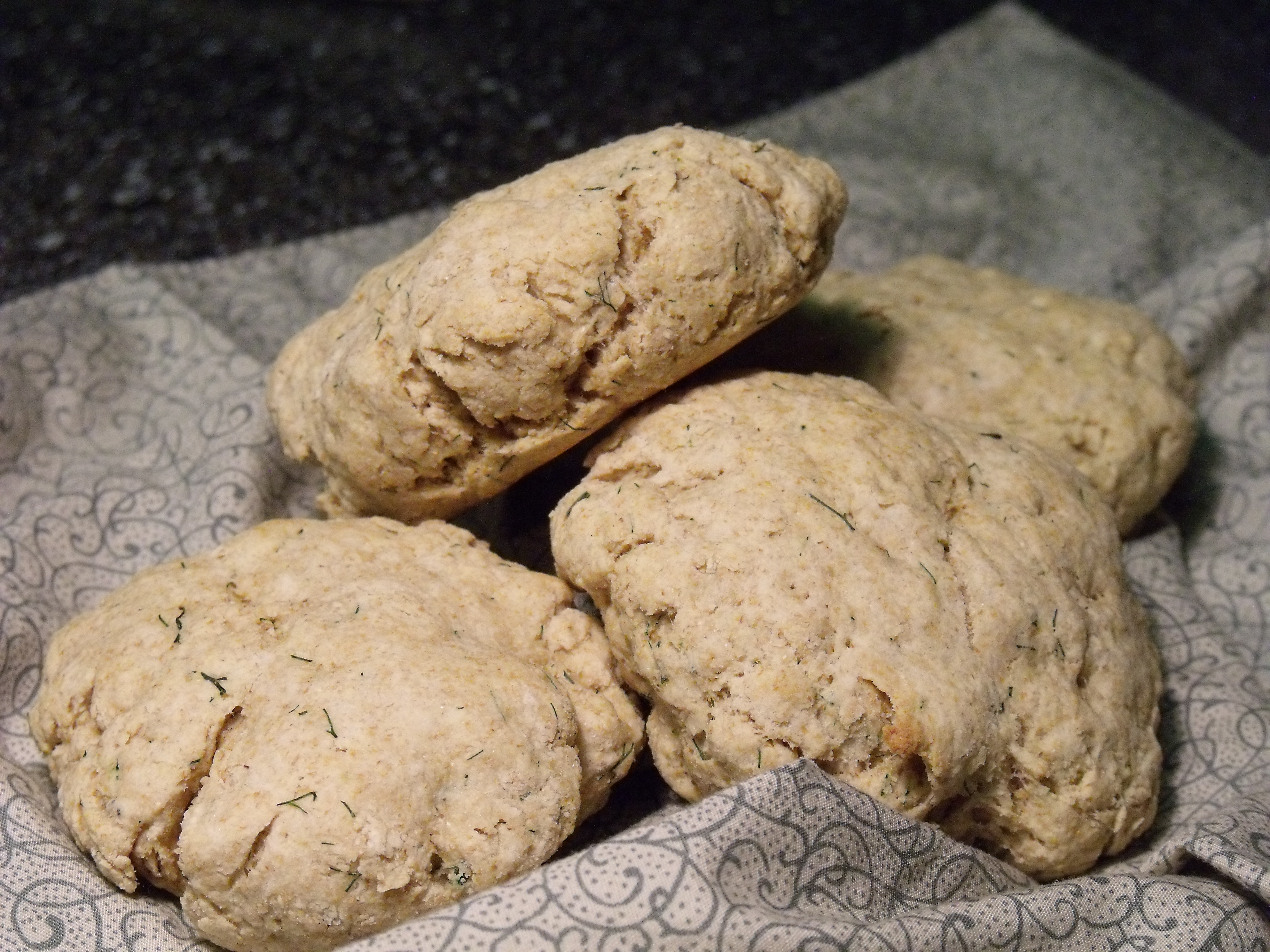 Lemon Dill Wheat Biscuits
Yield 12 biscuits
Ingredients
1 c milk
3 Tbsp lemon juice
3 c white whole wheat flour (White whole wheat is a bit lighter than normal whole wheat.  You could substitute 2 c normal wheat flour and 1 c white flour)
2 tsp baking powder
1 ½ tsp baking soda
1 ½ tsp sugar
¾ tsp salt
3 Tbsp fresh dill, chopped
6 Tbsp cold butter, cut into small chunks
Directions
Preheat oven to 400F.
In a small bowl, combine milk and lemon juice.
In a large bowl, mix flour, baking powder, baking soda, sugar, salt, lemon zest, and dill.
Cut in butter using a fork or pastry blender until it is the size of small peas.
Add milk mixture to the flour mixture and mix until the milk is incorporated.  It will seem a bit dry.
With your hands, gently knead the dough for a few minutes to bring it all together.  If it is still too dry, you can add a bit more milk, 1 tsp at a time, until the dough holds together.
Shape the dough into 2" balls and flatten each ball to a ½" high disc before placing on a cookie sheet.
Bake for 10-15 minutes.  The biscuits will be just starting to turn golden.
Cool on a wire rack a few minutes before enjoying.
I'm sending these biscuits over to the Bake Your Own Bread link up.  Head on over to join in the baking fun and see the other recipes from this month!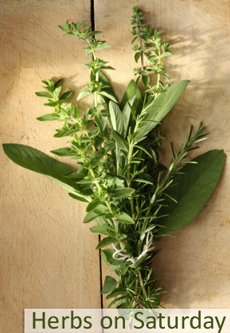 I'm also sending this over to Lavender and Lovage's Herbs on Saturday link up.
If you liked this recipe, here are some similar dishes you may enjoy!