This sweet potato and apple bake recipe brings the fall flavors of sweet potatoes, apples, and cranberries together with the nutty crunch of toasted pecans for the perfect Thanksgiving side dish.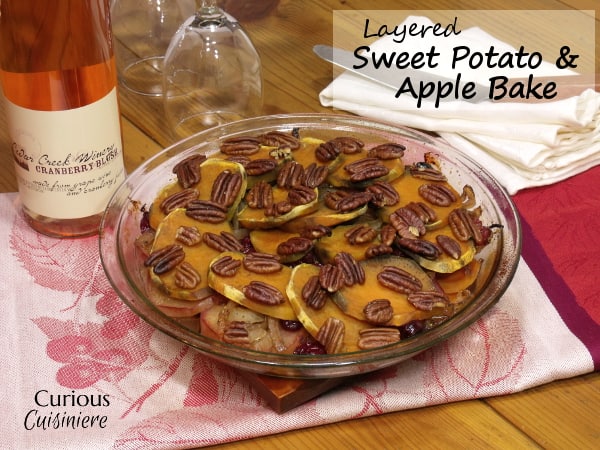 One of our favorite parts of the Thanksgiving meal is the sweet potatoes. My mom makes an AMAZING candied sweet potato dish, and I think that is what hooked me on the sweet root veggie.
Not your classic sweet potato casserole
Now, I know a lot of people are partial to the sticky-sweet, mashed sweet potato casserole topped with marshmallows. But, I like to taste the sweetness and flavor of the potatoes themselves. And, I like to mix things up a bit.
If you like things on the sweeter side, we did a similar Sweet Potato Bake with Apples a few years back that brings a bit more of the brown sugar and cinnamon sweetness to the dish.
Our Sweet Potato and Apple Bake Recipe
This bake creates a beautiful layered dish with apples, onions and festive cranberries sandwiched between two layers of sweet potatoes.
It is a dish that really allows the flavor of the sweet potatoes to shine.
Don't forget the garnish!
The final touch to this sweet potato and apple bake is the pecans. By adding pecans to the top of the dish during the final 10 minutes of cooking, the pecans are toasted to perfection.
These toasted pecans create a wonderful contrast of deep nutty notes to the sweetness of the potatoes, and gives the perfect balance of texture to the dish with their added crunch.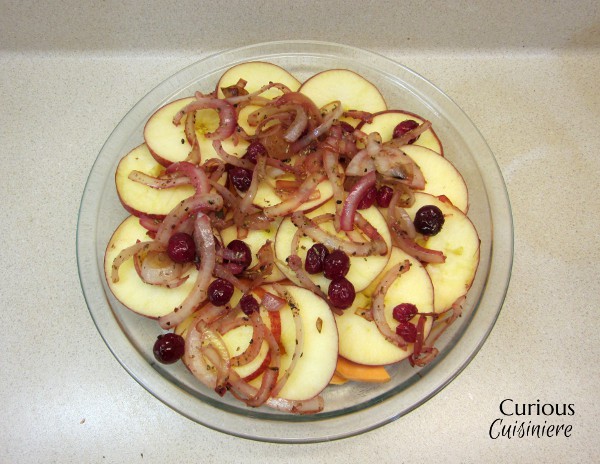 Thanksgiving wine pairing
We're paring today's Thanksgiving side dish with the Cranberry Blush from Cedar Creek Winery in Cedarburg, WI.
We stopped by this winery with some friends about a month back and had one of the best wine tastings we have every experienced. While we were only able to taste a few of their wines, they took the time to educate us on the proper way to taste wine, showing us what to look for and how to taste the different elements.
The winery has been around since 1990 and the winemaker, Philippe Coquard, is originally from France. Philippe gives incredible attention to bringing simplicity into his wines, allowing the flavors of the grape to really shine through.
The Cranberry Blush is a semi-sweet white wine with a burst of cranberry flavor from Wisconsin cranberry juice. Cranberry wines can be a bit tricky, tending to sway either too sweet or too tart, but not in this wine. We found tartness of the cranberry to be evenly balance out by the sweetness of the grape, resulting in a wine that is perfect for this time of year.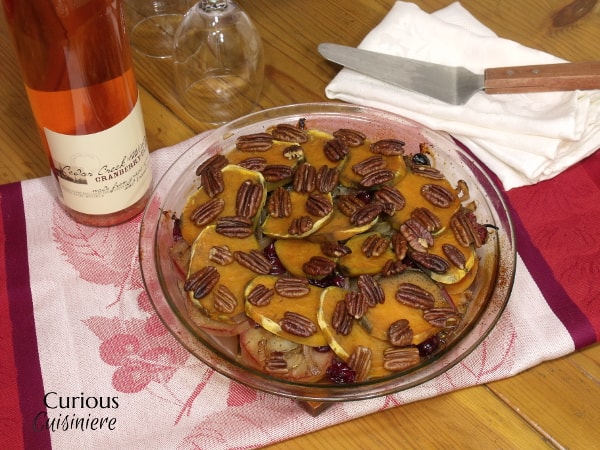 Layered Sweet Potato and Apple Bake
Sweet potatoes, apples, and cranberries come together with the nutty crunch of toasted pecans.
Yield: 1 (9 inch) pie pan (or 8x8 baking dish)

Ingredients
1

tsp

salted butter

1

onion,

sliced

½

c

cranberries,

fresh

1

tsp

rosemary

½

tsp

salt

1/8

tsp

ground black pepper

2

large

sweet baking apples,

(Gala, Johagold or McIntosh), sliced ¼" thick and cored

2

large

sweet potatoes,

peeled and sliced ¼" thick

½

c

vegetable broth

or water

½

c

pecan halves
Instructions
Preheat oven to 400F.

In a small skillet, heat butter over medium high heat. Add onion slices and saute until softened, 3-5 minutes. Add cranberries and saute until soft, 2-3 min. Remove the mixture from the heat and mix in the rosemary, salt and pepper.

In a greased 9" pie pan, layer half of the sweet potato slices, followed by the apple slices and cranberry mixture. Finish it off with the remaining sweet potatoes and pour the broth over top.

Cover the dish with aluminum foil and bake for 45min-1 hour, until the potatoes are soft. (You can test this by inserting a knife into the center of the dish. If it slides in easily, the potatoes are cooked.)

Top the dish with the pecans and return to the oven, uncovered, to toast the pecans for 7-10 minutes.
Nutrition
Calories:
116
kcal
|
Carbohydrates:
17.3
g
|
Protein:
1.8
g
|
Fat:
5.1
g
|
Saturated Fat:
0.8
g
|
Cholesterol:
1
mg
|
Sodium:
217
mg
|
Fiber:
3.6
g
|
Sugar:
8.2
g
---
More creative Thanksgiving dishes and wine pairings!
Mains
Sides
Desserts
Don't Forget Leftovers!
David of Cooking Chat started this event in June of 2014, and every month since then this group of wine and food lovers have had a great time! For more background, check out the original post announcing Wine Pairing Weekend. You can see the full list of past and upcoming #winePW events here.
If you liked this recipe, here are some similar dishes you may enjoy!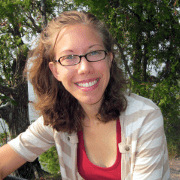 Sarah is one of Curious Cuisiniere's founding duo. Her love for cultural cuisines was instilled early by her French Canadian Grandmother. Her experience in the kitchen and in recipe development comes from years working in professional kitchens. She has traveled extensively and enjoys bringing the flavors of her travels back to create easy-to-make recipes.