Kale adds a peppery robustness to the bright basil and rich cheese flavors of this Kale Pesto. Spread over toasted baguette slices, it makes for a perfect summer appetizer.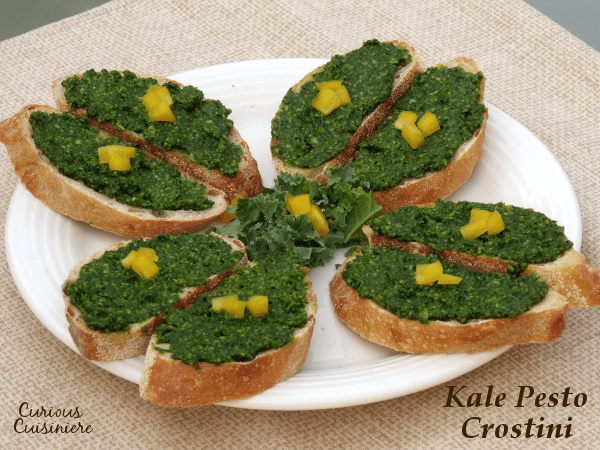 Cooking Chat Cookbook
When our friend David over at Cooking Chat let us know that he was releasing a cookbook, we were incredibly excited to see what he had come up with. His recipes are always beautiful combinations of fresh flavors, so we knew this cookbook would be something special.
Boy were we right! His e-cookbook features 20 recipes for cooking with greens including tasty starters like a Bacon and Greens Dip, unique salads, hearty soups, and an array of pasta dishes. (We love that he used dandelion greens in his Double Green Lasagna. That is one we have to try!) He brings the green love to an array of proteins from salmon to pork and even seitan and tofu. If you love healthy cooking, if you love your greens, or if you wish you could love those greens, this is a cookbook for you! (Find it here!)
We decided to try out his Kale Pesto Crostini, thinking they would be perfect bites to nibble on a lazy afternoon.
Kale Pesto Crostini
We do love our pesto. We always have frozen cubes of pesto on hand from our basil harvest. We've used our pesto as a sauce for our Roasted Zucchini Pizza and in our beautifully springy Gnocchi with Pesto and Peas. We've also been known to throw some unique ingredients in our pesto, like broccoli and avocado and sunflower seeds.
So, we were quite excited to see how kale fared as a pesto ingredient.
What Is Kale?
Kale is a dark, leafy green that comes from the same family as broccoli and Brussels sprouts, so you do get a little of that dark cabbage flavor and slight bitterness to the leaves. You will find it commonly used across Europe and into parts of Africa and Asia.
In the States it is more common in the South, but it is definitely seeing a rise in popularity.
Buying The Best Kale
I'm sure you've seen kale either chopped and bagged or whole and fresh in the grocery stores or farmer's markets.
We have found that the fresh kale with the leaves tied together in their loose rosette has a MUCH better flavor than the bagged versions. (Honestly, we swore off of kale for nearly a year after trying a bagged version first. Such a bad idea!)
Just one more reason to buy fresh and local!
Cooking With Dark Leafy Greens
In his cookbook David mentions that dark greens can have a bit of a bitter taste, which needs to be balanced.
Using cheese and a bit of salt like he does in his pesto are a great way to do that. The kale adds a peppery depth of flavor to the traditional pesto brightness that is really incredible.
We followed David's recipe, but substituted walnuts for the pumpkin seeds, because we realized we were out only after we started making the pesto. We also used less oil than David calls for because we tend to like a thicker pesto.
The flavor was incredible! The pesto was perfect spread over toasted slices of baguette and were lucky enough to have a little pesto leftover that we ate with pasta the next day. We couldn't decide which we liked more!
Be sure to grab your own copy of the Collards & Kale Cookbook. It will have your whole family loving their dark, leafy greens!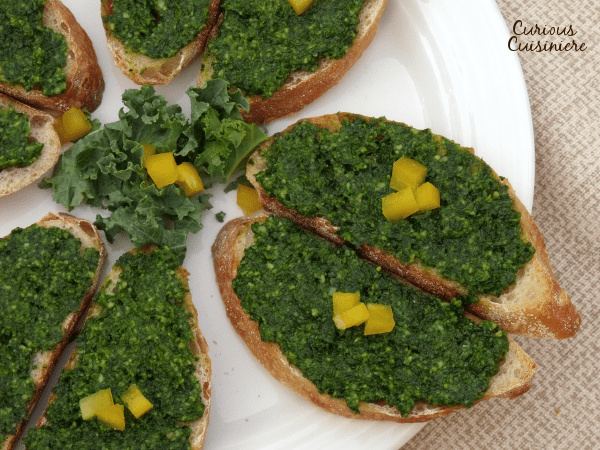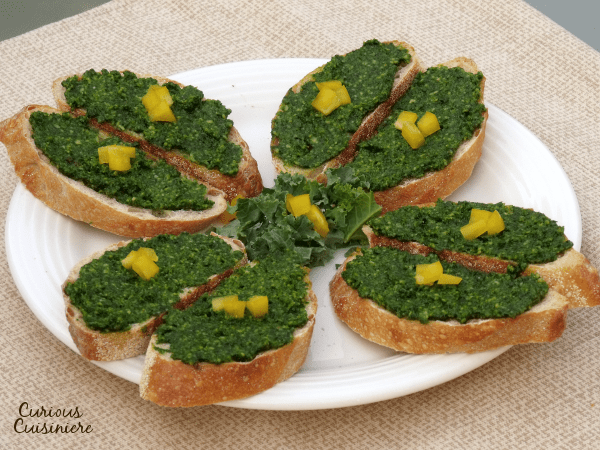 Kale Pesto Crostini
Kale adds a peppery robustness to the bright basil and rich cheese flavors of this Kale Pesto. Spread over toasted baguette slices, it makes for a perfect summer appetizer.
Yield: roughly 3/4 c pesto and 12 crostini
Cuisine:
Italian-American
---
Ingredients
For the Pesto
2

c

kale,

chopped

1 ½

garlic cloves

2

Tbsp

walnuts

Pinch

red pepper flakes

¼

c

Pecorino Romano cheese,

grated

3

Tbsp

extra virgin olive oil

½

tsp

salt
For the Crostini
½

baguette,

sliced ½ inch (roughly 12 slices)

Olive oil

(for brushing) or cooking spray

Chopped fresh bell peppers or tomatoes for garnish

(optional)
Instructions
Preheat your oven to 400F.

Place the kale, garlic, and walnuts in the bowl of your food processor. Pulse until the kale is roughly chopped. Add the red pepper flakes, cheese, and olive oil. Pulse until a smooth paste forms. Add additional olive oil if necessary to reach a smooth consistency. Taste the pesto and season with salt. Blending to incorporate.

Place the bread slices on a baking sheet. Brush or spray the slices with olive oil and bake for 5 minutes, until slightly crispy and golden.

Remove the toasted baguette rounds from the oven and spread the pesto over top of one side. Serve topped with diced bell peppers or tomatoes if desired.
---
Disclosure: We were provided with a free copy of the cookbook for our review. The links to purchase copies of the Collards & Kale Cookbook are affiliate links and we will receive a commission for books purchased using our link. As always, all opinions are our own.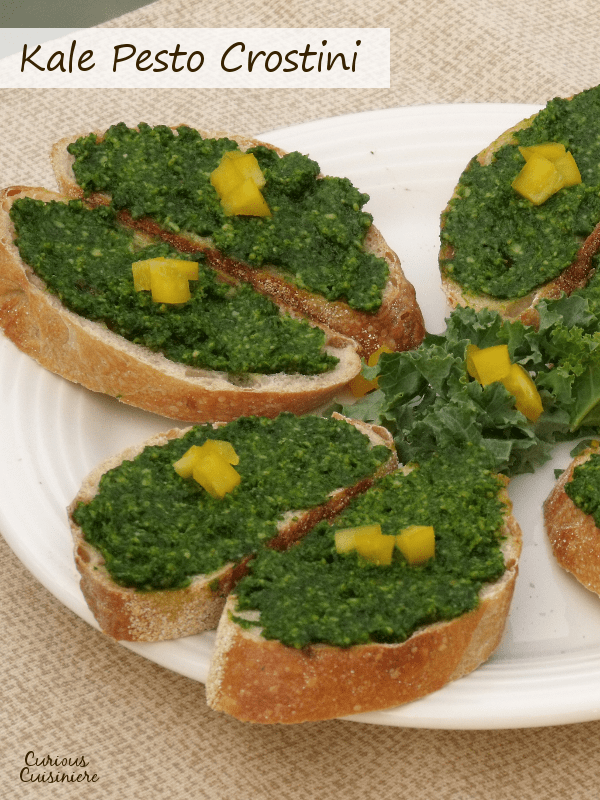 If you liked this recipe, here are some similar dishes you may enjoy!