Italian spiced beef and all your favorite pizza toppings make this Pizza Burger recipe an out-of-this-world fusion in every bite!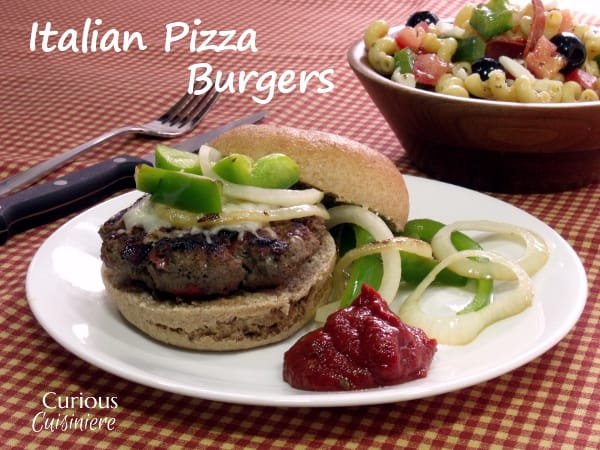 The Epic Pizza Burger
Pizza. Burger. Yeah, you read that title right.
It's ok to start drooling. We're still mopping our chins from these bad boys.
Today's recipe was inspired by Renee from Kudos Kitchen. When we saw her recipe for Italian Sausage Pizza Seasoned Burgers we knew it was a fusion that we just HAD to try!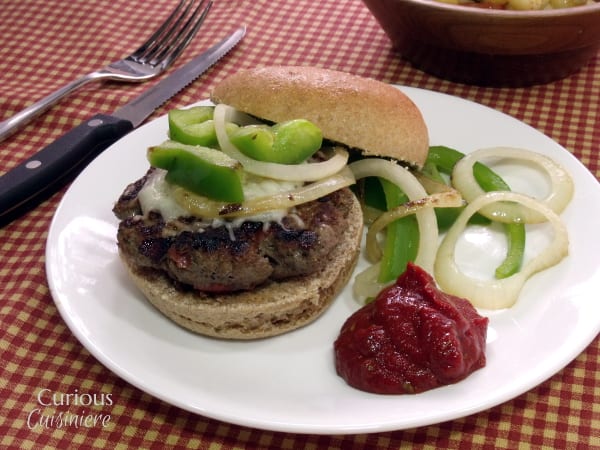 Seasoning and Topping Your Pizza Burger
We have a recipe from an old Doubleday Cookbook that makes the best seasoned Italian sausage that we have ever tasted, so instead of using uncooked Italian sausages for these burger patties, we lightened things up a bit and used 90% lean ground beef, seasoning it like we would if we were making Italian sausages. Then we threw some chopped up turkey pepperoni into the patties for good measure.
Feel free to go crazy with your favorite pizza toppings and load these burgers up.
An Italian cheese blend and sauteed onions and peppers were perfect for us, but I could see these going great with mushrooms and olives too.
Don't Forget The Pizza Sauce!
There is one requirement.
Please don't forget this.
Because, these burgers are so good, you might just forget to add a sauce. And, that's only ok if you plan on eating a second pizza burger.
Really.
We thought these burgers were really good without any sauce, but adding a pizza sauce (like our super simple Homemade Pizza Sauce) like you would ketchup is what really sends these burgers into a crazy explosion of pizza and burger heaven.
These have just become a summer staple in our house.
Thank you Renee!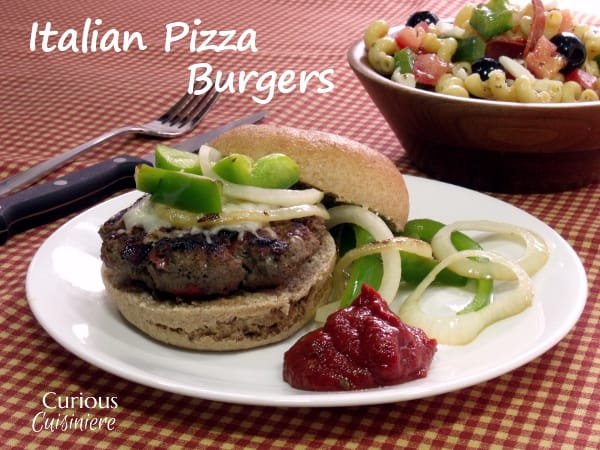 Italian Pizza Burger
Italian spiced beef and all your favorite pizza toppings make this Pizza Burger recipe an out-of-this-world fusion in every bite!
Yield: 4 burgers
---
Ingredients
For The Patties
1

lb

ground beef

(90% lean)

1

tsp

salt

1

tsp

ground black pepper

½

tsp

onion powder

2

tsp

garlic powder

½

tsp

paprika

¼

tsp

crushed red pepper

¼

tsp

fennel

½

tsp

thyme

1

tsp

dry red wine

(Merlot, Cabernet, etc)

1

tsp

oregano

1

tsp

basil

1

oz

pepperoni,

diced
Everything Else
½

c

mozzarella cheese

(more if you like)

½

green pepper,

sliced

1/32

sweet onion,

sliced

1 ½

tsp

olive oil

½

c

pizza sauce
Instructions
Preheat grill (or cast iron skillet) to medium/high.

In a large bowl, mix together patty ingredients until evenly distributed. Shape into 4 patties and make an indentation in the middle of each with your thumb. (This will keep them from puffing up too much in the middle while they cook.

Place the patties on the preheated grill or pan and cook for 7-8 minutes per side, covered for the first half for the cooking. After flipping the patties, top with cheese to let it melt while the burgers finish cooking.

While the burgers are cooking, toss the sliced peppers and onions in the oil and place in a grill basket or non-stick skillet. Sauté until they begin to wilt, 3-5 min.

To serve, top each burger with onions and peppers and slather the bun with pizza sauce.
---
If you liked this recipe, here are some similar dishes you may enjoy!