British Homity Pie brings the cheesy potato goodness of a loaded baked potato together with a hearty whole wheat crust. It is the perfect recipe for an easy, vegetarian dinner.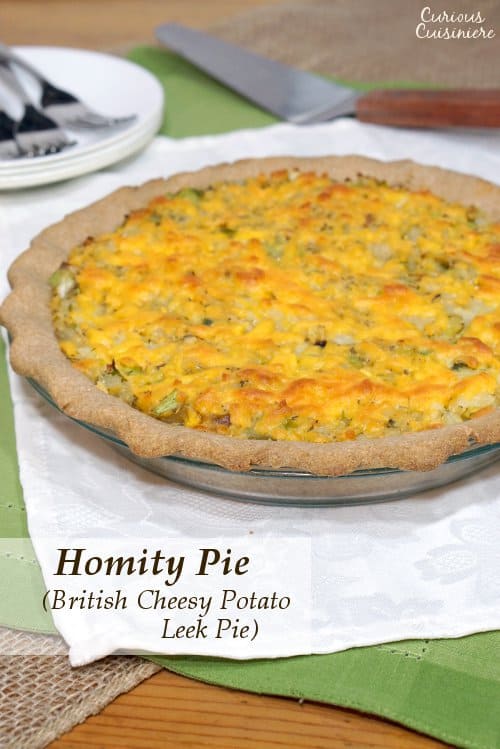 A potato pie.
The first time we came across Homity Pie, we didn't know whether to be excited or a little skeptical. Really? A pie filled with potatoes?
To think about this pie you have to stop thinking about it as a PIE. Instead, start thinking about it like a baked potato. A fluffy baked potato stuffed with cheese and sauteed onions.
Now that sounds like something we can get behind.
In reality, the whole wheat pie crust has a similar effect to the dark, crispy skin on a baked potato. It gives all that soft, fluffy interior a bit of depth. A bit of crunch. And COME ON, it's pie crust. What's not to love about pie crust?
Homity Pie: A British Wartime Food
There is very little known about the history of Homity Pie. What we do know is that it dates back to England during WWII when it was a creative way to change up wartime rations.
It's hard for us to think about this pie as wartime food though. Between the creamy cheese and flavorful combo of leeks and onions, it just goes to show what a little creativity can do to dress up even ration food.
Great For Using Leftovers
While this recipe has you boiling potatoes to create the filling, Homity Pie is a great way to transform leftover boiled potatoes. Add some onions and cheese and your filling is ready in a jiffy.
This recipe is also a great starting off point for getting creative. While it might not be particularly traditional, we can't wait to add some crispy bacon to this pie the next time we make it!
In Our Glass: Pairing Notes
With this pie, we'd reach for a light amber ale with just a bit of malty creaminess. The flavors of the pie are subtle, so you don't want anything too strong that would overpower it. If you really wanted to sip wine with your pie, we'd recommend a light, un-oaked Chardonnay.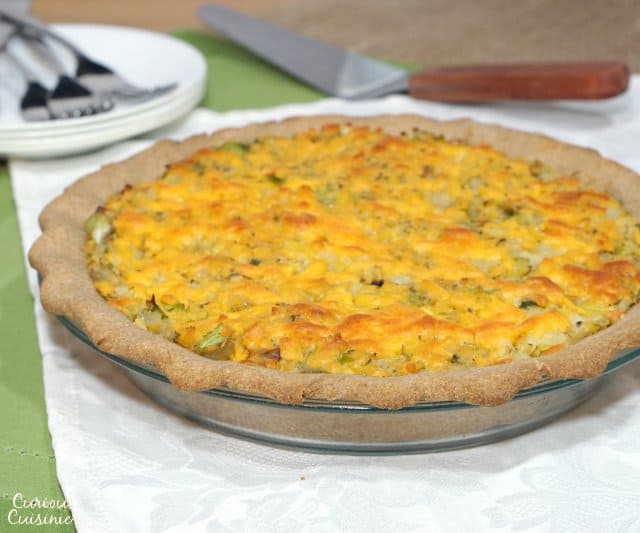 Homity Pie (British Cheesy Potato Leek Pie)
British Homity Pie brings the cheesy potato goodness of a loaded baked potato together with a hearty whole wheat crust. It is the perfect recipe for an easy, vegetarian dinner.
Yield: 1 (9 inch) pie
Ingredients
For the Crust
1 ½

c

whole wheat flour,

sifted

3/4

tsp

salt

6

Tbsp

butter,

unsalted, cold, cubed

1

egg

1-3

Tbsp

cold water
For the Filling
2

lbs

potatoes

(Use starchy potatoes like Russets), peeled and cubed 1 inch

1

tsp

butter

1

small leek,

roughly ¼ lb, white and green parts, cleaned and diced

1

medium onion,

diced

2

garlic cloves,

minced

1

Tbsp

milk

1

Tbsp

parsley

1

tsp

thyme

1

tsp

salt

½

tsp

fresh ground pepper

1

c

sharp cheddar cheese,

grated
Instructions
Preheat your oven to 375⁰F.
Start the Potatoes*
Place the potatoes in a large saucepan and cover with water. Bring to a boil and simmer until tender, 15 min. When the potatoes are tender, drain them and place them in a large bowl. Set the bowl aside.
Prepare the Crust
While the potatoes are cooking, make your crust. In the bowl of your food processor, place the sifted flour, salt, and cubed butter. Pulse until the mixture resembles fine breadcrumbs. Add the egg and pulse just until the mixture comes together as dough. If necessary, add the cold water, 1 Tbsp at a time, pulsing between each addition until the dough comes together. Once it is soft and malleable, turn it out onto a lightly floured counter-top and gently knead it into a ball. Using a rolling pin, roll the ball out into a circle, roughly 12 inches in diameter. Arrange the rolled out crust in a greased 9" pie plate. Crimp or flute the edges of the crust in the pan as desired. Set aside.
Finish the Pie Filling
Once your crust is prepared, continue with the filling. Melt the butter in a frying pan and add the diced onion. Sauté for 1-2 minutes. Add the diced leek and garlic and sauté for 2-3 minutes more, until soft.

Add the onion mixture, milk, thyme, parsley, salt and pepper to the drained, cooked potatoes. Mix well. Add ¾ c of cheese and mix until combined. Press the potato mixture into the unbaked pie crust in the pie dish. Top the potato mixture with the remaining ¼ c of cheese.
Bake the Pie
Bake the pie for 25-35 minutes, until the crust and cheese are golden brown.

Let the pie stand 5-10 minutes before serving.

Serve with an herby salad.
Notes
*If using leftover boiled potatoes, you will skip this step. For a 9 inch pie, you will need about 4 cups of boiled potatoes.
---
If you love pies, check out the collection of sweet and savory pies below from some of our favorite bloggers!
Mealtime Pies
Sweet As Pie
If you liked this recipe, here are some similar dishes you may enjoy!