These homemade marshmallows are super fluffy and don't leave you tangled in a sticky, stringy mess. They're the perfect addition to winter hot chocolate!
Have you ever tried homemade marshmallows?
I remember the first time I had a homemade marshmallow. A friend in a Bible study made them with her kids.
My mind was blown.
I have weak spot for marshmallows. Give me a bag, and it's a struggle for me not to keep stuffing them into my mouth.
But homemade? Could it be possible?
Apparently it is, and it is much easier than I would have ever thought.
The ingredients for great homemade marshmallows
While researching making marshmallows from scratch, I found a number of recipes, all using different ratios of sugar to water to gelatin. Some used egg whites, others did not. But, after reading comments on A LOT of recipes, it seemed to me that egg whites were the key to a fluffy marshmallow. Those who didn't use the egg whites always commented on the dense texture.
So, part one was set. We would use egg whites.
Two methods for making homemade marshmallows
The method that everyone seemed to use was to heat a sugar syrup to roughly 245F (soft-ball stage) and then pour it over softened gelatin. Then you whip that mixture with vigor until it triples in volume. Once you get the lift, you whip up the egg whites to stiff peaks and beat the whites into your sticky, fluffy mixture.
Everyone warned about the sticky mess you would get yourself into. But, I thought this was how it was done.
However, I still had one more trusted source to consult. David Lebovitz. His method differed, and I was intrigued.
Instead of beating the sugars with the gelatin and then adding the egg whites, he added the sugar syrup and softened gelatin to the beaten egg whites and then continued to beat until the mixture was cool.
He didn't talk about a sticky mess.
I decided to take matters into my own hands and see for myself which method rose above.
The easy way to make homemade marshmallows
I tried David's method first. It was a lot going on at once, heating, beating, melting, beating. But, even taking pauses in between the steps to re-check the recipe didn't result in failure. In fact, the end result was a marshmallow mixture that scooped nicely into my prepared mold and set up into an INCREDIBLY fluffy marshmallow.
The messy way to make homemade marshmallows
The other method started off similarly enough. I even began to wonder if there would be a difference. And then, the more I beat my syrup and gelatin, the more my hand mixer started to whine. And, honestly, I would whine too if I had a sticky, gloopy, marshmallow mess climbing, uncontrollably up my beaters. I stopped for a moment to scrape the beaters down, and that's about when all was lost. The moment I started my mixer up again, my beaters folded in on themselves. And I was done.
I can't really speak to the texture of the marshmallows made by this method, because I stopped beating about three minutes into the ten required for the proper volume. And, maybe if I had been using a stand mixer rather than a hand mixer, my results would have been different.
For now, I'll be sticking with David's Lebovitz's method. No strings of sugar, just incredibly fluffy and bouncy marshmallows.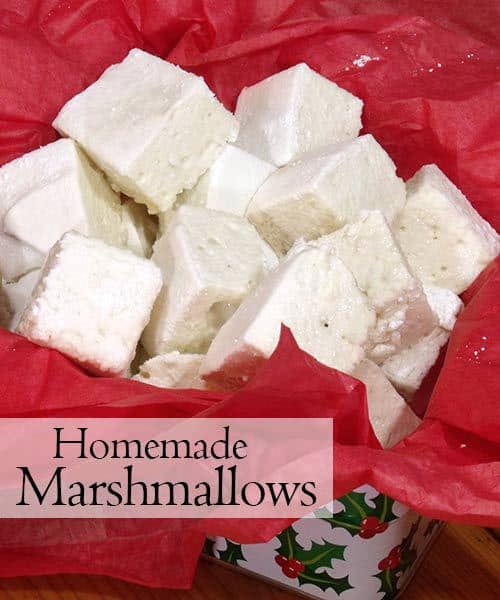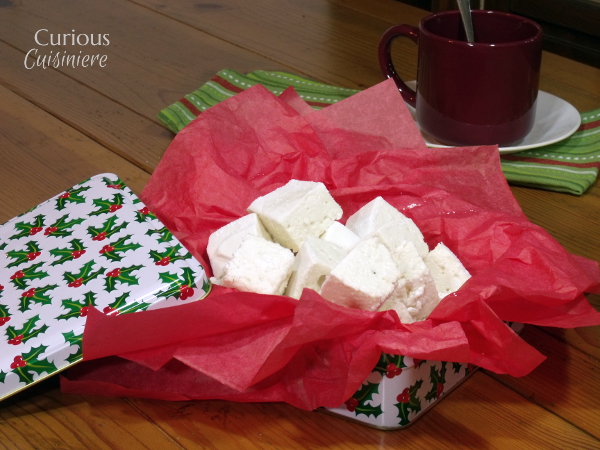 Homemade Marshmallows
These homemade marshmallows are super fluffy and don't leave you tangled in a sticky, stringy mess.
Yield: 36 (1 inch) marshmallows
---
Ingredients
Marshmallow Dusting Mixture
1

c

powdered sugar

1

c

cornstarch
For the Marshmallows
1/2

c + 1/4 c

cold water

2

envelopes

unflavored gelatin

1

c

granulated sugar

1/3

c

corn syrup

2

egg whites

2

tsp

pure vanilla extract

1/16

tsp

salt
Instructions
Grease an 8x8 pan and dust generously with the Marshmallow Dusting Mixture. Set aside.

Place 1/2 c of cold water in a small bowl and sprinkle the gelatin over the water. Set aside to soften.

In a small saucepan, heat 1/4 c water, granulated sugar and corn syrup together until they reach 245F.

Once the sugar syrup nears 245F, with a hand mixer, whip the egg whites in a large bowl until they become frothy. Add vanilla and salt, and continue to whip the whites into stiff peaks. (To tell if you have stiff peaks: Stop the beaters and pull them out of your egg whites. If the whites form points that stay upright, they are stiff. If the points fold over on themselves, you have soft peaks. Beat a few seconds more, then test again.)

Pour the syrup mixture into the beaten egg whites, slowly, while beating.

Once you have emptied the pan of the syrup, slide the soft, but firm gelatin into the hot pan. In a few seconds, it will liquefy. Pour the liquid gelatin into the sugar and egg white mixture, while beating.

Continue to beat the mixture until the bottom of the bowl is COMPLETELY cool to the touch. This should take 10-12 minutes.

Spread the cool marshmallow mixture into the prepared pan and let the mixture set, uncovered for 3-4 hours, until firm to the touch.

Once the mixture is firm, dust the top with the Marshmallow Dusting Mixture and loosen it from the pan. Cut the marshmallow slab into 1" marshmallows, tossing each smaller marshmallow in the Marshmallow Dusting Mixture as you go.

Store in an air-tight container for up to 1 week.

(The marshmallows can also be made ahead. Cover them once they are firm, and store them on the counter for up to 2 days. Cut and dust with Marshmallow Dusting Mixture just before you would like to serve them.)
---
---
Be sure to take a look at the recipes below for more inspiration for gifts from the kitchen.
Beverages:
Bread:
Appetizers and Snacks:
Condiments and Sauces:
Savory and Sweet Mixes:
Desserts and Sweets:
If you liked this recipe, here are some similar dishes you may enjoy!