Homemade Graham Crackers are quite easy to make with ingredients you probably already have in your pantry.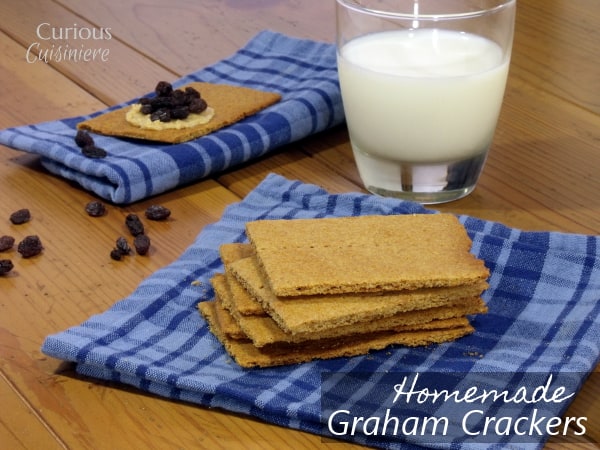 One of my go-to after school snacks in grade school was graham crackers. In particular, graham crackers spread with peanut butter and topped with raisins.
It was the perfect sweet, salty, nutty and crunchy treat.
It kind of blew my mind when I first saw a recipe for homemade graham crackers. But then, there was a downfall.
What was graham flour? And, where the heck did you find it?
Turns out graham flour is a type of whole wheat flour where the three parts of the wheat berry (the germ, the bran and the endosperm), that would typically be ground together, are ground separately with the germ and bran ground fairly coarse and the endosperm ground very fine. The three parts are then mixed back together, resulting in a coarse textured, whole wheat flour.
So, basically graham flour is just a whole wheat flour.
What!?
All those years they made me think I needed something special, different, and expensive to make such a simple comfort food. And the answer has been on my shelf the whole time!
Flavor wise, by using whole wheat flour, particularly a coarser ground whole wheat flour, you will find that graham cracker taste.
The texture depends on personal preference. Whole wheat flour by nature is a bit coarser, so by using a mixture of whole wheat and white whole wheat, we were able to give these crackers the perfect flavor with a texture that was both smooth and slightly grainy like the store-bought crackers.
If you don't have white whole wheat flour, you could substitute unbleached all purpose flour, however we would suggest using 1/2 c all purpose with 1 1/2 c whole wheat, just to keep the flavors and textures as close as possible.
Homemade Graham Crackers
Yield: 32 (3 ½ x 4 ½ inch) cookies
Author:
Sarah | Curious Cuisiniere
Ingredients
1 c white whole wheat flour (or unbleached all purpose flour)
1 c whole wheat flour
1 tsp baking powder
½ tsp baking soda
½ tsp salt
6 Tbsp butter, cold
¼ c brown sugar
¼ c honey
¼ c skim milk
Instructions
Mix flours, baking powder, baking soda, and salt in the bowl of your food processor. Add butter and pulse until the mixture looks like wet sand.*
Add brown sugar, honey and milk. Pulse to mix, until the dough comes together.
Divide the dough into four even pieces. Place one section of dough onto a piece of parchment paper and shape it into a rectangle. Cover the dough with another piece of parchment paper and roll the dough out to a 7 ½ x 9 ½ inch rectangle. (It should be about ⅛ inch thick.) Place the rolled out (and still covered) dough into the freezer on a flat surface. Repeat with the remaining three sections of dough.
Chill the dough in the freezer for 20-30 min.
Preheat your oven to 350?F.
Remove the dough from the freezer, one section at a time. Remove the top layer of parchment paper and cut each rectangle into 8 individual cookies (being careful not to cut through the parchment paper). Decorate each cookie as desired using a skewer or a fork.
Place the cut cookies, on their parchment paper, onto a baking sheet.
Repeat with the remaining three sections of dough.
Once all the cookies have been cut, place them into the oven and bake for 18-20 minutes, until the top begins to darken. (Check often towards the end of the cooking time. They darken quite quickly towards the end.)
Remove the cookies from the pan to cool on a wire rack. (These cookies will be quite crisp as they are cooling, but they will soften up a bit as they stand. So, don't worry if you think you have over baked them. They will soften.)
Notes
*If you don't have a food processor, cut the butter into the flour mixture using two forks or a pastry blender. Add the remaining ingredients and mix knead by hand until the dough comes together.
Nutrition Information
Serving size:
2 Cookies
Calories:
118
If you liked this recipe, here are some similar dishes you may enjoy!