Smoky grilled shrimp and boozy Bloody Mary Dip make for one winning game day appetizer.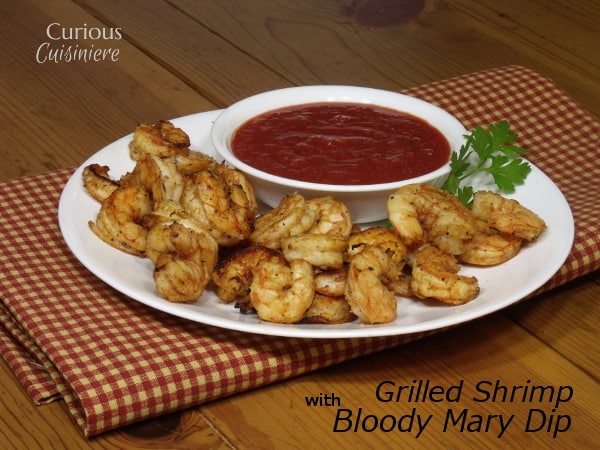 We're back with another #10DaysofTailgate recipe, but this one is teaming up with this month's Secret Recipe Club recipe for a tasty, boozy and grilled appetizer for your tailgate.
This month we were paired with Sew You Think You Can Cook. Lauren is an engineer by day and an culinary mastermind by night, and she has some fantastic recipes to share! She's also participating in #10DaysofTailgate, which makes sense, because boy does she know how to do game day food!
Grilled Shrimp with Bloody Mary Dip
It was tough to pick one recipe, but her Bloody Mary Shrimp Dip sounded too perfect not to try. I mean, who says you can't enjoy Bloody Mary's even if it's not a morning game?
Not just any shrimp would do, so we decided to break in the grill basket sent to use by one of our generous sponsors, Mr. Bar-B-Q.
Tim is pretty obsessed with his new grill basket for one reason: the handle comes off, making the basket take up less room and meaning that he doesn't need hot mitts to move the basket around. And, the small wire mesh of the basket made it perfect for smaller items, like shrimp.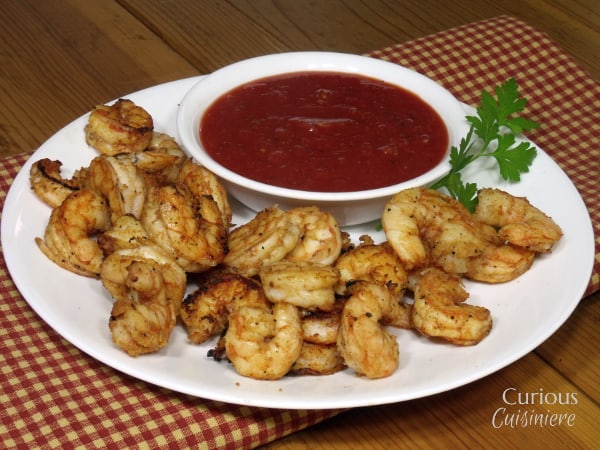 The shrimp, we marinated in a smoky Cajun style seasoning blend while the grill heated up. And, the pairing of the light grill char worked perfectly with the slight vodka tang of the Bloody Mary Dip.

Grilled Shrimp with Bloody Mary Dip
Serves 10-12
Author:
Sarah | Curious Cuisiniere
Ingredients
For the Shrimp
2 lb raw shrimp (thawed if frozen)
2 Tbsp lemon juice
2 tsp paprika
2 tsp garlic powder
1 ½ tsp salt
½ tsp black pepper
For the Dip (Adapted from Sew You Think You Can Cook)
1 (15 oz) can crushed tomatoes
1 Tbsp horseradish
1 Tbsp Worcestershire sauce
1 Tbsp lemon juice
1 tsp hot sauce
1 tsp salt
½ tsp black pepper
1-2 shots of vodka (as your taste desires)
Instructions
For the Shrimp
Mix shrimp with lemon juice and seasonings. Let marinade while the grill pre-heats or up to 1 hour before grilling.
Place the shrimp in a grill basket over medium heat. (You should be able to hold your hand over the grilling grate for 5-7 seconds.) Cover and grill for 10-15 minutes, checking every 5 minutes and stirring the shrimp in the basket to ensure even cooking. Shrimp is done when pink and white with no translucent color remaining.
For the Dip
Mix all ingredients in a large bowl. Serve immediately or refrigerate to allow the flavors to meld together.
DISCLOSURE: We received the grill basket used in this recipe. We were not compensated for our time. As always, all opinions are our own.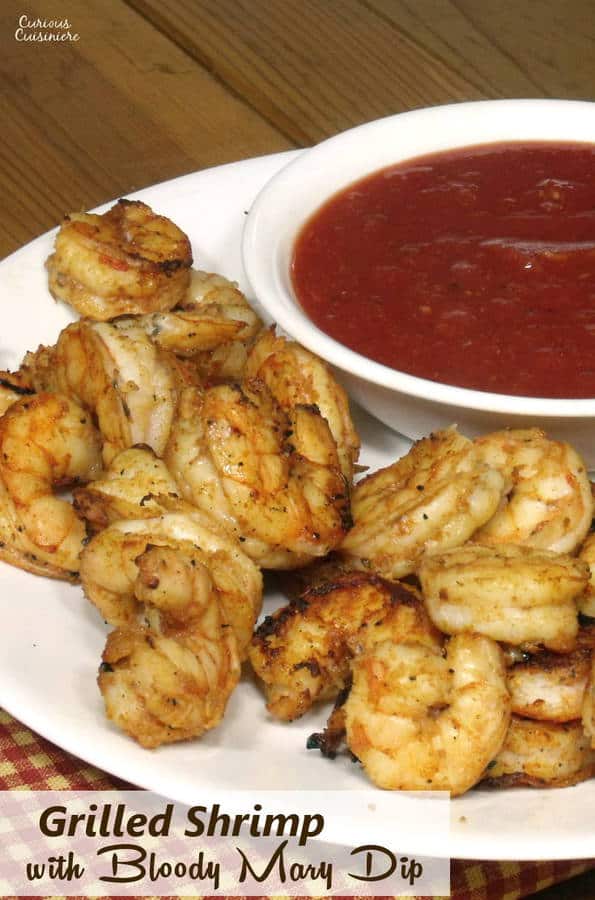 ---
And, here is today's #10DaysofTailgate Lineup!
Starters
.
Dips
.
Mains
.
Sides
.
Sweets
.
A huge thank you goes to Culinary Adventures with Camilla for putting together the #10DaysofTailgate event, and to all our sponsors who have graciously donated prizes for our readers.
If you liked this recipe, here are some similar dishes you may enjoy!