Serve these grilled parsley potatoes as a smoky take on potato salad at your next cook out or game day party!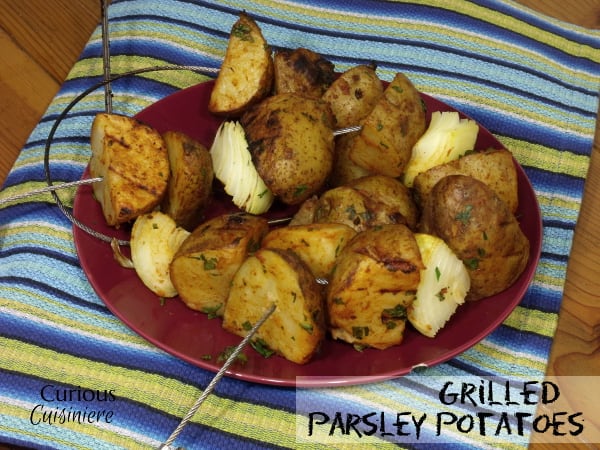 We have been making good use of our grill this summer. But, one things we have hesitated to grill has been potatoes.
I'm glad we gave them a try, because they're not as tricky on the grill a you might think.
Grilled Potatoes
The thing about potatoes is that they take a long time to cook. This can make timing a bit tricky when it comes to grilling.
But, there is a trick.
While the grill is heating up, par-boil your potatoes until they are just starting to soften. Then, you can transfer them to the grill to finish them off.
Since they are already most of the way cooked, they only need 10-15 minutes (depending on how cooked they are). And, that is just long enough to infuse them with the grill-smoke flavor and give them those pretty grill marks.
You can do this for whole potatoes to get them grill 'baked,' if you will. Or, you can chop or slice the potatoes and cook them on skewers or in a grill basket.
Grilling With Fire Wire
We opted for the skewer method this time because we needed to try out the Flexible Grilling Wire we were sent from Fire Wire. These long skewers are great if you have a full grill, because you can snake the skewer around your burgers and corn. They were easy to load and easy to handle, once you got used to the fact that these guys are flexible. (And, I mean SUPER bendy!)
It's nice to know that we won't have to be constantly buying bamboo skewers any more.
Our Grilled Parsley Potatoes Recipe
We love a good batch of parsley potatoes as a side dish any time of year. But adding the smokiness of the grill makes these grilled parsley potatoes really something special.
They make a great alternative to a potato salad side dish!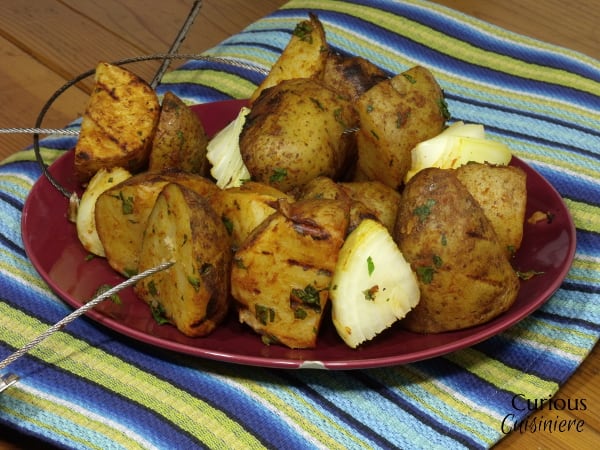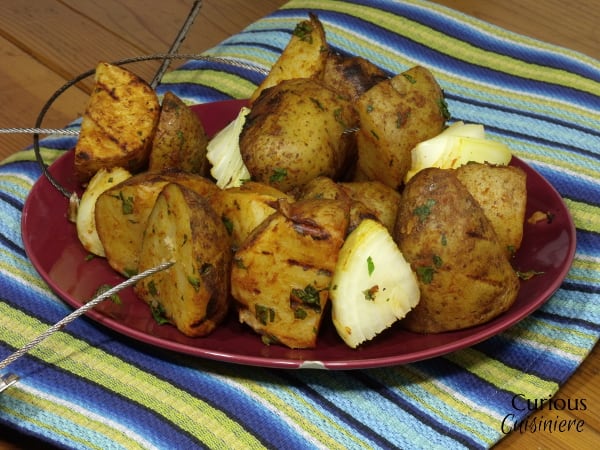 Grilled Parsley Potatoes
Our Grilled Parsley Potatoes Recipe
---
Ingredients
2

lbs

russet potatoes,

quartered

¼

c

red wine vinegar

3

Tbsp

olive oil

½

c

fresh parsley,

chopped

2

tsp

salt

4

tsp

paprika

2

tsp

garlic powder

1

onion,

quartered
Instructions
Preheat your grill to medium heat. (You should be able to hold your hand over the cooking grates for 5-7 seconds.)

While the grill is heating, place quartered potatoes in a medium soup pot and cover with water. Cover and bring the water to a boil. Boil potatoes 8-10 minutes, until nearly tender. Drain potatoes.

While the potatoes are boiling, whisk together vinegar, oil, parsley, salt, paprika and garlic powder in a 1 cup liquid measure.

Pour half of the vinegar dressing over the drained potatoes in the pot. Stir gently to coat.

Carefully skewer the potato pieces and onions with either a metal grilling skewer or soaked wooden skewers.

Place the potato and onion skewers on the hot grill grate. Cover and grill for 5-10 minutes. Turning halfway through to achieve good grill marks and even cooking.

Remove the skewers from the grill. Place the potatoes and onions in a large bowl and toss with the remaining dressing.

Serve warm.
---
DISCLOSURE: We received the Fire Wire Flexible Grilling Wire used in this recipe. We were not compensated for our time. As always, all opinions are our own.
---
Here's what the rest of the crew brought to the tailgate today:
Starters
Dips
Starters
Mains
Sides
Sweets
 A huge thank you goes to
Culinary Adventures with Camilla
for putting together the #10DaysofTailgate event, and to all our sponsors who have graciously donated prizes for our readers.
If you liked this recipe, here are some similar dishes you may enjoy!