A green smoothie transforms into a Halloween smoothie with a few tricks, making for one perfectly nutritious snack or breakfast treat!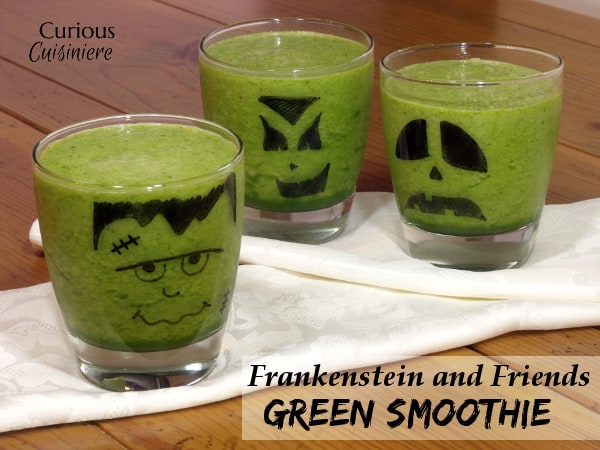 Who wouldn't love drinking green goodness from Frankenstein's head as a part of their Halloween breakfast or snack?
Recently, I have become slightly obsessed with dry erase and wet erase markers. They are the perfect kitchen solution for labeling anything. If it is going to stay dry, we grab a wet erase marker. If it's a refrigerated or frozen item, we reach for the dry erase. They work on glass, plastic and even the metal mason jar lids.
I feel like an advertisement here, but seriously, they've just been making me really excited.
Green Smoothies
Another thing that I'm getting really excited about is these green smoothies.
I know. I know.
The green smoothie bandwagon came through a while ago, and you're probably sick of hearing about how great they are.
What can I say? I tend to be a bit late to the party.
In the summer, I love smoothies for a refreshing breakfast, but something about adding greens just didn't appeal to me in the slightest.
It took Frankenstein to turn me around. (How many people can say that?)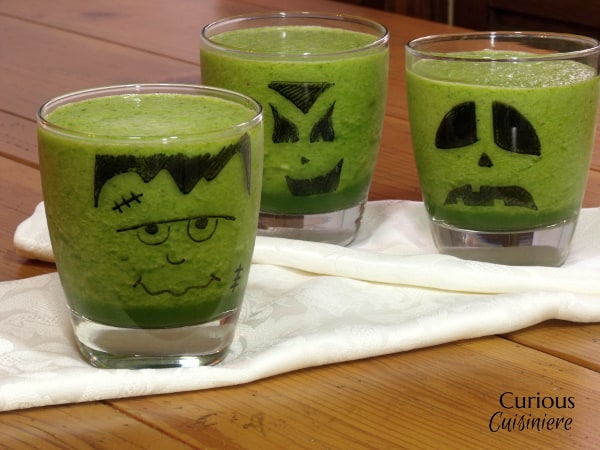 Making a Green Halloween Smoothie
We were looking for a fun drink for Halloween, and Tim suggested some sort of green smoothie. It fit the holiday, so I went searching, and I came across the site Simple Green Smoothies. All I can say is these guys take green smoothies to a whole new level.
I am 100% confident that if not for their guidance, my first green smoothie would have been my last.
Tips for Making The Best Green Smoothies
We picked up two big green smoothie tips from their site:
Blend the greens and liquid first. This evenly chops all the greens, meaning no chewy, stringy bits.
Use the 60/40 formula. Like everything in the kitchen there's a balance here too! 60% fruits to 40% greens gives you a tasty smoothie without an overpowering flavor from the greens. It's easy: 3 cups fruit to 2 cups greens. The liquid should be the same measure as your greens. (2 cups liquid for 2 cups greens.)
Our Green Halloween Smoothie Recipe
For our first green smoothie, we blended Swiss chard with water. (It feels odd adding water to a smoothie, but think of it as making juice out of your greens.) Then, we added 1 cup of crushed pineapple, 1 peeled and roughly chopped apple and 1 large banana.  After a bit of pulsing we had a well-blended juice.
We do like a bit of thickness to our smoothies, so we threw in a big handful of ice at the end and blended it to a nice frothy state. Frothy or not, the smoothie was refreshing and delicious.
And, it didn't taste like Swiss chard at all.
I'm pretty sure this formula is going to be making regular appearances in our house from now on.
Frankenstein and Friends Green Halloween Smoothie
Grab some dry erase markers and decorate your glasses to make these fun Halloween smoothies!
Yield; 48 oz
Ingredients
2

c

greens

(spinach or Swiss chard are nice mild greens)

2

c

water

or pure apple juice

1

sweet apple,

peeled

1

banana

1

c

crushed pineapple

1

large handful

ice

(optional)
Instructions
Decorate glasses with dry erase markers before making the smoothie.

Place greens and water in the bowl of your blender. Pulse on high until the greens are well chopped.

Add fruit and pulse on high until smooth.

If you like an extra thickness, add a handful of ice and pulse on high until the ice has blended to frothy.

Fill glasses and enjoy!
Nutrition
Serving:
16
oz
|
Calories:
95
kcal
|
Carbohydrates:
24.2
g
|
Protein:
1.4
g
|
Fat:
0.2
g
|
Sodium:
20
mg
|
Fiber:
3.7
g
|
Sugar:
14.7
g
If you liked this recipe, here are some similar dishes you may enjoy!