These Green Chili and Spinach Skillet Enchiladas are the perfect, quick, meatless weeknight meal.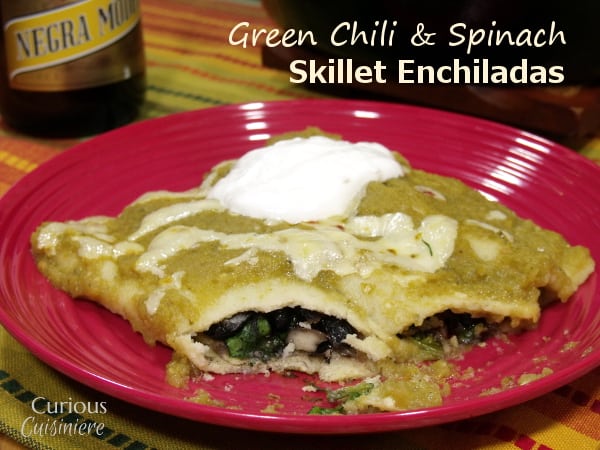 Most of the time, when we think enchiladas, we don't think quick. They take a while to bake to bubbly perfection. But, we've put the trusted cast iron skillet to work again, and simmered these enchiladas on the stove top. With a simple, vegetarian filling of spinach and beans, these guys can be on the table in no time!
I'm particularly excited to be contributing these enchiladas to Weekday Supper this week, because the whole idea of Weekday Supper fits perfectly into our Lenten Friday reflections.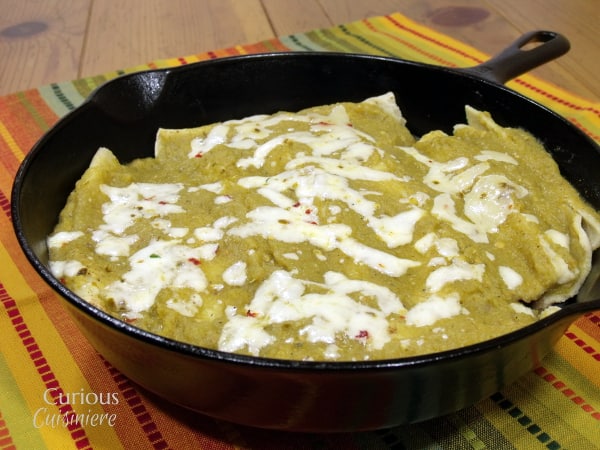 We do Lent to redirect our focus off of ourselves and onto what really matters.
We all know how important it is to gather together as a family as much as possible. Many times our weeks get so busy, dinners together aren't a reality, and that's where Weekday Supper comes in, with quick meals to hopefully connect you with your family during the week.
That time together rejuvenates you and is important not only for each individual, but for the family as a whole.
Don't you see the impact it has on everyone if one family member brings anger, frustration, or stress from a bad day to the table? Everyone's mood drops, and you start to feel disconnected.
Gaining a renewed perspective through fasting and reflecting during Lent helps us to be able to better connect with those we love. It helps us be able to step back and realize how our selfishness, bad attitudes, or stress are impacting those around us.
How can we show our spouse love, if we are full of anger? How can we teach our children compassion, if we are full of selfishness?
We need that new perspective to be (to steal from speaker Matthew Kelly) the 'best version of ourself' so that we can give it to those we love when we connect at the dinner table, and whenever we are together.
How will you really connect with someone you care about today?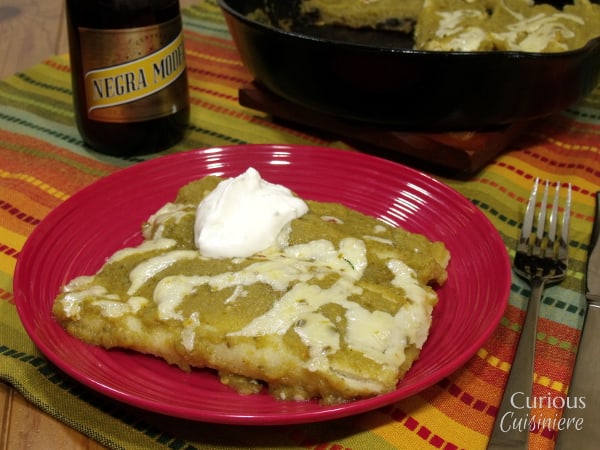 Green Chili and Spinach Skillet Enchiladas
Yield: 8 5" enchiladas
Author:
Sarah | Curious Cuisiniere
Ingredients
For the Filling
2 c spinach, fresh, chopped
4 oz Monterey Jack cheese, shredded (plus extra to top the finished enchiladas)
1 c black beans, cooked (drained if using canned)
¼ tsp cumin
For the Enchilada Sauce*
2 (4oz) cans green chilies
12 oz salsa verde
1 Tbsp flour or masa harina
Instructions
To make the filling – combine filling ingredients in a medium bowl and mix well.
To make the enchilada sauce – combine chilies, salsa, and flour or masa harina in the bowl of a food processor and process until smooth.
Spread ⅓-1/2 of the enchilada sauce over the bottom of a cast iron skillet with a lid. Place 2-3 Tbsp of filling in a line down the center of each corn tortilla. Roll the tortilla around the filling and place, seam side down, over the enchilada sauce in the pan. Once all the tortillas are nestled in the pan, spread the remaining enchilada sauce over the enchiladas. Top with a sprinkling of cheese, if desired.
Cover and cook over medium to medium-low heat until bubbly, 10 min.
Serve with sour cream and salsa.
Notes
*Be sure to check the ingredients of your green chilies and salsa verde to be sure you are purchasing a product that uses real ingredients and not a lot of fillers. If you prefer, you could purchase a 20oz can of green enchilada sauce instead of making our own. Again, check the ingredients to know what you are eating and serving.
Nutrition Information
Serving size:
2 ENCHILADAS
Calories:
574
Fat:
14.1g
Saturated fat:
6.3g
Carbohydrates:
94.2g
Sugar:
25.3g
Sodium:
321mg
Fiber:
27.1g
Protein:
27g
Cholesterol:
25mg

It may be Friday, but this week's quick Weekday Supper meals are the perfect jump start to next week's meal plan! 
Monday – Gluten Free Crumbley – Gluten Free Macaroni and Cheese
Tuesday – Hezzi-D's Books and Cooks – Mu Shu Chicken Lettuce Wraps
Wednesday – Shockingly Delicious – Easy French Bread Pesto Caprese Pizza
Thursday – Alida's Kitchen – Broccoli Cheddar Quinoa Bites
Friday – Curious Cuisiniere – Green Chili and Spinach Enchiladas
If you liked this recipe, here are some similar dishes you may enjoy!