Flavorful Gingerbread Waffles bring the flavor of a gingerbread cookie to breakfast. They are extra perfect when topped with a warm Cinnamon Apple Topping.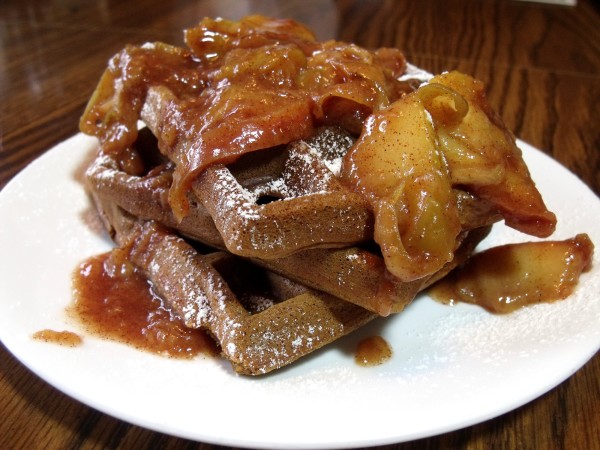 Starting The Christmas Season
While the merchandising world would argue that I am coming in quite late, I would say that the Christmas season has officially begun. Turkey leftovers are nearly finished up, and it is time to think about putting up the tree, decorating the house, and baking holiday goodies.
It still doesn't feel like we're in December and we've started the first week of Advent. Our house is still decorated in fall colors, with gourds that have not yet been stored for the winter. (I think our Halloween pumpkin just went in the trash the other day. Please, don't tell.)
One thing that does feel holiday-ish is the stress I feel creeping into the edges of our lives. It seems like a million holiday- or winter-related items have been added to our already long to-do list. And, while most of them are fun to-dos, it's easy to get more than a little overwhelmed by the sheer number of things that we want to do to make our first Christmas together special.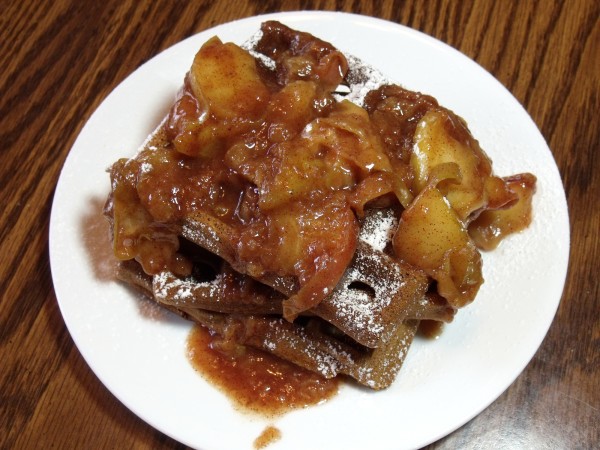 Finding Your Reason For The Season
I've been seeing a lot of people writing recently about the reason for the season and remembering what is really important in the midst of holiday (and life) stress. It is so easy to get wrapped up in the holiday doing spirit, and forget that the real holiday spirit is one of love, giving, and spending time with those close to you.
Does it matter if the pumpkins stay out for another week?
Not really.
Does is matter if our house is the last one on the block to be lit?
Not really.
Does it matter if we get wrapped up in the show and consumerism of Christmas and only remember this year as another busy one where we forgot to stop and enjoy the season?
Yes, a million times YES!
I've said it before, and I'll say it again, it's funny how much effort it can take to slow down from life's business.
But, it is effort that is well rewarded.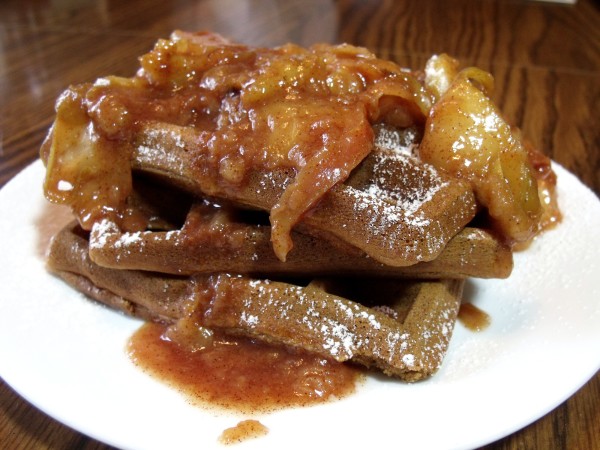 Slowing Down With Our Recipe For Gingerbread Waffles With A Cinnamon Apple Topping
We took some time to slow down this weekend with these gingerbread waffles with cinnamon apple topping.
Gingerbread cookies are quintessential when it comes to the Christmas season. For us at least. But, it had been a while since either of us had eaten gingerbread, and these were a perfect way to start December and the holiday season.
The waffles themselves are slightly spicy with a wonderful, deep molasses flavor.
Not super sweet alone, they are the perfect pairing for the light sweetness of the an easy cinnamon apple topping.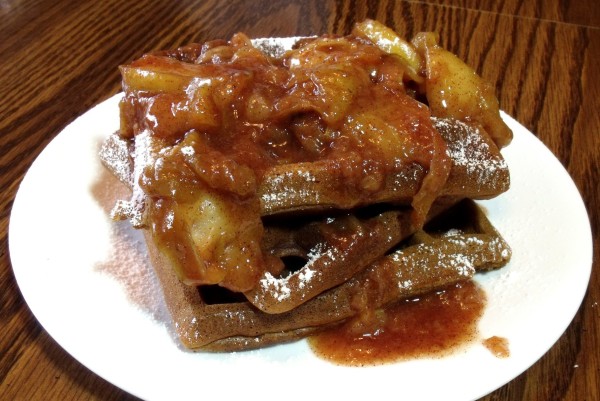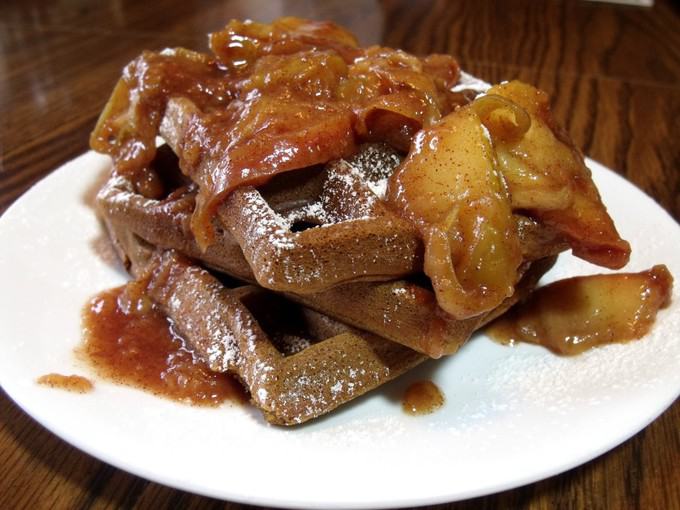 Gingerbread Waffles
Flavorful Gingerbread Waffles bring the flavor of a gingerbread cookie to breakfast. Serve them with a Cinnamon Apple Topping for something extra special.
Yield: 8 waffles
---
Ingredients
1 ½

Tbsp

sugar

2

Tbsp

baking powder

2

tsp

ginger

1 ½

tsp

cinnamon

1

tsp

salt

½

tsp

nutmeg

½

tsp

cloves

2

eggs,

beaten slightly

1 ½

c

milk,

6

Tbsp

unsalted butter,

melted and cooled

¼

c

molasses
Instructions
Start your waffle iron pre-heating according to your manufacturer's directions.

In a large bowl, mix flour, sugar, baking powder, and spices until well blended.

In a medium bowl, mix together eggs, milk, butter, and molasses.

Pour milk mixture into flour mixture and mix with a wire whisk until no lumps remain.

Pour into your waffle maker and cook according to your maker's instructions.

Waffles are normally done when fragrant and the smoking from the waffle maker slows.

Top with syrup, powdered sugar, or cinnamon apple topping (below).
---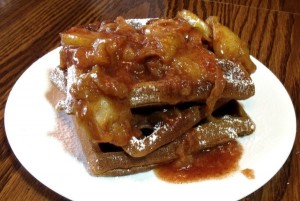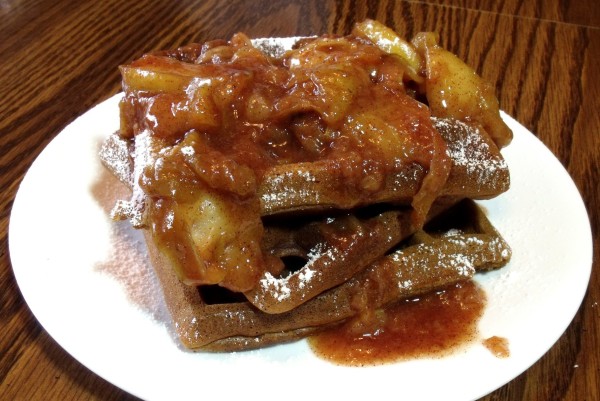 Cinnamon Apple Topping
A Cinnamon Apple Topping is the perfect accompaniment to fall or winter pancakes or waffles. Particularly gingerbread waffles!
Yield: 1 cup of topping
---
Ingredients
1

large

apple,

peeled, cored, and sliced

2

tsp

corn starch

1 ½

tsp

brown sugar

1

tsp

cinnamon

½

tsp

lemon juice

Dash

nutmeg

½

c

water
Instructions
In a small saucepan, mix all ingredients, except the water, stirring until evenly distributed.

Add the water and mix well.

Heat, covered, over medium heat until mixture begins to simmer.

Reduce heat to medium-low and simmer, uncovered, until mixture thickens to desired consistency.
---
If you liked this recipe, here are some similar dishes you may enjoy!