Cranberry Glazed Venison Meatballs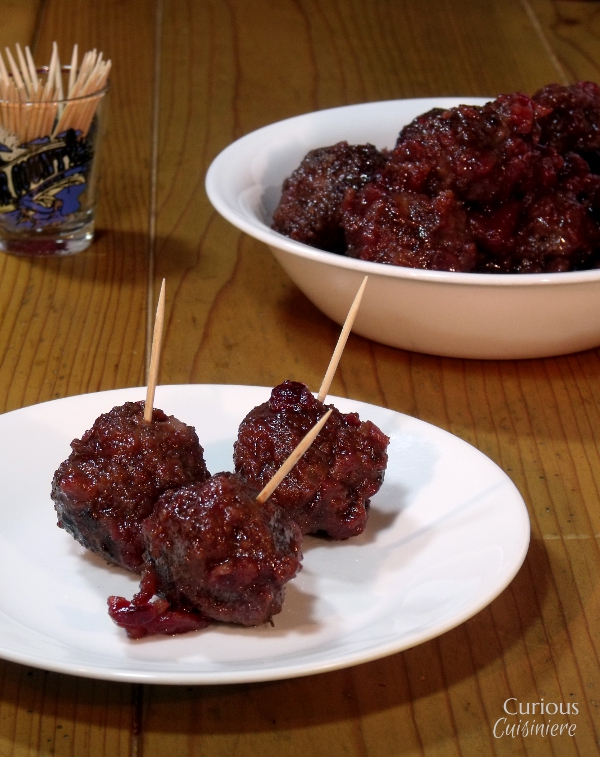 Author:
Sarah | Curious Cuisiniere
1 tsp butter
½ onion, minced
½ lb ground venison (or beef)
½ tsp salt
¼ tsp pepper
¼ tsp nutmeg
½ c breadcrumbs
2 Tbsp milk
1 egg
1 c water
½ c white sugar
½ c brown sugar
8 oz cranberries (fresh or frozen, thawed)
1 cinnamon stick
1 tsp prepared, yellow mustard
¼ tsp salt
¼ tsp cayenne
⅛ tsp cloves
Heat butter in a medium, non-stick frying pan. Add onions and saute until golden. Remove from heat.
Mix onions with remaining ingredients in a large bowl. Mix to thoroughly incorporate, but do not over mix.
Return the non-stick frying pan to medium heat.
Shape 1 Tbsp of meat mixture in a ball, roughly 1" in diameter. As meatballs are shaped, add to hot pan. Heat meatballs until the entire outside is seared. Set aside. (If you were eating the meatballs straight from here, you would want to cook them 7-10 min until firm, but since we will be cooking them in the sauce, we just need to lock in the juices and set the shape.)
Continue until all meat mixture has been used.
In a medium saucepan, bring water and sugars to a boil, stirring often. Simmer 5 minutes.
Add cranberries and cinnamon stick. Simmer 5-7 minutes, until the cranberry skins pop.
Add mustard, salt, cayenne, and cloves. Mix well.
Add meatballs to sauce and simmer 5-10 minutes, until glaze thickens and meatballs are warmed through.
This dish can be made ahead and reheated or kept warm for the party in a crock pot on low.
Recipe by
Curious Cuisiniere
at https://www.curiouscuisiniere.com/cranberry-glazed-meatballs-sundaysupper/