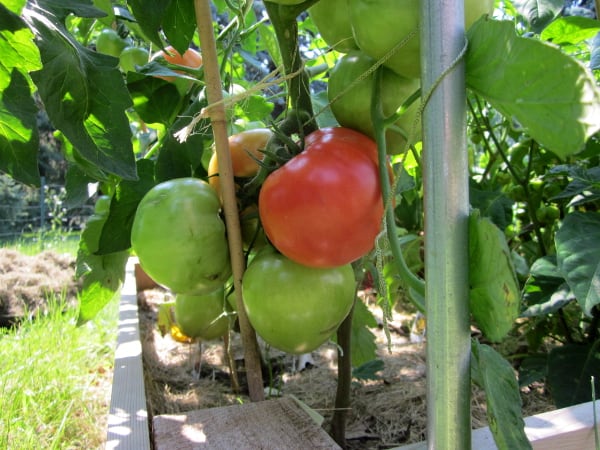 If you garden, you know that the only thing that beats the excitement of seeing your first tomato start turning red is when you can finally pick that beauty from the vine.
With our cool spring and summer temperatures that never quite wanted to set in, this year has been a bit odd for growing.
The other day I walked outside to see my leaf lettuce and spinach had doubled in size. I thought those were supposed to be on their last leg right about now.
But, we're not complaining, since it means fresh greens for salad!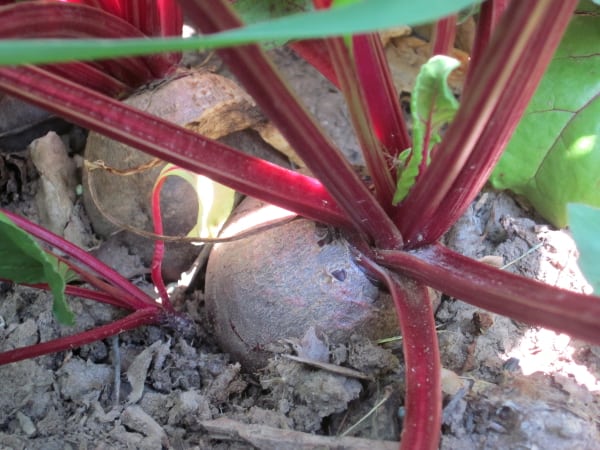 My beets had been looking a bit crowded, and some were poking their heads above the soil, so it seemed like time to pull them!
But, I was a bit surprised.
Some were big and beautiful, but other's were super tiny!
After some research, I realized we had two problems.
Spacing: When I planted the beet seeds I planted way more than the recommended 1 seed every 1-2 inches. So, I did a fair amount of thinning once the seedlings hit 2″ high. But, I must not have thinned enough. Each beet plant should be thinned so that there is 3-4 inches between plants. (Generally speaking, that's about the width of your palm.) Mine were closer to 2 inches apart, meaning they were a bit cranky at the crowded conditions.
Nitrogen: I found out that too much nitrogen will cause the beet greens to go crazy, while the beets will be stunted. And, we did have some beet greens that were going crazy!
Solving this one is a bit more tricky. It seems that there isn't much to do about nitrogen levels being too high, except planting veggies that absorb a lot of nitrogen (cabbage, broccoli, corn, and summer squash). So, we'll try planting our next crop of beets in the spot we just picked the broccoli from.
It will be interesting to see what the results are!
Although we have gotten a few really nice zucchini already, we are fighting blossom end rot, like last year. For every good zucchini we pick, we've probably picked two that have started to soften.
Why does this happen? After some research, we found out that again, there could be two problems.
Uneven watering: Zucchini are heavy feeders and like things consistent. A long dry spell would stress the plant and cause the rot. If your temperatures are in the mid 70s, watering deeply once a week should do it. If your temperatures are closer to the mid 90s, you might need to water as often as every couple of days.
Lack of calcium: Calcium helps build the fruit's cell wall structure. A lack of calcium means softer fruit. The deficiency could be caused by acidic soil, which binds up the calcium and makes it harder for the plants to retrieve it. Or, it could be due to too much nitrogen in the soil, which causes the greens of the plant to grow too quickly to be able to move the calcium needed to support the fruits.
We will be trying an application of calcium-rich fertilizer soon, and we will continue to update you all on the progress!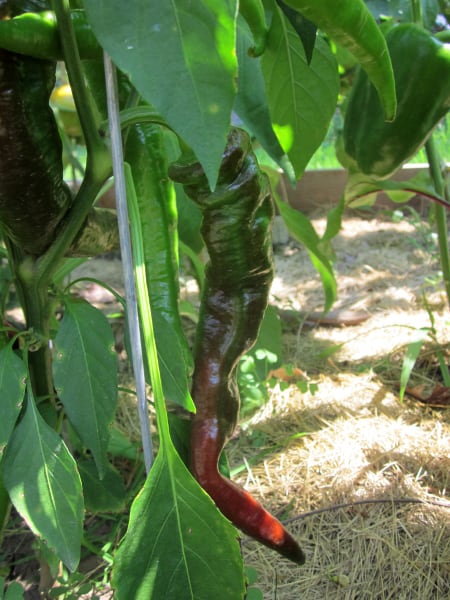 We'd love to hear how your growing season in going? What have you been learning?