Our homemade easy hash browns bring some chipotle flavor in for a bit of smokiness, making them the perfect spiced-up accompaniment to breakfast eggs.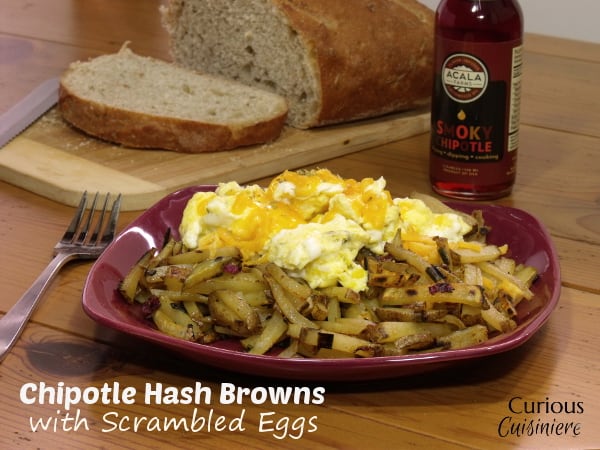 We hope you all had a wonderful Christmas and are still enjoying time with your family.
Even after the big gatherings of Christmas day, for us the celebration continues with trips to see family through the weekend and weeks to come.
And, even after the big meals of Christmas day, the family will still wake up hungry, so we're bringing you an easy and tasty breakfast to keep your crew happy and keep those Christmas smiles bright.
All About Cottonseed Oil
We recently connected with Acala Farms, a company in Barneveld, WI that produces cottonseed oil.
Cottonseed oil is wonderful for high-heat cooking, like sauteeing and frying because it has a higher smoke point than many other oils. (Take a look at our post on cooking fats to learn more about smoke point and how it effects which oils and fats are best for particular uses.)
Cottonseed oil has a light body and flavor, so it won't bog-down your food with that greasy taste. If you're looking for a heart-healthy oil, this is your ticket, with no trans-fats or cholesterol and a healthy dose of antioxidants.
Acala Farms takes this nice and light oil and infuses it with pure and natural ingredients to create some flavor-popping cooking oils. You'll find flavors like bright Jalapeno-Lime, robust Fresh Roasted Garlic, and lightly spicy Sweet Guajillo Pepper.
Today, we're using their Smoky Chipotle oil to create some fun, Southwest-inspired hash browns.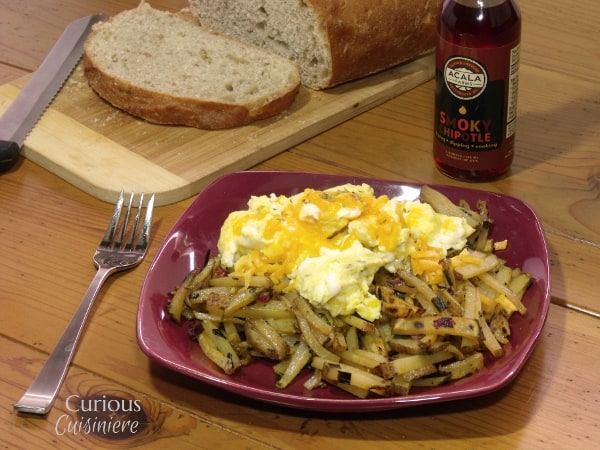 Making Homemade Easy Hash Browns
Hash browns are such an easy breakfast. We love them with scrambled or fried eggs and a nice thick slice of toast.
To make them healthier, we've chopped the potatoes into matchsticks (you could do a small diced potato too) instead of shredding them. Shredded potato hash browns are a bit more of an art and require much more oil for frying.
To make this breakfast even easier, you could chop all of your potatoes ahead of time, so all you have to do is toss everything into the skillet. But, if you are cutting your potatoes ahead of time, be warned, potatoes like to turn grey if they are exposed to air for too long.
But, don't worry, there's an easy fix.
Just make sure your potatoes are completely submerged in water, and the'll stay starchy-white until you are ready to use them. (We like to put the potatoes in a zip-lock bag and fill the bag with water. That way we know there's no air in there to worry about.)
Chipotle Hash Browns with Scrambled Eggs
Our homemade easy hash browns bring some chipotle flavor in for a bit of smokiness, making them the perfect spiced-up accompaniment to breakfast eggs.
Ingredients
For the Potatoes
2

large

russet potatoes,

cut into matchsticks

4

green onions,

chopped

¼

tsp

salt
For the Eggs
6

eggs

¼

c

milk

½

tsp

oregano

1/8

tsp

salt

½

c

cheddar cheese,

shredded
Instructions
In a large skillet, heat oil over high heat. Add onions and sauté 1-2 minutes until softened. Add potatoes and sauté until tender, 5-7 minutes. Mix in salt and transfer the potatoes to a serving bowl.

In a small bowl , beat together eggs, milk, oregano and salt. Place the mixture in the hot skillet and heat over medium-high, stirring constantly and scrapping the bottom with a rubber spatula. Eggs are done when no moisture remains. Transfer to a serving platter and top with cheese.
Nutrition
Calories:
426
kcal
|
Carbohydrates:
42.2
g
|
Protein:
21
g
|
Fat:
20
g
|
Saturated Fat:
7.4
g
|
Cholesterol:
348
mg
|
Sodium:
560
mg
|
Fiber:
6.5
g
|
Sugar:
5.1
g
If you liked this recipe, here are some similar dishes you may enjoy!