Garden tomatoes and and a splash of peppery Petite Sirah wine give this Chipotle Salsa recipe a unique burst of flavors.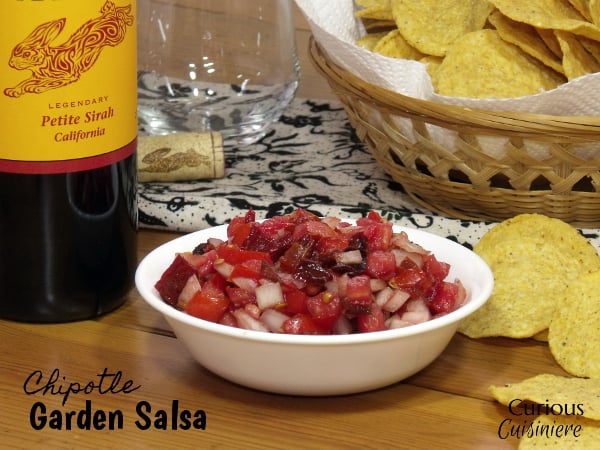 Wine… with salsa?
Why not?
Pairing Wine With Tomatoes
For this month's Wine Pairing Weekend we wanted to find some way to use our garden tomatoes, but we also wanted to find an uncommon pairing.
The idea of a salsa came to mind, and we headed over to Wine Maniacs, a local wine bar and market. I had been in the store once before, and was incredibly impressed by their knowledge and selection.
All we had to say was "salsa," "red wine," and "full of flavor and spice."
The first wine they recommended was a bright and acidic blended Italian red. The grapes were grown in a region where they eat a lot of fresh produce, particularly tomatoes, and it would have made for a beautifully bright and flavorful salsa. But, that wasn't quite the direction we were feeling.
We wanted a bit more depth. A bit more bang.
And then, we tasted the Wild Hare Petite Sirah. The flavors were deep and fruit-forward, but the finish was dark and peppery. And, the wine's bold acidity was perfect for tomatoes with just a bit of smoky chipotle to deepen and round out the acid.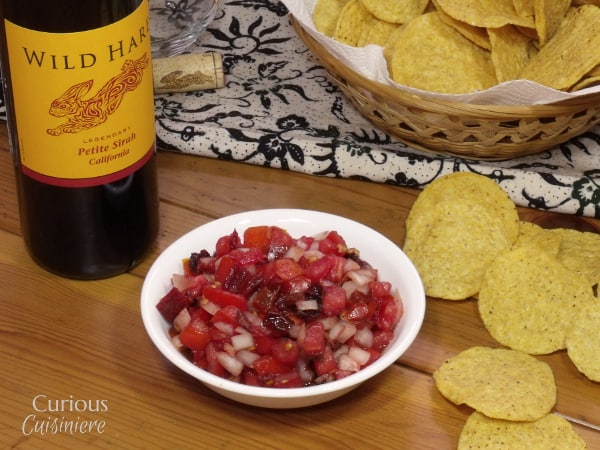 Our Chipotle Salsa Recipe
It only takes a few ingredients, but this salsa does pack flavor and a bang.
What is better than fresh garden tomatoes when it comes to flavor? If you have the choice, go for tomatoes that are dark red with a strong flavor and a good balance of sweetness and acidity.
White onions give a very clean onion flavor, not to sweet, but not too bitter.
The chipotles and adobo marinade bring a smoky depth of flavor and just as much heat as you desire. Do add the chipotles one at a time, and taste as you go. We thought four peppers would be fine, but it brought us near our spice limit.
And, just a splash of the peppery Petite Sirah added the final touch to complete this chipotle salsa.
Did you ever think you'd be eating chips and salsa and drinking a glass of red wine?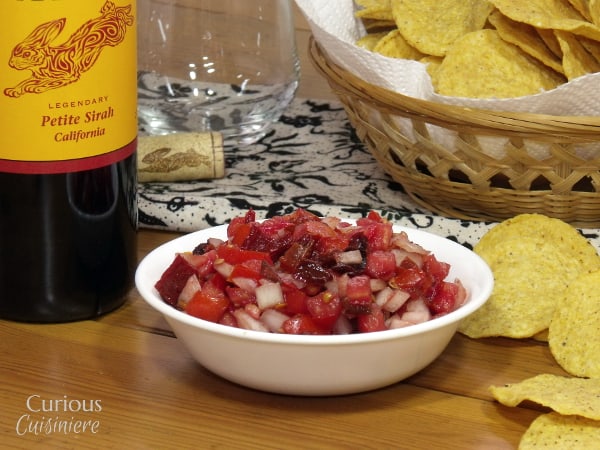 Chipotle Garden Salsa
Garden tomatoes and and a splash of peppery Petite Sirah wine give this Chipotle Salsa recipe a unique burst of flavors.
Yield: 2 c salsa
---
Ingredients
1

lb

tomatoes

½

white onion,

2

- 4

chipotles in adobo sauce *

(4 chipotles is about half of a 7.5 oz can)

2

Tbsp

Petite Sirah wine

or other spicy red wine

1

Tbsp

adobo

(from the canned chipotles)
Instructions
Dice the tomatoes and place them in a colander to drain for 5 minutes while you prepare the other ingredients. (Don't you dare throw away that tomato juice! It's great for sauces or just drinking.)

Dice the onion and 2 chipotles and place them in a medium bowl. Add wine, adobo, and drained tomatoes. Mix well.

Taste for spice and add more diced chipotles if desired.

Serve with your favorite tortilla chips and a big glass of spicy red wine.
---
Recipe Notes
*We used 4 chipotles, and it gave our salsa quite some heat. We recommend tasting the salsa after adding two peppers. Add more as your heat preferences desire.
---
Celebrate summer food and wine pairings!
David of Cooking Chat started this event in June of 2014, and every month since then this group of wine and food lovers have had a great time! For more background, check out the original post announcing Wine Pairing Weekend. You can see the full list of past and upcoming #winePW events here.
If you liked this recipe, here are some similar dishes you may enjoy!