Grill up some fun this summer with our Charcoal Grilling 101 tips and our go-to Balsamic Vegetable Kebabs!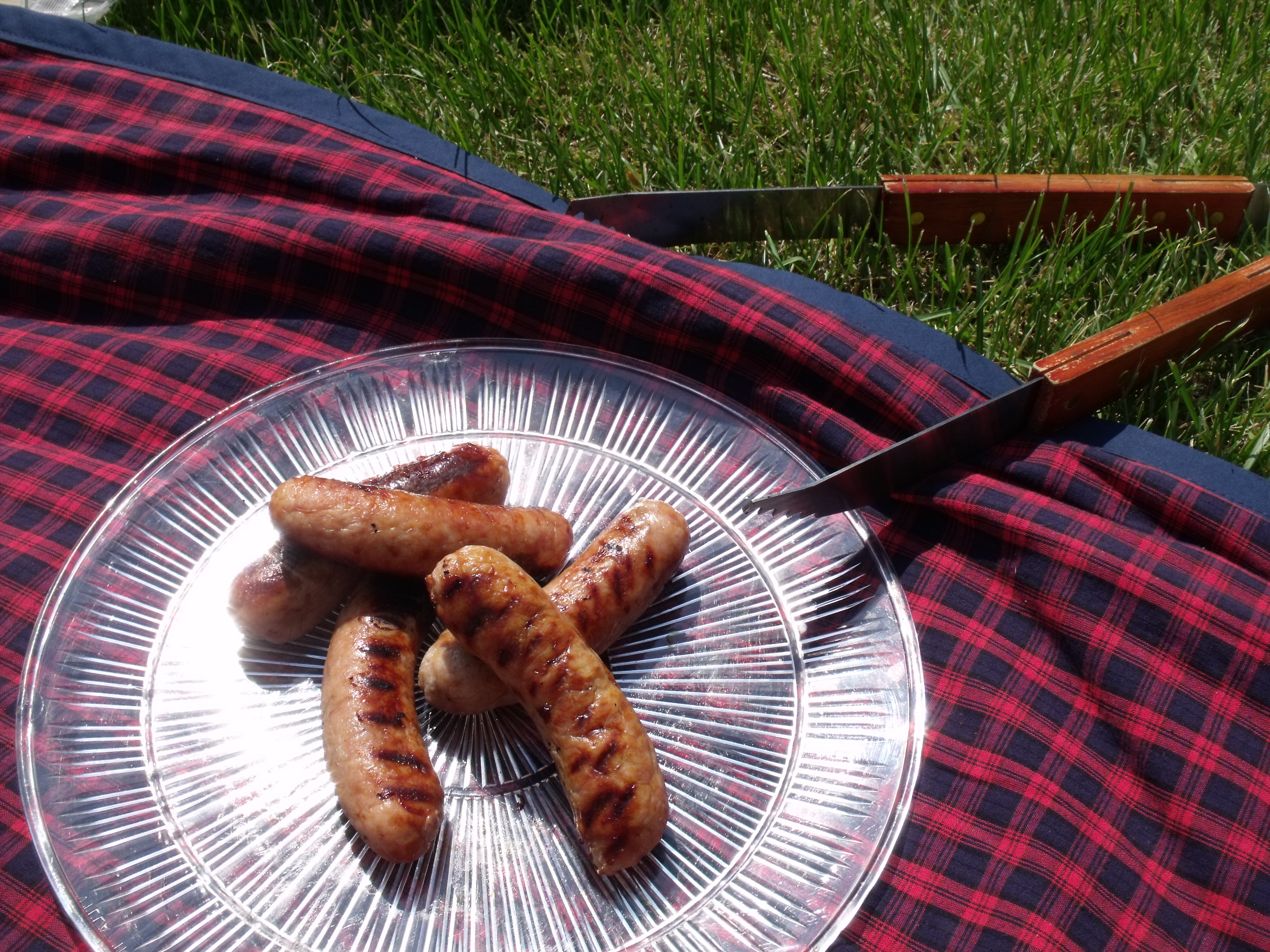 Grilling is more than a cooking method, it's an experience. It's about being able to get outside and tend the flame, whether you're at the park or in your own backyard.
Grilling: Charcoal or Gas?
The most common grilling methods are charcoal and gas, and there is heated debate over which method is the best.
Trying not to be biased (charcoal is the best), we've got to say the version you choose depends on your circumstances.  Gas is much quicker and simpler since you don't have to wait for the coals to get up to temperature, but charcoal gives that great smoky flavor and is still relatively simple.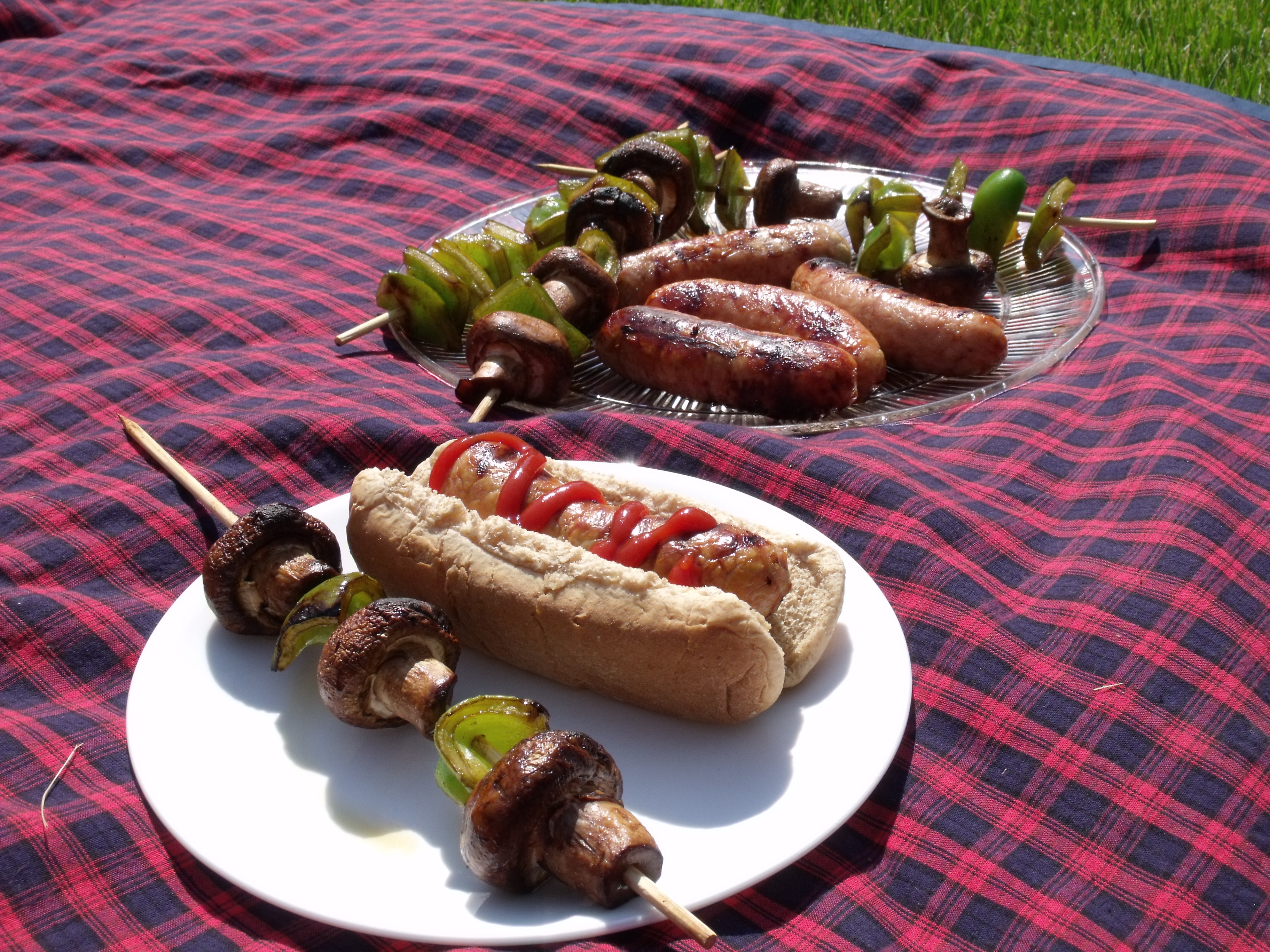 Charcoal Grilling 101
Here are a few tips to keep in mind for successful charcoal grilling:
1.  Don't rush the flames.  Proper starting is key.  Without it, the time it takes to heat the coals could be doubled.  Pile your charcoal briquettes in a tight mound and douse with lighter fluid.  Now STOP.  Resist the urge to light that fluid right up.  That satisfying whoosh of flame is all your fluid being burned off instantly before it has a chance to actually heat the charcoal.  Put the lid on and wait 5 minutes (yes, FIVE minutes) to let the fluid soak in.  Now you can light the charcoal and while the flames may not be as big, the coals will heat much faster.
2.  Black to white.  Open all of the vents and keep the lid off of your grill to allow the coals to heat up properly.  You know it's time to start when the briquettes are ashy white.
3.  Get ready for those grill marks.  Once you spread out the ashy coals into an even bed, put the grate on the grill.  Again, wait 2-3 minutes for the grate to get hot.  That satisfying sizzle you get when the meat rests on a hot grate also means that the meat is being seared to lock in its juices.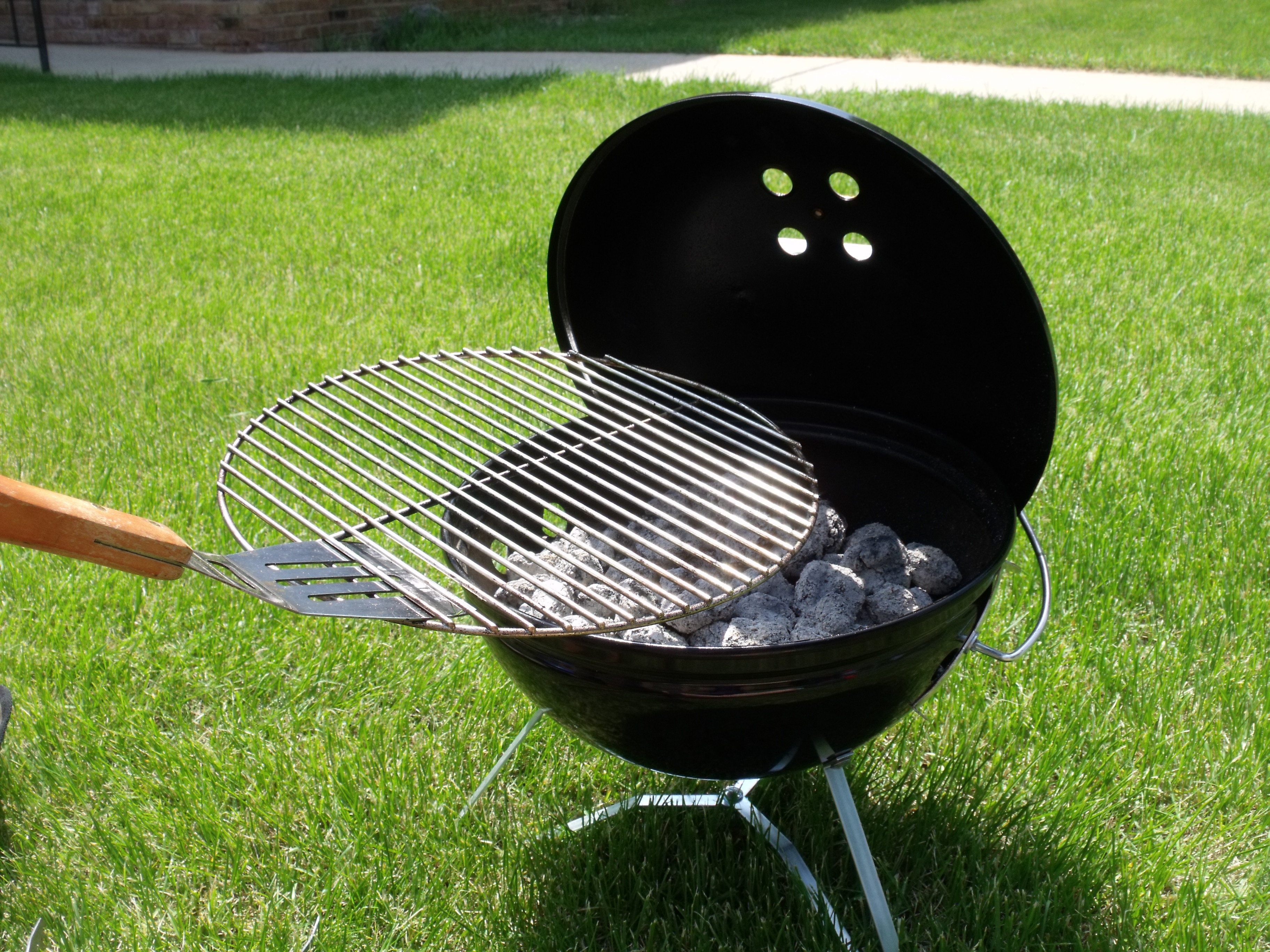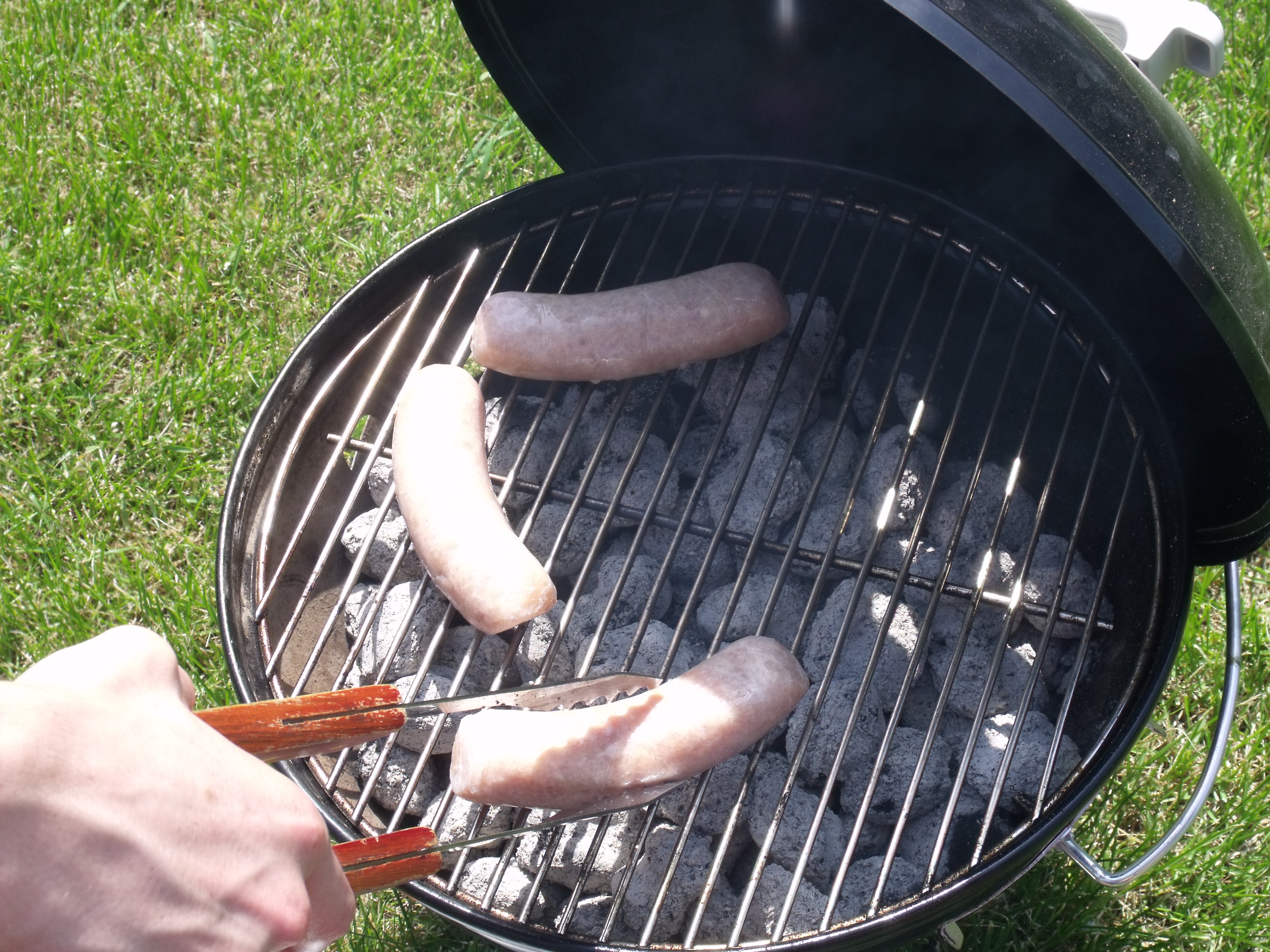 4.  Control your heat.  All grills have vents near the bottom of the basin and on the lid.  These control the airflow to the coals and the temperature of your grill.  The more your vents are open, the more air gets to the coals and the hotter they will be.  The vents should be full open while you are starting the coals and closed to about half once you start grilling.
As you're cooking, if the meat seems to be cooking too fast or you hear a lot of grease dripping and starting small grease fires, it's probably too hot and time to close the vents slightly.  If your meat seems to be cooking really slowly, check your vents.  You may need to knock them open a fraction.
5.  Check often.  You want your meat to be firm and cooked through, but not charred.  It's worth it to check your meat regularly to make sure it isn't burning or drying out.  Resist the urge to turn the meat too often though.  Let it cook through on one side before the flipping.  But, don't be afraid to move the pieces around if it seems that your grill has hot spots.
6.  Cool it down.  When you're finished grilling, close all the vents and put the lid on.  This will starve the coals of air and put out any last flames.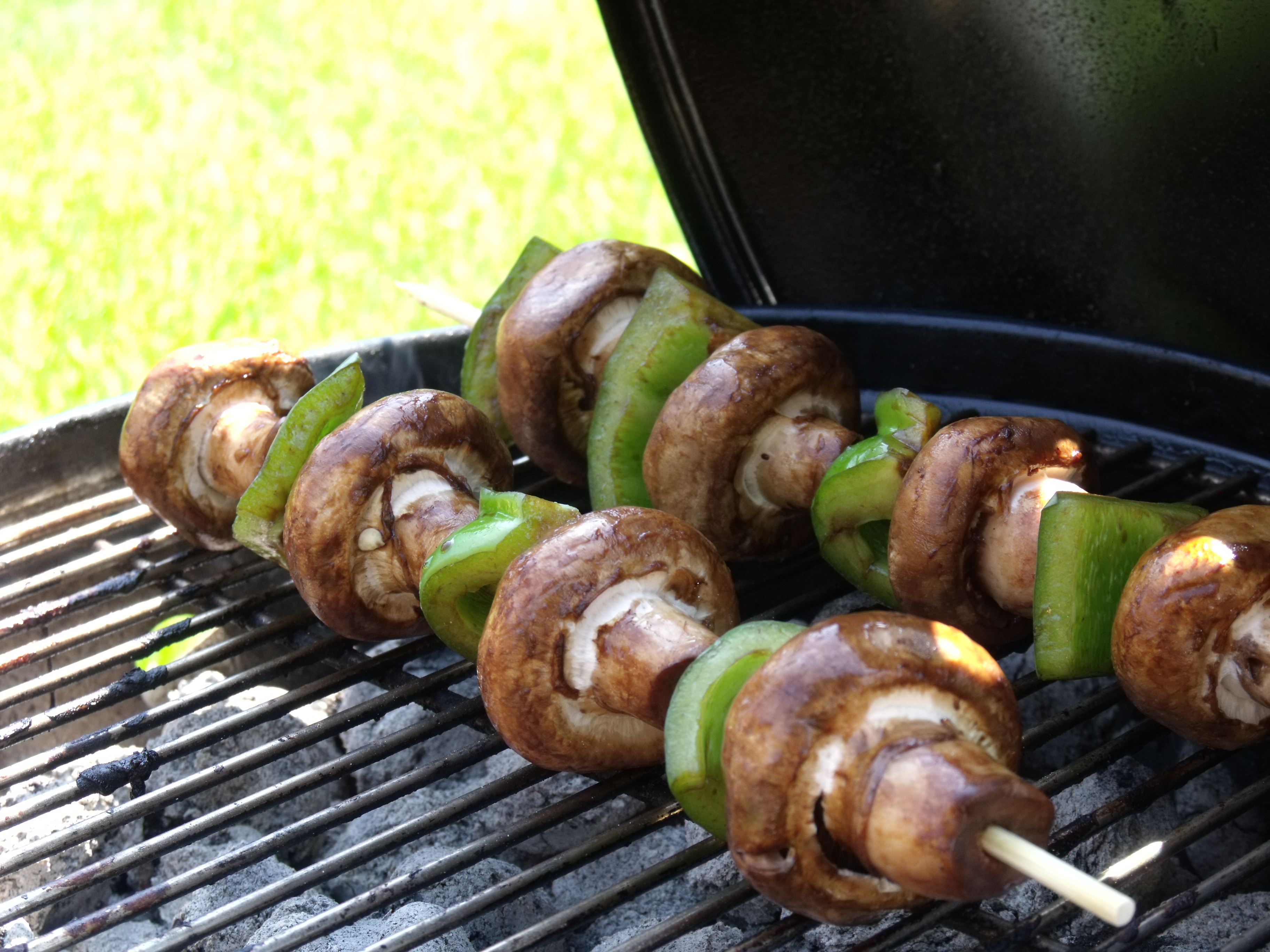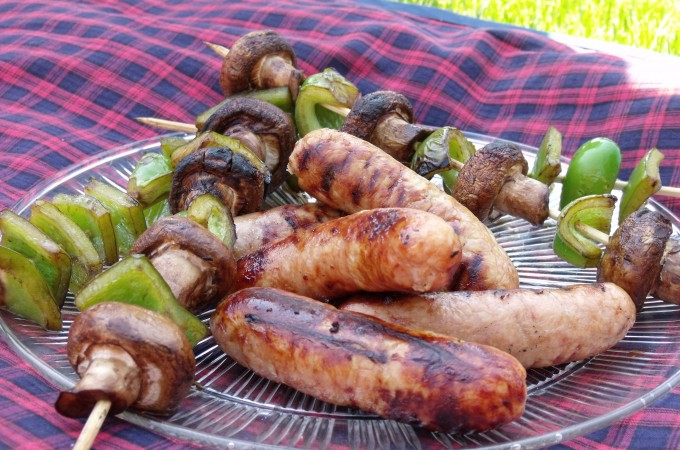 Balsamic Grilled Veggie Kebabs
This is our go-to recipe for grilling vegetables: Balsamic Vegetable Kebabs!
---
Ingredients
1

Tbsp

olive oil

2

Tbsp

balsamic vinegar

¼

tsp

salt

8

oz

whole white mushrooms,

brushed clean of dirt with a dry paper towel

1

large

green pepper,

chopped into 1" chunks

Kebab skewers
Instructions
In a small bowl, combine oil, vinegar and salt.

Place mushrooms, pepper chunks, and vinegar mixture in a seal-able Ziploc bag.

Marinade while you get the grill fired up (about 30 minutes)

Skewer veggies and place on grill.

Cover and grill for 2-3 minutes on each side.
---
If you liked this recipe, here are some similar dishes you may enjoy!