Black Tea simmered lentils add a deep, earthy, and smoky flavor to these vegetarian, lentil burgers.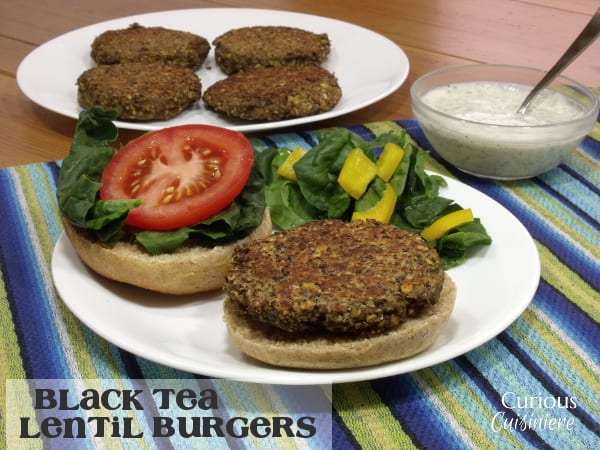 Cooking With Tea
Today we have another type of world cuisine for you.
Tea.
Cooler months are typically when you think of a nice cup of tea, but there's no reason tea has to be confined to the steaming teacup.
In honor of the World Tea Expo happening in California at the end of the month, we were challenged to come up with a healthy tea-inspired dish.
What a great way to see all the fun things tea can do!
We do love tea, hot or cold, we drink it year round. We've even started mixing our own blends, like this Chai Tea Blend that makes a cute gift. Baking with tea is still on our culinary bucket list, because this time we went a more savory route. We've used tea in main dishes before, particularly as a poaching liquid, like in these Asian Noodle Bowls with Tea-Poached Salmon. But what about cooking beans in tea?
Making A Black Tea Lentil Burger
We were inspired by this recipe from Arbor Teas and decided to see what fun flavors black tea would give to a veggie burger.
Wow.
Who would have thought that adding tea to lentils would give an incredibly deep and almost smoky flavor to these burgers?
We couldn't decide which way to eat them: they were delicious straight up, a creamy ranch spread gave them a nice light and summer-y feel, but a rich and sweet BBQ sauce turned these into a playground of sweet and smoky flavor.
That's what dipping is for.
Right?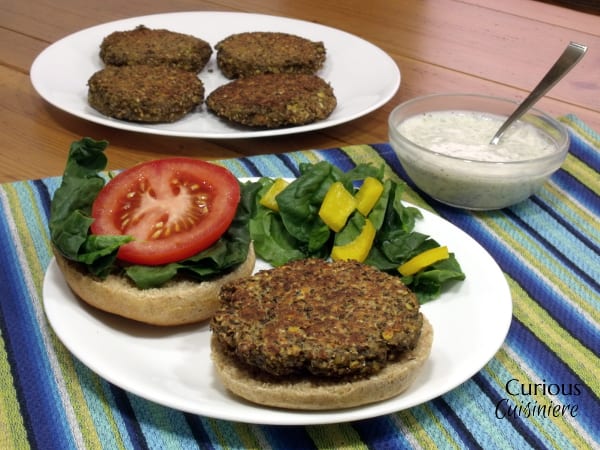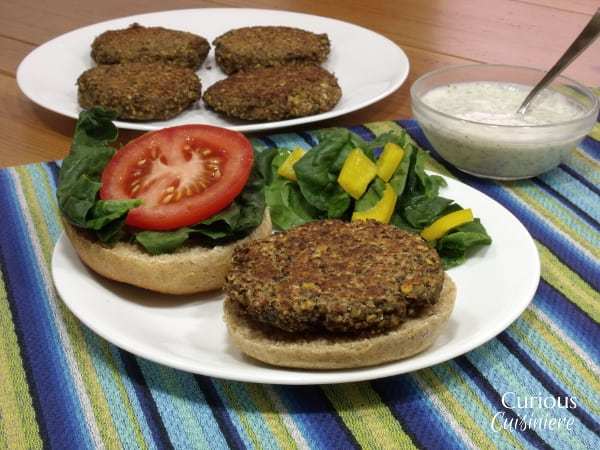 Black Tea Lentil Burger
Black Tea simmered lentils add a deep, earthy, and smoky flavor to these tasty, vegetarian, lentil burgers.
Yield: 5 (1/3 c) patties
---
Ingredients
2

c

water

1 ½

Tbsp

loose black tea

½

c

French lentils,

dry

2

eggs

1

tsp

paprika

½

tsp

onion powder

¼

tsp

salt

¼

tsp

garlic powder

½

c

whole wheat bread crumbs
Instructions
Place water and loose tea in a small saucepan. Bring water to a boil. Remove the pot from the heat and steep the tea for 3-4 minutes. Strain the liquid into a medium saucepan, removing all the tea leaves.

Add lentils to the strained tea, cover, and bring to a boil. Reduce the heat to medium and cook until lentils begin to soften, 25-30 min. Remove from heat and let stand 5-10 minutes for the lentils to continue absorbing liquid.

Place lentils and eggs in the bowl of a food processor, and process until nearly smooth. Pour the lentil mixture into a bowl. Add paprika, onion powder, garlic powder, and salt. Mix to combine. Add bread crumbs and mix until the mixture thickens. Let stand for 2-3 minutes for the bread crumbs to absorb any excess moisture. (The patty mixture should be tacky but hold together when shaped.)

Preheat a cast iron skillet over medium-high heat. Scoop the mixture by 1/3 cup measure, shape into a ball, and flatten into a ½" thick patty.

Cook over medium-low heat, roughly 5 minutes per side.

Serve with your favorite whole wheat buns, spinach, tomatoes, and ranch or BBQ sauce.
---
If you liked this recipe, here are some similar dishes you may enjoy!