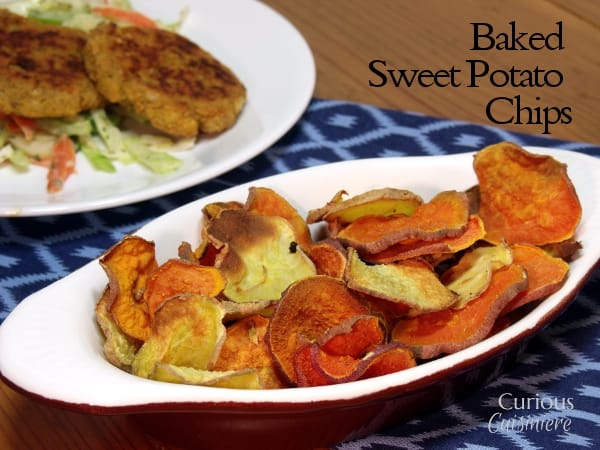 Looking for a bit of a lighter crunch while waiting for the clock to strike midnight tomorrow evening?
We love making our own oven-baked potato chips, to cut back on the grease. But, pick up a few colorful sweet potatoes, and you have an easy, festive, and healthy snack for the party!
Our new year's eve parties are normally more casual affairs.
We'll play board games or watch a movie while making a late dinner of game-day type munchies. Champagne with the stroke of midnight is a must, but it's about as fancy as we get. No sequined party gowns, we're normally in our pjs.
After a year as busy as 2013 has been, it will be good to end the year on a relaxing note. And hopefully starting 2014 off in pjs with a glass of bubbly will be just the thing to set a relaxed tone for the year ahead.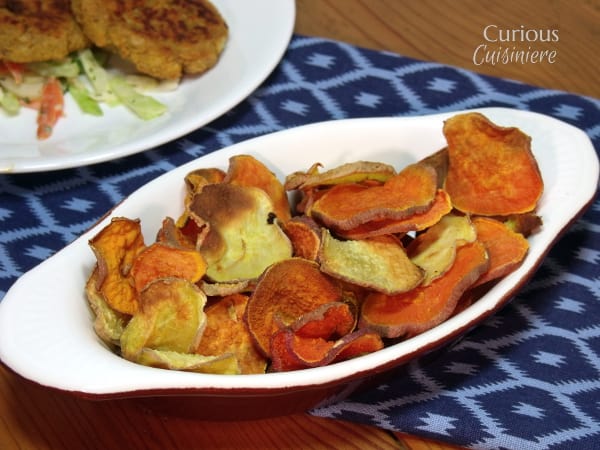 It's no secret that we love sweet potatoes. We'll use these nutrient-dense veggies in everything from Chili, to Shepherd's Pie, to Risotto.
But, there is something so satisfying about the crisp crunch and bright sweetness of sweet potato chips. And, with just a spritz of oil before baking, the best thing about these chips is that you can munch away, knowing you are working on your veggie servings for the evening.

Baked Sweet Potato Chips
Author:
Sarah | Curious Cuisiniere
Ingredients
1 small sweet potato per person
Instructions
Preheat oven to 350F.
Slice sweet potato(es) roughly 1/16 inch thick with a mandolin.
Spray a foil-lined baking sheet with cooking spray. Place the potato slices on the baking sheet, in a single layer. Spritz the top of the slices with more cooking spray.
Bake potatoes for 15 minutes. Remove from oven and flip slices.
Return to oven and bake an additional 10 minutes. Check and flip again (the smaller slices will need to be taken off now.)
Continue baking, checking and flipping every 5 minutes until all the slices are dry and firm.
Let cool, and enjoy.
Notes
These chips are best eaten right out of the oven. Don't be afraid to keep a couple batches running!
Nutrition Information
Serving size:
ONE POTATO
Calories:
54
Fat:
.1g
Carbohydrates:
12.4g
Sugar:
3.9g
Sodium:
22mg
Fiber:
2g
Protein:
1.2g
If you liked this recipe, here are some similar dishes you may enjoy!