You'd never guess these baked mac and cheese bites actually fall on the side of a lightened up appetizer. There's a secret ingredient that even makes them a bit healthy!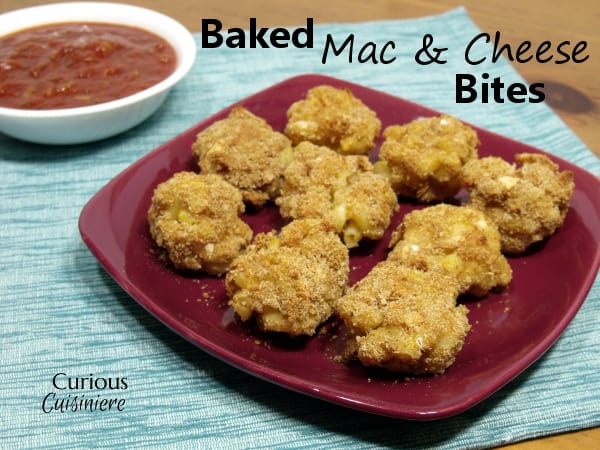 It's always exciting when we get to see our Secret Recipe Club assignments for the month. This month, we were assigned Traci's blog, Burnt Apple. Why Burnt? You'll have to head on over to her about page to find out her wonderful journey from brick muffins to creative, healthy, and delicious recipes.
Her philosophy that healthy eating can be delicious, balanced, and happen on a budget struck right at home for us. I knew we had the same ideas when I saw all the creative ways she finds to make her food healthy. Like the recipe we picked to make for today: her Mac and Cheese Balls.
There are many tasty-looking recipes on her site, like Garlic Pesto Stuffed Chicken in Croissants. Yum! We will be trying her Crock Pot Orange Chicken sometime soon, for sure. And, while Churros will never be a health food, her Baked Churros look delicious and so much lighter than the fried version that no one should feel guilty about making an occasional treat of them.
Baked Healthy Mac and Cheese Bites
These baked mac and cheese bites were a remake from an appetizer Traci's family had at Cheesecake Factory.
Guess what her secret ingredient is.
Squash!
Yup. Butternut squash adds creaminess and thickness to her cheese sauce, along with just a hint of sweet nuttiness that really complements the cheese.
We adjusted her recipe ever so slightly, cutting it in half and adding our go-to secret ingredient to make a cheese sauce taste cheesier: mustard powder. We also didn't use Parmesan cheese like she does in her original recipe. Rather, we stuck with some grated, sharp cheddar.
The result was a plate full of crispy, cheesy finger-food that didn't leave us feeling greasy or heavy. A fantastic addition to any game day spread!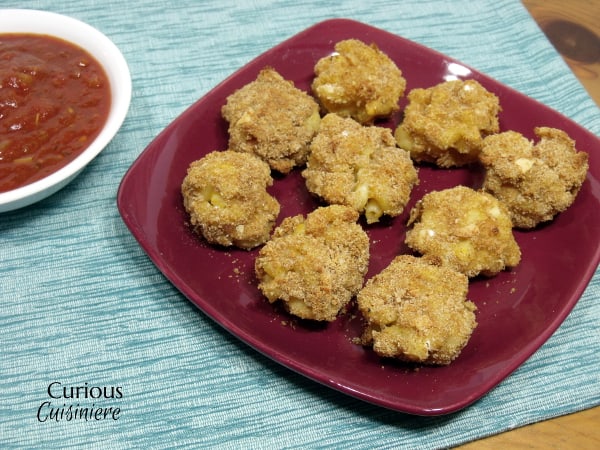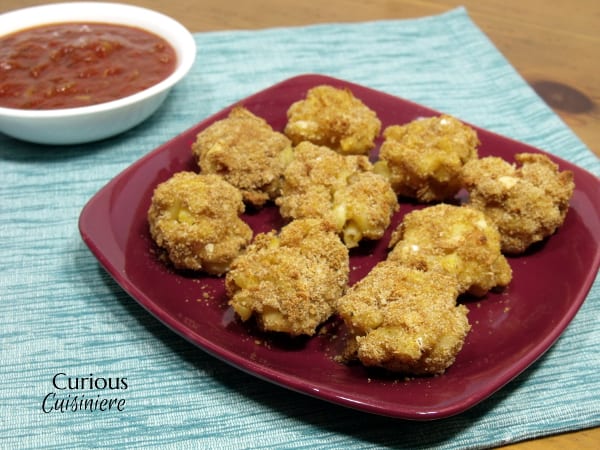 Baked Mac and Cheese Bites
You'll never guess the secret ingredient in these Baked Healthy Mac and Cheese Bites! They're tasty and guilt free snacking!
Yield: 2 dozen bites
---
Ingredients
4

oz

elbow macaroni,

dry

½

c

butternut squash,

pureed*

1 ½

tsp

unbleached all-purpose flour

¼

c + 2 Tbsp

chicken or vegetable broth

(we prefer low sodium)

¼

c + 2 Tbsp

milk

½

tsp

salt

½

tsp

mustard powder

1/8

tsp

ground black pepper

½

c

sharp cheddar cheese,

shredded and at room temperature

1

egg,

beaten with 2 Tbsp water

2/3

c

breadcrumbs
Instructions
In a medium saucepan, bring water to a boil and cook macaroni, uncovered, until al dente, 7-8 min. (You want the pasta still a bit firm, but cooked through.) Drain and set aside to cool slightly.

In a medium saucepan, whisk squash with 1 ½ tsp flour, until no lumps remain. Add broth, milk, salt, mustard powder, and pepper. Bring mixture to a simmer and add cheese a few tablespoons at a time, mixing constantly as each addition dissolves and incorporates before adding more. (This may seem unnecessary, but it will result in an evenly cheesy sauce, rather than one with cheese clumps.)

Once the sauce is thick and cheesy, add cooked pasta and stir until evenly coated.

Grease a mini muffin pan (or a lined, greased baking sheet can be used). Spoon 1 Tbsp of macaroni mixture into each muffin cup. Place pan in the freezer for 1 hour.

Remove macaroni from the freezer and preheat your oven to 425F.

Place flour, egg and water mixture, and breadcrumbs each in separate bowls.

Toss each macaroni ball in flour, coat with egg mixture, and then roll in breadcrumbs. Place coated balls on a greased, lined baking sheet. Repeat until all the macaroni balls are coated.

Bake for 10 minutes. Remove balls from the oven, flip them to their other side for even cooking, and cook an additional 5 minutes. Turn the oven to broil for 1 minute to finish them off.

Serve warm.
---
Recipe Notes
*If you chop the squash into 1" chunks and freeze the pieces, when they thaw, they are soft enough to puree. Otherwise, boil the squash in just enough water to cover, until tender. Let cool, and then puree. Roughly ¾ of a cup of cubes yields ½ c puree.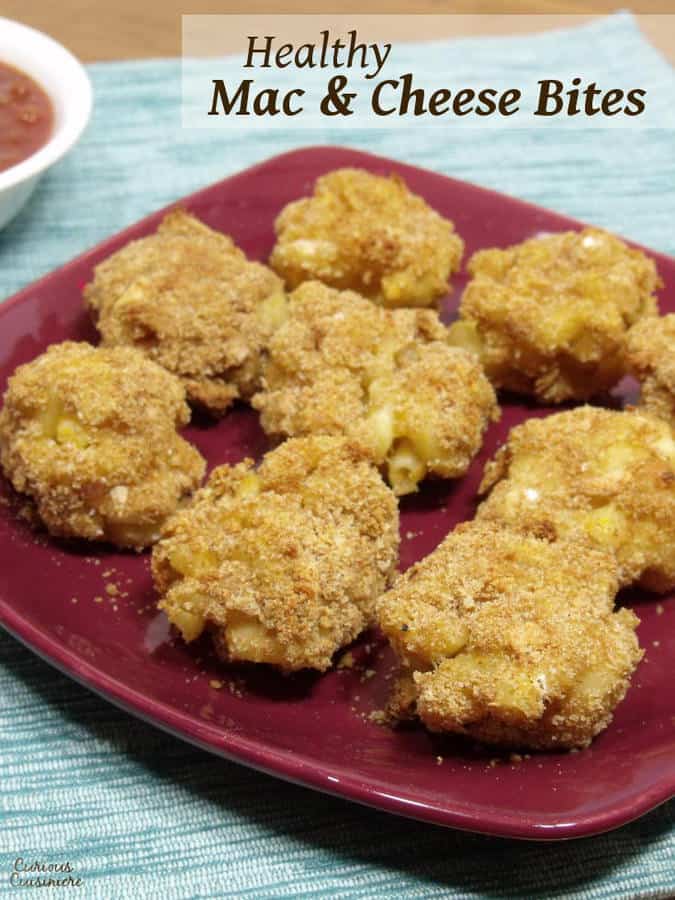 If you liked this recipe, here are some similar dishes you may enjoy!