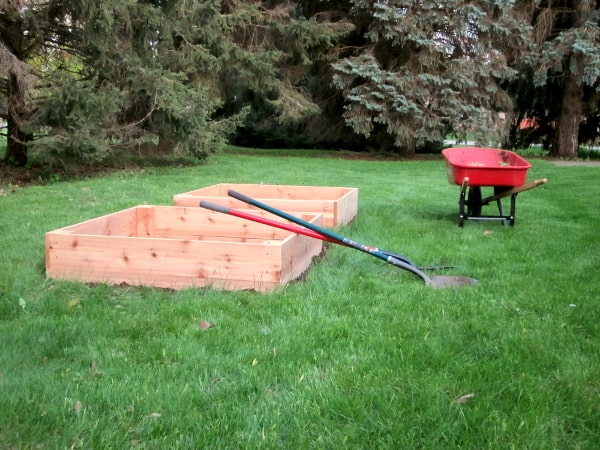 Dirt is dirt. Right?
Unfortunately, when it comes to gardening, it's not. This past weekend, we got up close (and a little too personal) with the dirt in our yard.
This weekend the rain finally let up. Which meant it was time to dig some holes and put the raised beds into the ground.
First, we set out the beds on the yard and got them situated. There's no going back (at least this year) once you start on the holes!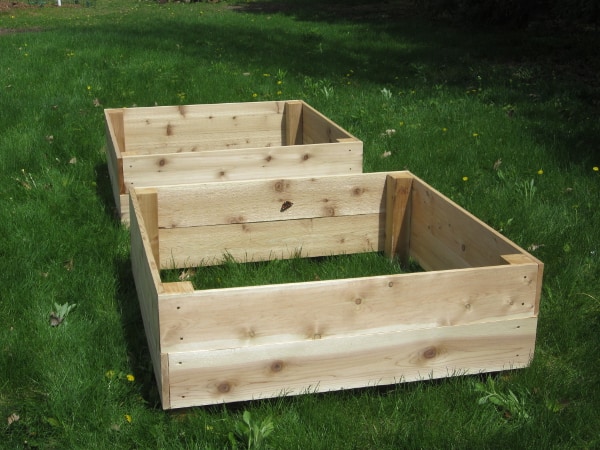 Then came the digging.
We did make the process a bit harder for ourselves by deciding to use the sod we were removing from these 4×4 areas to fill in some dead patches in the lawn.
The concept is pretty simple: cut the sod into sections and dig about an inch under the grass to pry up the sod. The grass roots are thick enough that it tends to pry up nicely, just like squares of (really heavy) carpet.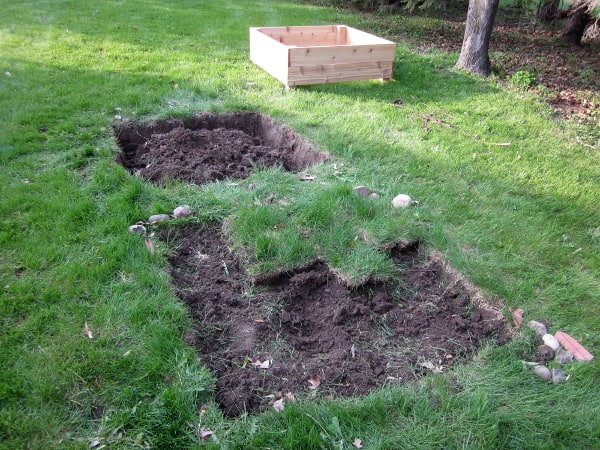 Once we got the sod up, and had the dead patches of our yard looking pretty darn good, we just kept digging.
Since we made the beds 18″ high, we dug 10″ deep and then lowered the beds into the holes.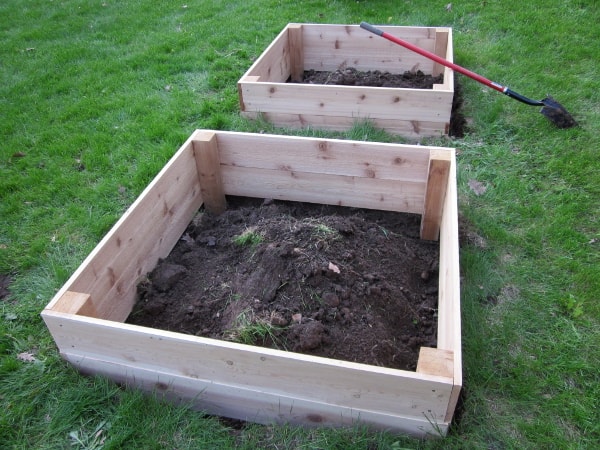 With just a few adjustments to get the beds lined up right, we were able to level out the mounded soil and fill in around the outer edge where we dug too much.
Then it was time to fill the beds with good soil.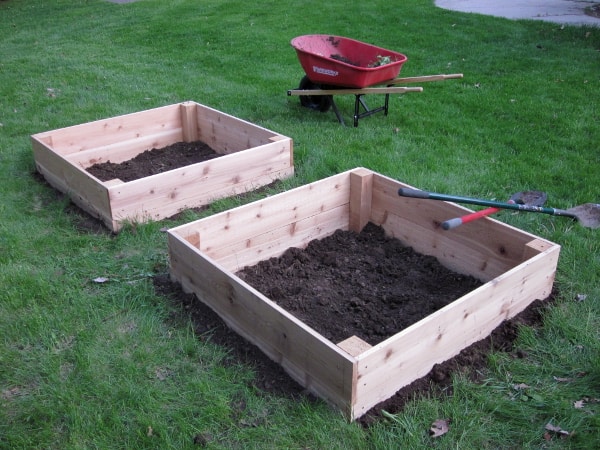 Your plants will be healthier and resist disease better with a good soil that is nutrient rich and the perfect texture.
Sandy soil has large particles and feels gritty, like coarse sand. Plant roots can grow well in this soil, but water also drains quickly through it, so the plants don't get sustained moisture. Clayey soil is tight and compact, making it difficult for water and roots to pass through. When wet, clay soil stays overly soggy, but when dry it gets rock hard. The ideal soil is somewhere in between, called loam. Adding dense material like manure or clayey soil helps to fill in sandy soil, while adding compost, coarse sand, or peat moss helps give space to clayey soil.
Unfortunately for us, we have very clayey soil in our yard. Clayey and rocky. Like someone dumped a playground of sidewalk gravel into a vat of potters clay.
Seriously.
Sure, we could have saves ourselves a headache (or, rather, a shoveling backache), and just bought some really good soil. But, where's the fun in that? And, then we would have had a huge mound of dirt leftover from what we dug up.
Instead, we used a mixture of the soil we removed, compost, and peat moss.
The compost came from a pile we started last spring with the best of intentions, but, after leaving it alone for a bit too long, some hornets took up residence inside. So, we raised the white flag and let them have the pile. Imagine our surprise when, as we started our compost again this spring, we found some incredibly rich soil at the heart of last year's pile. I guess nature will do her work one way or another!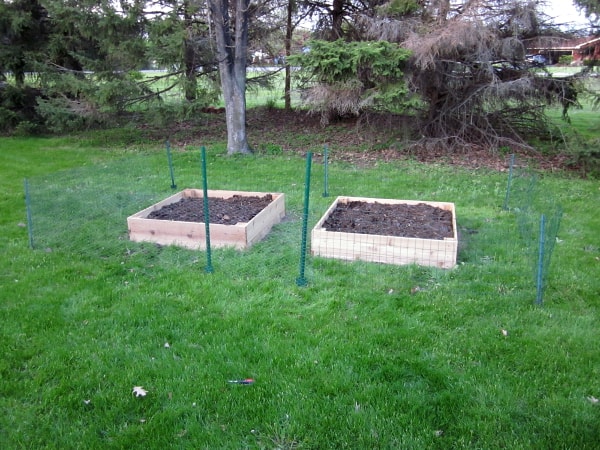 Once the beds were filled, there was only one thing left.
The fence.
After all this hard work, we would really hate for critters to get to our baby plants. This year we're starting with a pretty basic and easy to install 3′ high fence of chicken netting and rabbit guard leftover from Tim's parents' garden. We have a number of small and large critters that use our yard as a playground and lunchbox, so hopefully this will be enough. Only time will tell.
Next time, we finally get to the plants! (Are you as excited as we are?!)