Vegetarian Shepherd's Pie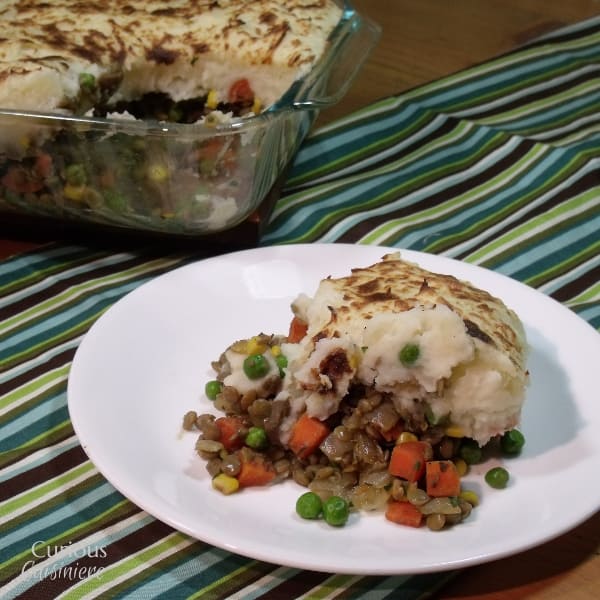 Ok, so it's two days before St. Patrick's Day, and if you haven't already started getting in the spirit, my vote is that it's time to start!
And for us Catholics, we have double reason to celebrate, since we now have a Pope! But, it's also a Friday during Lent, which means we're all looking for a meatless dish for dinner.
Sure, we could get in the spirit with some fish and chips, but how about mixing it up a bit. (Since fish fry Friday's have probably been a frequent Friday dinner option for the past month.)
The problem comes in that most of the Irish fare you think of is either a beef-based stew, corned beef, or some other red meat and potatoes dish.
So, we decided to think outside of the box.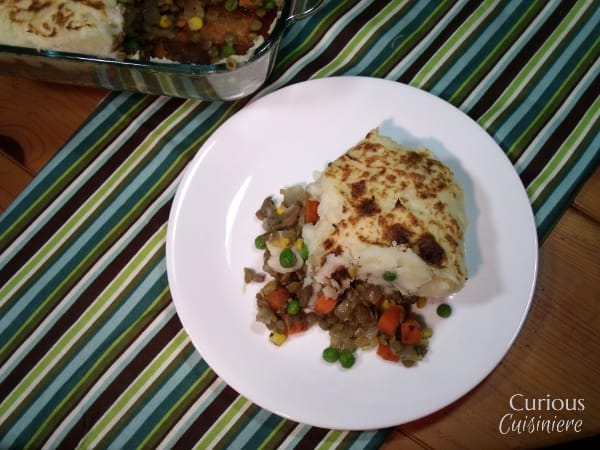 This Shepherd's Pie uses lentils to fill in for ground beef (or lamb – I promise I won't get started on the great Shepherd's Pie vs Cottage Pie debate. At least not in this post.). The lentils create a hearty and filling dish, giving a texture that is surprisingly similar to ground meat, while still bringing their own earthy and slightly nutty flavor.
While it's not your classic Shepherd's Pie, it is definitely a tasty meatless alternative.
You might not even miss the meat! (…I said might.)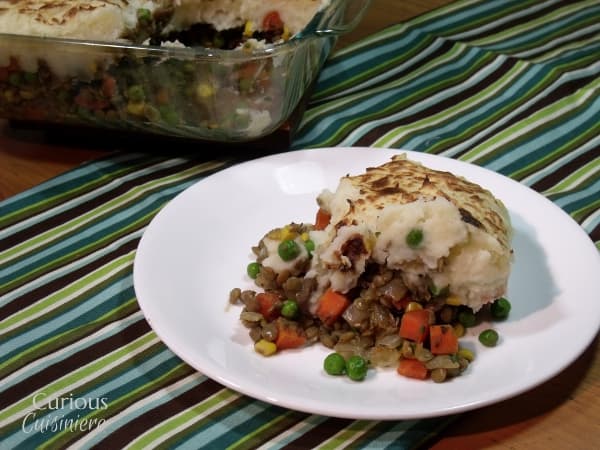 Vegetarian Shepherd's Pie
Author:
Sarah | Curious Cuisiniere
Ingredients
For the Lentils
1 c dry lentils
2 c water
2 bay leaves
For the Potatoes
2 lb potatoes (about 4 -5 medium/small potatoes)
½ c milk
½ tsp lemon juice
¼ c sour cream
½ tsp salt
½ tsp minced garlic
⅛ tsp nutmeg
Putting It All Together
1 tsp oil
1 onion, diced (1c)
2 medium carrots, diced (roughly 1 c)
1 c frozen corn
1 c frozen peas
1 (4oz) can sliced mushrooms, drained
2 tsp Worcestershire sauce
1 Tbsp parsley
1 tsp thyme
1 tsp oregano
½ tsp salt
½ tsp pepper
Instructions
In a small saucepan, mix lentils with 2 c water and bay leaves. Cover and bring to a boil. Simmer, covered over low heat until lentils are tender and most of the water has been absorbed, 15-20 min.
Peel potatoes and cut into ½ - 1 inch cubes. Place potatoes in a medium saucepan and cover with water. Cover and bring to a boil. Simmer over medium heat 10-15 minutes, until tender when pricked with a fork.
When the potatoes are done, drain the liquid, reserving about one cup.
Add milk, lemon juice, sour cream, garlic, salt, and nutmeg. Whip potatoes with an electric hand mixer until smooth, adding reserved liquid if necessary.
In a large, non-stick skillet with high sides heat oil. Add onions and sauté until soft. Add carrots and sauté an additional 5 minutes, until carrots begin to soften. Add corn, peas, mushrooms, Worcestershire sauce, and seasonings. Mix and heat through.
When mixture is heated and carrots are soft, add cooked lentils and mix well.
Grease an 8x8 oven-safe baking dish. Spread lentil mixture into the baking dish. Top with mashed potatoes.
Place dish into the oven and broil 10-15 minutes, until the top is golden.