Sweet Potato Shepherd's Pie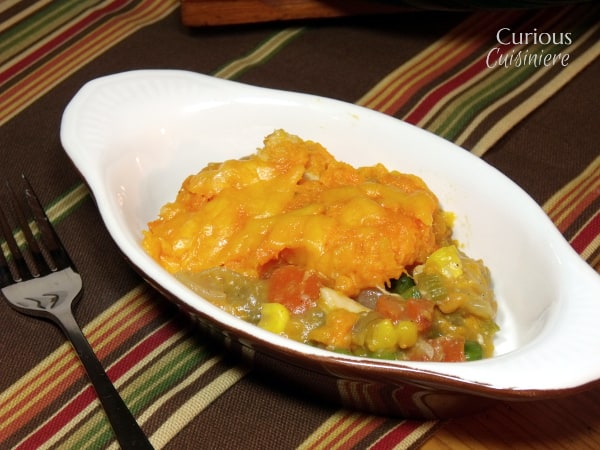 Have you recovered from Thanksgiving's food coma yet?
How about those leftovers?
I think we could eat turkey sandwiches topped with cranberry sauce and leftover stuffing for the rest of the year and not get too tired of the combination, but sometimes it is a nice break to mix things up a bit.
We've done a Vegetarian version of the classic Shepherd's Pie before, but this time we are really shaking the favors up.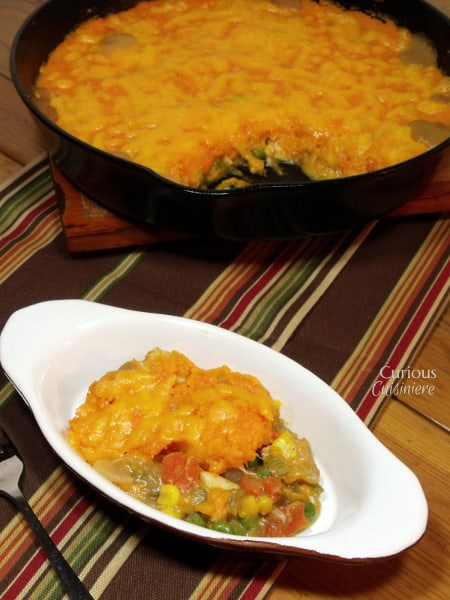 All those Thanksgiving veggies can be thrown into the base of this pie, with some of that delightful turkey. Even extra gravy gets a chance to shine. (Seriously, why is there always SO MUCH gravy left over? And really, what do you do with it after Thanksgiving dinner? It just sits, so lonely, in the fridge.)
Some Worcestershire sauce gives the familiar flavors a new dimension. But, the real mixer-up comes from the sweet potatoes.
I don't know about you, but sweet potatoes typically stand alone on my Thanksgiving plate. They're off in their own little sweet world, somewhere next to the cranberry sauce. But here, we've brought them into the flavor combo, giving everything a sweet hint that pairs remarkably with the savory notes from the gravy.
And the cheddar cheese? We asked the same question as we put this together, but trust us. It's well worth the outside-of-the-box thinking.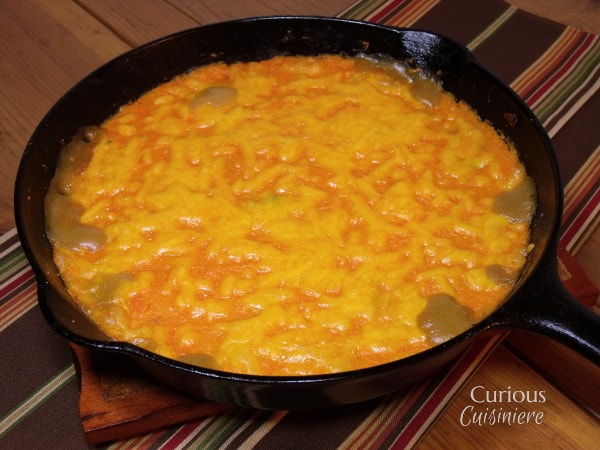 Sweet Potato Shepherd's Pie
Author:
Sarah | Curious Cuisiniere
Ingredients
3 c mashed sweet potatoes*
1 medium onion, diced (1 c)
2 stalks of celery, chopped (1 c)
2 large carrots, sliced into rounds (or 1 c cooked carrots, chopped)
1 c corn
1 c peas
2 c shredded, cooked turkey
2 c turkey gravy
2 tsp garlic powder
1 tsp Worcestershire sauce
1 c shredded sharp cheddar cheese
Instructions
Preheat oven to 400⁰F.
In a 9" cast iron skillet, sauté onion and celery with 2 Tbsp water until they begin to soften, 3-5 min.
Add carrots, and cook until soft, 5-7 min. Add corn, peas, and turkey. Mix well and cook until heated through, 5-7 min.
Add gravy, garlic powder, and Worcestershire sauce. Simmer until thickened, 5 min.
Remove pan from heat. Spread mashed sweet potatoes over top of turkey mixture. Top with cheese. Place pan into the oven and bake 10-15 minutes, until the cheese melts and starts to brown.
Notes
*If you don't have mashed sweet potatoes, prick 2 medium sweet potatoes with a fork and bake at 425⁰F for 1 hour, or until soft. Or, peel the potatoes and chop into cubes. Boil for 15-20 minutes, until soft. — Either way, mash with a pinch of salt and ½ c milk to achieve a smooth consistency.
Nutrition Information
Serving size:
based on 6 servings
Calories:
371
Fat:
9.8g
Saturated fat:
5.1g
Carbohydrates:
47.4g
Sugar:
6.2g
Sodium:
677mg
Fiber:
7.1g
Protein:
24.2g
Cholesterol:
56mg