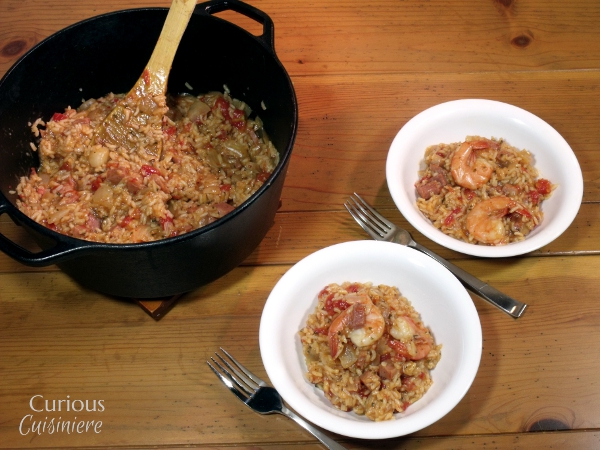 We're getting in the Mardi Gras spirit today with some good old Creole food.
Generous chunks of ham and large, succulent shrimp simmer with tomatoes, rice, and zesty creole seasonings to create this warming and hearty dish.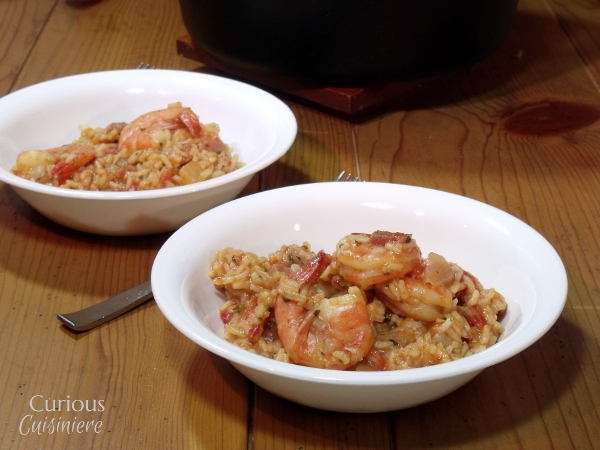 We have the Spanish and French fusion in New Orleans to thank for this flavorful dish.  The Spanish couldn't make traditional paella in the New World due to the lack of saffron, so they improvised with tomatoes.  With the increase of French influence, Caribbean spices were added to the dish to create the jambalaya we know today.
Traditionally, there are two types of Jambalaya: Creole and Cajun.  Both are cooked the same way and include the same basic ingredients of meat, vegetables, rice and seafood.  The main difference is that the Creole version (sometimes called 'red jambalaya') includes tomatoes, while the Cajun ('brown jambalaya') does not.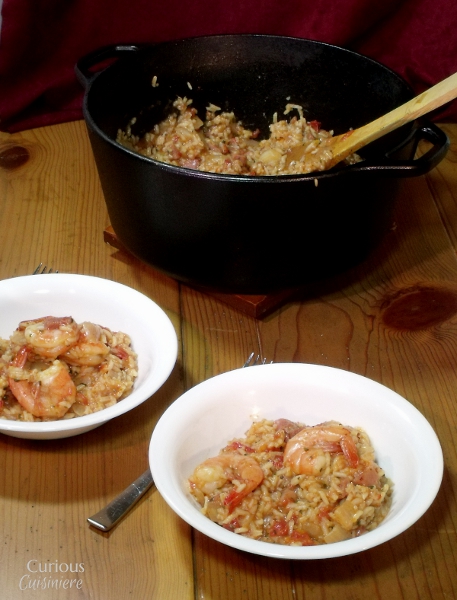 Doesn't it make you want to turn on some zydeco music and dive right in?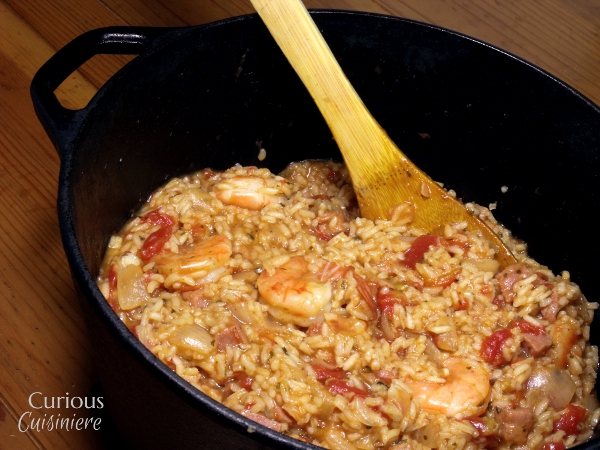 Shrimp and Ham Jambalaya
A quick and hearty one pot dinner with Creole flair.
Author:
Sarah | Curious Cuisiniere
Ingredients
2 Tbsp olive oil
2 onions, coarsely chopped
½ tsp garlic powder
2 c cooked ham, diced
1 ¼ c uncooked white rice
1 (14.5 oz) can diced tomatoes, un-drained
1 tsp salt
1 tsp cayenne pepper
1 Tbsp parsley
2 ½ c chicken broth
1 c (roughly 4 oz) raw shrimp, shelled
Instructions
In a Dutch oven or large soup pot, heat oil and sauté onions until golden, 5-8 minutes. Add garlic powder, ham, and rice. Saute until rice is lightly browned.
Add remaining ingredients except shrimp and bring to a boil.
Cover and simmer 20 minutes, until the rice is tender.
Add shrimp and mix to combine. Cover and simmer 5 minutes more, until shrimp is pink and cooked through.
If you liked this recipe, here are some similar dishes you may enjoy!