This recipe for New England Seafood Chowder creates a versatile and tasty soup, perfect for a cold winter day.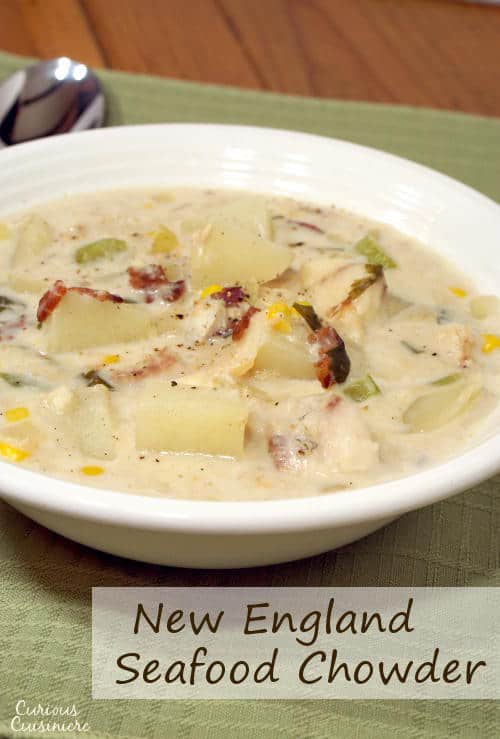 When you think of the States that make up New England, there are many foods that come to mind, but one of the first is a chowder. Clam chowder, corn chowder, even Manhattan Chowder. Any kind of chowder, and you automatically think of those North Eastern States.
The word 'chowder' comes from the Old English word for a fish peddler, 'jowter,' and the French word 'chauderée,' which is a thick fish soup that has been common in the coastal regions of France as far back as the 16th and 17th centuries.
Long-simmering fish and vegetable stews were a staple dish of poor fishermen in nearly any region with a strong fishing heritage. The French fish stews most likely made their way to the New World with the French fishermen who settled on the Canadian coast. As the people migrated south, they brought their recipes with them.
From the beginning, a chowder was different from these traditional fish stews in that a chowder made use of salt pork and ship's biscuits (think saltine crackers) for flavor and to thicken the stew. As milk and cream began to be added to the stew and a butter roux became a common thickening agent, the crackers were no longer needed. However, you still see them used as a topping today for a steaming bowl of chowder.
Seafood Chowder: A Versatile Family Meal
Since, my (Sarah's) Mom is from Maine, chowders were a winter staple in our house growing up. We would have the classic corn chowder, clam chowder, or even fish chowder, but it was always a treat when she would make a seafood chowder. We never knew what seafood was going to find its way into the chowder, but we always had fun trying to identify which bits belonged to which seafood variety.
That's the great thing about this seafood chowder. You can add in whatever seafood you have on hand or whatever your family prefers. It is great for using up seafood leftovers, or those little bits here and there that are left from making another dish. Anything seafood really is fair game. And, because of that, the chowder is rarely the same twice, making it a perfect dish to put into the family dinner rotation.
When we were kids, my brother and I loved crunching up saltine crackers or floating oyster crackers on top of the creamy broth. And, eating a steaming bowl of chowder always makes me think of family dinners and reminds me of our family's New England Heritage. What a better recipe than one that brings back such memories for the kickoff week of National Sunday Supper Month?
That's right, January has been named National Sunday Supper Month. We'd love if you would join us and the rest of the Sunday Supper crew in making a commitment to eating together as a family at least once a week. Start with January, and who knows where the year will take you!
If you'd like to commit to bringing your family together around the dinner table with us, you can take the pledge and join us. If you're on Instagram, we'd love to have you join in the #SundaySupper photo a day Instagram challenge as well. You can find more information about the challenge here.

New England Seafood Chowder
Serves 5-6
Author:
Sarah | Curious Cuisiniere
Ingredients
2 bacon slices, diced
1 onions, diced
1 celery stalk, diced
3 medium potatoes, peeled and chopped
¼ c flour
4 c milk, room temperature
1 c fish (cod, haddock, or salmon work well)
½ lb seafood (optional; clams, oysters, scallops, crab meat, baby shrimp all work well)
½ c corn (thawed if frozen)
1 Tbsp fresh parsley
½ tsp salt
¼ tsp pepper
Instructions
Sauté bacon in a large soup pot over medium-high heat until crispy, 3-4 minutes. Remove the bacon from the pot and place on a plate. Drain all but 1 Tbsp bacon grease from the pot. Add diced onions and celery to the bacon grease in the pot. Sauté over medium heat until soft, 3-4 minutes. Add potatoes. Saute 1-2 minutes.
Reduce the heat to low. Add the flour and stir, cooking until the flour is completely moistened.
Add the milk and increase the heat to medium. Heat the soup until it is steaming, but just before it starts to boil, stirring often. Keep the soup at this point until the potatoes are nearly tender, uncovered, 10 minutes. (Reduce the heat if the milk starts to foam.)
Add the fish and other seafood, and corn. Add the cooked bacon back to the pot. Continue to heat, just below boiling for an additional 10 minutes, until the fish is cooked through.
Add the parsley, salt, and pepper. Taste and adjust seasonings as needed.
Chowder can be made a day ahead and re-heated to let the flavors come together a little more or it can be served immediately.
To kick off National Sunday Supper Month, check out this collection of family favorite recipes from the Sunday Supper crew.
Appetizers and Soups
Main courses
Side dishes
Desserts
Take the Sunday Supper Month Pledge plus Family Friendly Recipes from Sunday Supper Movement
Help us celebrate National Sunday Supper Month by entering the Idaho® Potato Let's Poutine recipe contest, sponsored by the Idaho Potato Commission, with prizes of $500, $200 and $100, plus a ticket for each winner to Food and Wine Conference 2016. All the rules and conditions for entry can be found on our Sunday Supper Movement website.
Join the #SundaySupper conversation on Twitter on Sunday! We tweet throughout the day and share recipes from all over the world. Our weekly chat starts at 7:00 pm ET. Follow the #SundaySupper hashtag and remember to include it in your tweets to join in the chat.
To get more great Sunday Supper Recipes, visit our website or check out our Pinterest board.
Would you like to join the Sunday Supper Movement? It's easy. You can sign up by clicking here: Sunday Supper Movement.
If you liked this recipe, here are some similar dishes you may enjoy!