Pain Ordinaire (French Bread)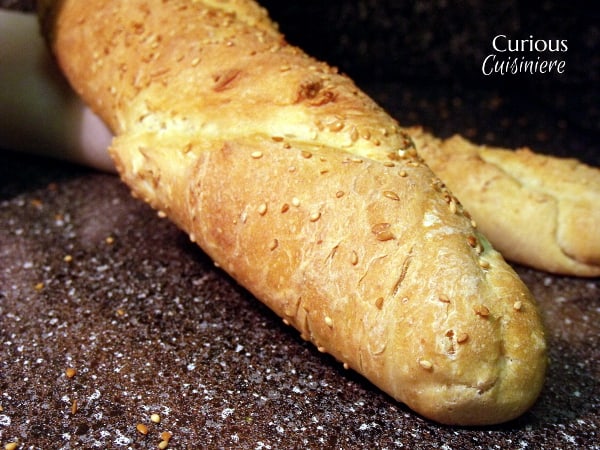 Ever since starting work at a bakery, we've found ourselves making bread less and less.
Not that we don't get the urge, but more that we seem to always have plenty of bread on hand. Really, the only bread we've been making is the occasional flatbread or cornbread to accompany a meal.
Digging through some older pictures recently, I stumbled upon these beauties. A few years ago, when I really got into bread making and was making most of my bread myself, this Pain Ordinaire was a staple.
"Pain Ordinaire" literally translates from French as "Ordinary Bread". But to most, it's know of as "Daily Bread" or a classic French bread.
While not many of us would venture to make a loaf each day, this recipe is so simple, that you could. And the resulting loaf so flavorful, yet not steal-the-show-overpowering, that it makes a great complement to anything you are serving.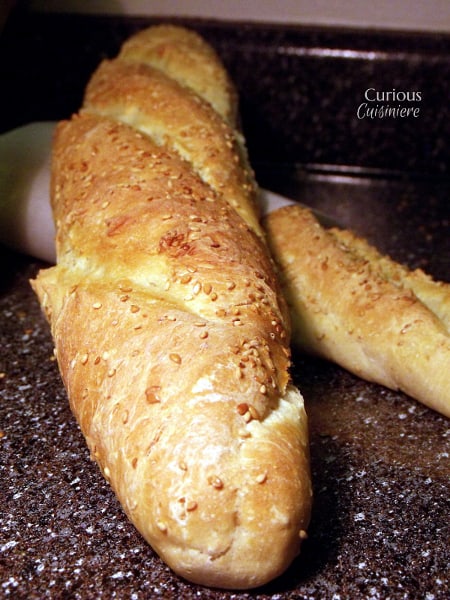 Unfortunately, since I took these pictures a bit ago, I don't have step-by-step shaping instructions for you. But, if you would like a good look at how to properly shape a baguette, take a look at this YouTube clip. He goes through the whole process, but we are just looking for the final shaping, which you will find at minutes 2:20-3:20. (I am not in any way affiliated with the video. I just find it a good visual.)

Pain Ordinaire (French Bread)
Yield: 1 (21") baguette, or 2 smaller baguettes
Author:
Sarah | Curious Cuisiniere
Ingredients
1 ½ c warm water (105-115⁰F)
1 tsp active dry yeast
1 tsp sugar
4 – 4 ½ c all-purpose flour
½ tsp salt
Sesame seeds (optional, for topping)
Instructions
Pour warm water into a large bowl. Sprinkle yeast and sugar over the water, and let stand until the yeast begins to foam (5 min).
Gently stir in 2 c of flour into the water until combined.
Add the salt and 2 more cups of flour until the mixture forms a stiff dough, adding more flour if necessary.
Tip dough out onto a lightly floured surface and knead 8-10 minutes, until smooth and elastic. If necessary, use the additional ½ c of flour to keep the dough from sticking as you knead.
Transfer dough to a greased bowl, turn to coat the dough with oil, and let rise, covered, in a warm, draft-free place until doubled in bulk ( 1 ½ hours).
Place the dough onto a lightly floured surface. Press gently to degas slightly. And, shape into a baguette, roughly 21" long. (I like to divide the dough into two and make two smaller baguettes, simply for ease of fitting them on a baking sheet.)
Place baguette(s) onto a baking sheet and let rise, lightly covered, for roughly 30 min.
-20 min into this last rising time, preheat oven to 400⁰F.
Using a sharp knife, make 3-4 diagonal slashes deep into the dough (roughly ½ inch). Sprinkle the top with cool water and sesame seeds if desired.
Bake 30-40 min or until deep golden in color.
Immediately transfer to a wire rack to cool.