These Corned Beef Cabbage Rolls bring all the fixings of a Corned Beef Dinner into cute little bundles. They're a great way to use up St. Patrick's Day leftovers!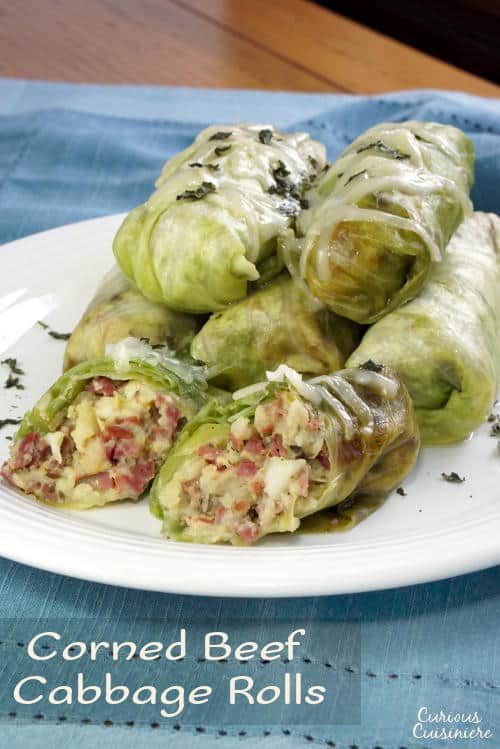 Now, I must say, as I'm writing this it is snowing, and there is talk of more snowstorms in the very near future. This is not the kind of weather that gets you ready for spring. It's the kind of weather that prolongs the winter cabin fever, and leaves you longing for sunshine.
That's why I am so excited about the recipes from this week's #SundaySupper. There may still be a blanket of snow outside, but we get to think about strawberries, fresh spinach, lemons, limes, cucumber, and so many other bright spring ingredients this weekend.
And, who says we can't cook away the last of the winter doldrums?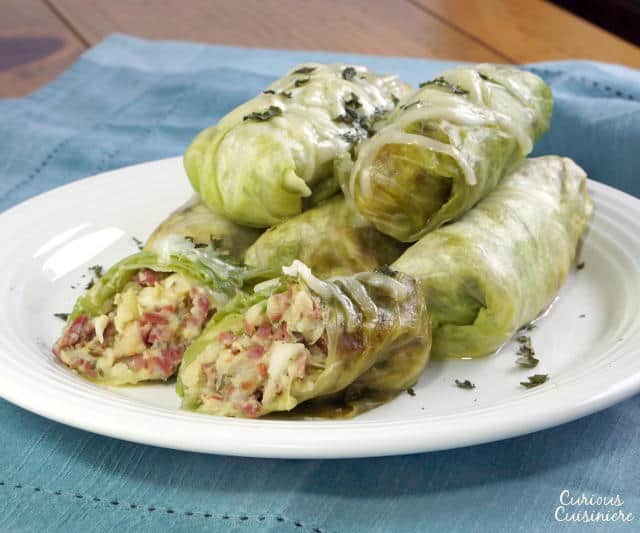 In the spirit of St. Patrick's Day, we've brought these Corned Beef Cabbage Rolls to the spring-time party. All the fixings of your classic corned beef and cabbage dinner are rolled up into these neat little packages and then steamed/simmered to soft, tender goodness.
Take a look inside: cabbage, potatoes, and of course, corned beef.
It might be a crazy fusion of Eastern European technique and Irish-American flavors, but it's fun to mix things up every now and again. And, we do love finding new ways to get our Corned Beef and Cabbage fix!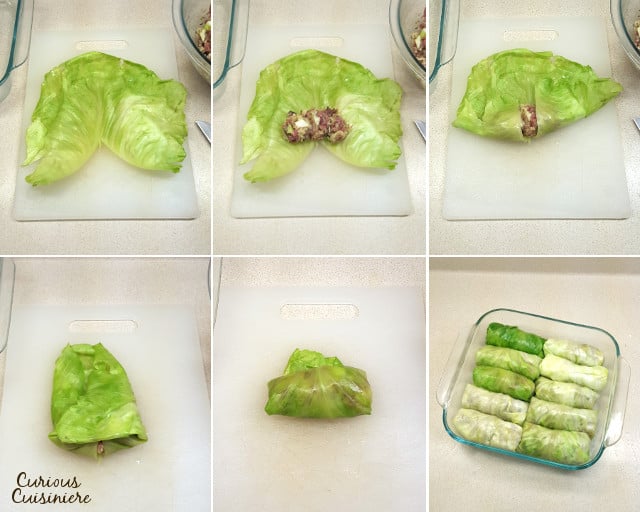 Rolling Cabbage Rolls can seem like a daunting task. For ages we couldn't get our little rolls to stay together. Then, we learned a two tricks from a friend's Polish mother.
The first trick is to start with a whole head of cabbage. After cutting the core out of the bottom, the entire head should be steamed for 15-20 minutes (depending on how big your cabbage head is). This will soften the leaves, making it easier to remove them from the head and easier to stick to themselves, creating a nicely sealed roll.
The second trick is to cut out the vein of each leaf before filling and wrapping the rolls. (See the pictures above.) Withoug the stiff vein, the leaves are soft, supple, and easy to roll.
So, there you have it, classic Polish cabbage roll tricks that will have you rolling like a pro.
Happy rolling!

Corned Beef Cabbage Rolls
Recipe can be doubled to fit in a 9x13 pan.
Author:
Sarah | Curious Cuisiniere
Yield:
1 8x8 pan (Serves 3-4)
Ingredients
1 large head of green cabbage
For The Filling
2 c cooked corned beef, diced
2 c leftover mashed potatoes*
1 Tbsp prepared mustard
1 ½ Tbsp parsley
¼ tsp ground black pepper pepper
½ tsp salt (optional)
1 egg
Putting It All Together
½ c beef broth (or reserved broth from cooking your corned beef)
1 ½ tsp flour
? c shredded Swiss cheese
Instructions
Place 1 inch of water in a large pot. Using a sharp paring knife, carefully cut the thick stem out of the bottom of the cabbage head leaving all of the leaves intact. Place the cabbage head into the pot of water. Cover the pot and bring the water to a boil. Steam the cabbage for 15 minutes. Once the cabbage has steamed, remove it from the pot and place it on a plate to cool.
While the cabbage is steaming, preheat the oven to 400F and make the filling.
In a large bowl, mix together cooked corned beef, mashed potatoes, mustard, parsley, and pepper. Taste the mixture and add the salt only if necessary. (Some corned beef is quite salty and you will not need the extra salt. Also, if you are using the corned beef cooking liquid, you probably will not need to add any extra salt to this filling.) Add egg to the corned beef mixture, mix well and set aside.
Once the cabbage is cool enough to handle, gently remove 15 of the outer leaves from the head. Set them aside. Chop 1 cup of the remaining head of cabbage and add it to the corned beef filling mixture. Mix well.
Shaping the Rolls
Lay one of the leaves you removed from the steamed cabbage head on a cutting board, with the stem facing towards you. Cut out the tough bottom section of the vein in the leaf, creating a V-notch. Place roughly ¼ c of the corned beef filling at the center of the leaf (around the tip of the notch you just made). Roll the bottom (cut side) of the leaf up over the filling. Fold the two sides in. Continue rolling away from you to wrap the filling tightly in the remaining leaf. Place roll in a greased 8x8 baking dish. Continue with remaining filling and leaves, creating two rows of 5 rolls in your baking dish. (You will have removed extra leaves from the cabbage head, just in case some tear or don't work well for rolling. It is possible you will have a little extra filling left over as well.)
Whisk the flour into the ½ cup of beef broth or reserved corned beef cooking liquid, until no clumps remain. Pour the broth over rolls in baking dish.
Cover the dish tightly with aluminum foil and bake in the preheated oven for 30 minutes.
Remove the dish from the oven and top the rolls with shredded Swiss cheese. Let stand, covered, 5 minutes. Serve with big slices of rye bread.
Notes
*Or leftover boiled potatoes from your Corned Beef and Cabbage dinner that have been mashed.
Many thanks to Mama's Blissful Bites for hosting this week's #SundaySupper, which is a veritable garden of spring and St. Patrick's Day inspired recipes to get us looking forward to warmer weather and sunshine. Let's warm up around the table with our friends from our #SundaySupper team and share delicious spring time recipes!
Green and Spring Dishes Menu Includes:
Breakfast
Apps, Bread, Salads, Soups and Dressings:
Main and Sides:
Desserts:
Beverages:
Please be sure you join us on Twitter throughout the day during #SundaySupper. We'll be meeting up at 7:00 p.m. EST for our weekly #SundaySupper  live chat where we'll talk about our favorite cookout recipes! All you have to do is follow the #SundaySupper hashtag, or you can follow us through TweetChat!
This is one of the recipes from the early days of Curious Cuisiniere, when we were still newbies behind the lens of a camera when it came to photographing food.  We've updated the recipe since the early days, but we've left these images here as a testament to how far we have come. Enjoy the throwback!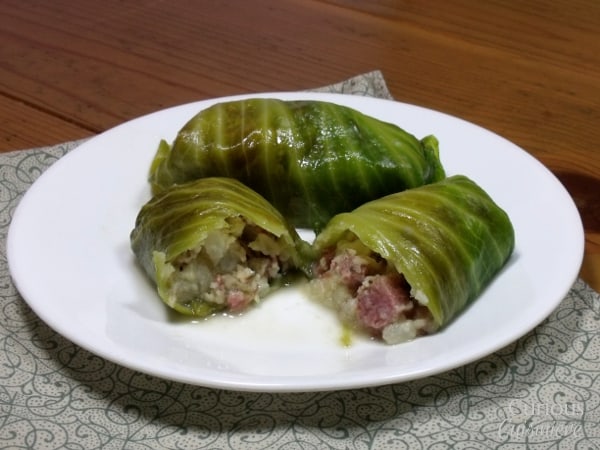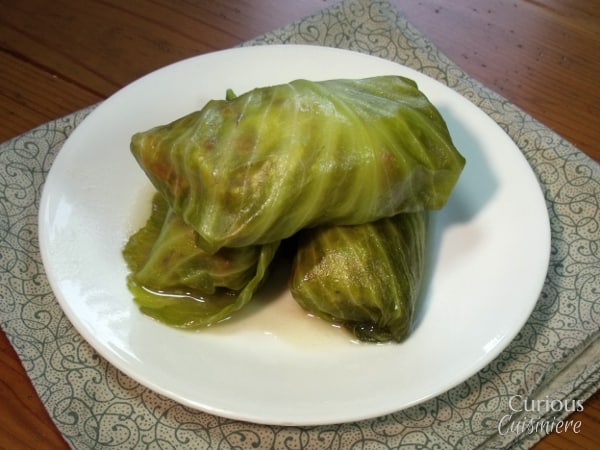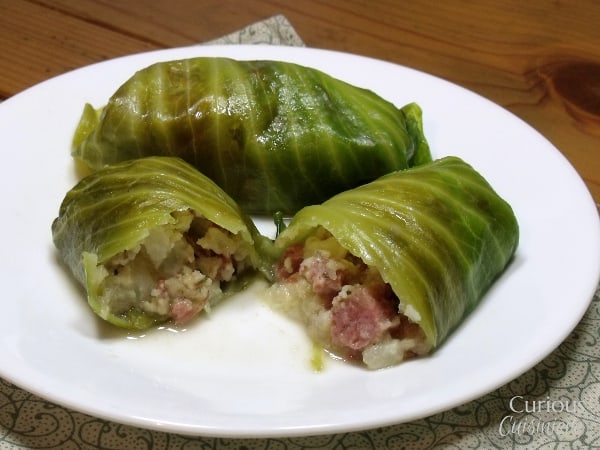 If you liked this recipe, here are some similar dishes you may enjoy!