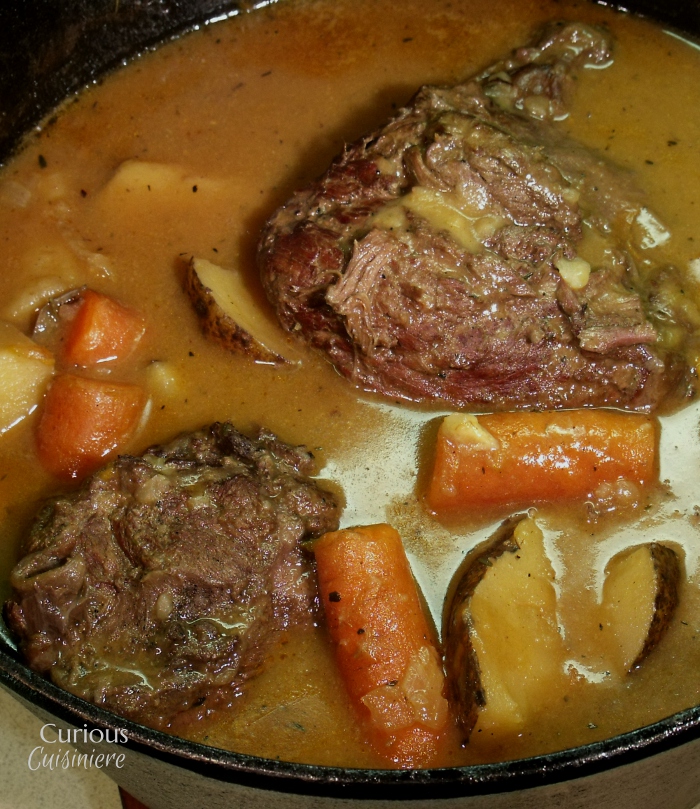 One of the things I really love about having people come to visit is the excuse it gives us to make a fancy meal.
You can't pound a whole roast or massive lasagna with two people.  You just can't.  Unless of course, you want leftovers for the month.  And sometimes we just get a hankering to cook something a bit bigger and out of the ordinary.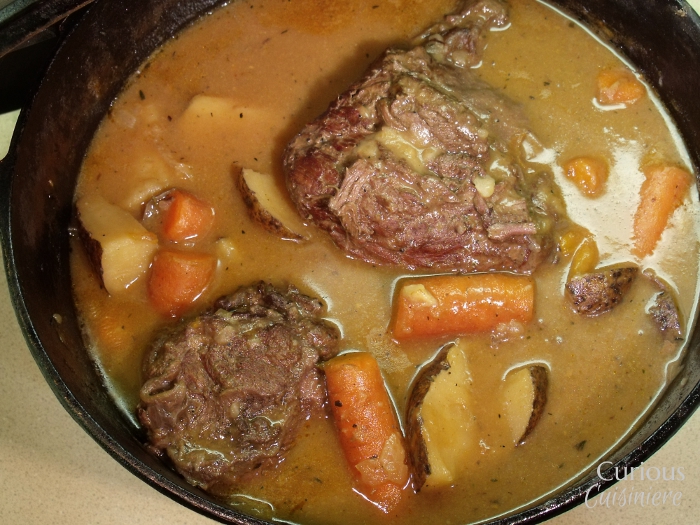 A few weekends ago, my parents came up to visit while bringing my brother back to school.  It was so nice to see them, and Tim and I were excited for an excuse to break out a venison roast.
We slow simmered this roast for 3 hours, resulting in tender, fall-apart meat, infused with the robust flavors of beer, a slight tartness from the mustard, and just the perfect hint of sweet from the tomato paste and brown sugar.
It was the perfect, hearty meal for spending hours at the table, catching up with family and enjoying the company.
And, did I mention, it made the house smell AMAZING!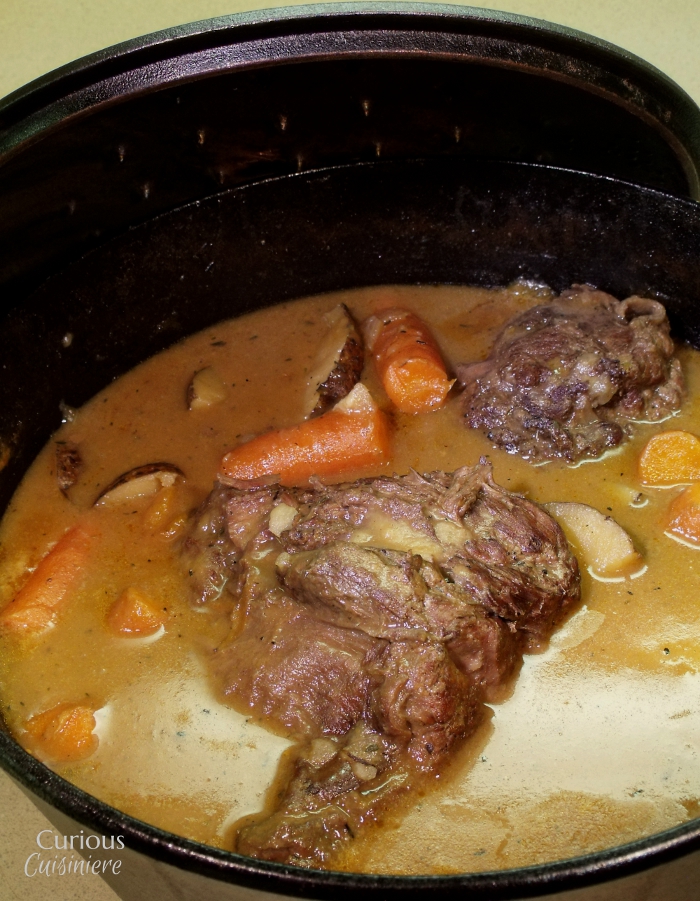 Beer Braised Venison Roast
Recipe adapted from Williams Sonoma
Ingredients
4lb venison roast (or beef)
2 ½ tsp salt
½ tsp pepper
2 Tbsp oil
1 Tbsp unsalted butter
2 large onions, cut in half and then quartered
6 medium potatoes, cut into 1" cubes
5 large carrots, cut into 1" chunks
2 (12 oz) bottles of beer (dark lager style is best)
2 c vegetable stock
2 Tbsp brown sugar
3 Tbsp yellow mustard
2 tsp tomato paste
1 tsp thyme
¼ c flour
Instructions
Season roast with salt and pepper.
In a Dutch oven, or large soup pot, heat oil and sear roast on all sides. Remove roast from pot.
Over medium heat, melt butter in pot. Add onion and saute until golden brown. Add potatoes and carrots. Stir in beer, vegetable stock, brown sugar, mustard, tomato paste, and thyme. Mix well.
Add roast to pot and bring mixture to a simmer.
Cover, and simmer over low heat for 2-3 hours.
Thirty minutes before serving, remove the lid from the pot.
Place ¼ c flour in a small bowl. Ladle ½ – ¾ c of broth from the simmering roast into the flour and whisk until no lumps remain. Pour mixture into the stew and stir to incorporate.
Continue to simmer, uncovered, until sauce thickens slightly.
If you liked this recipe, here are some similar dishes you may enjoy!