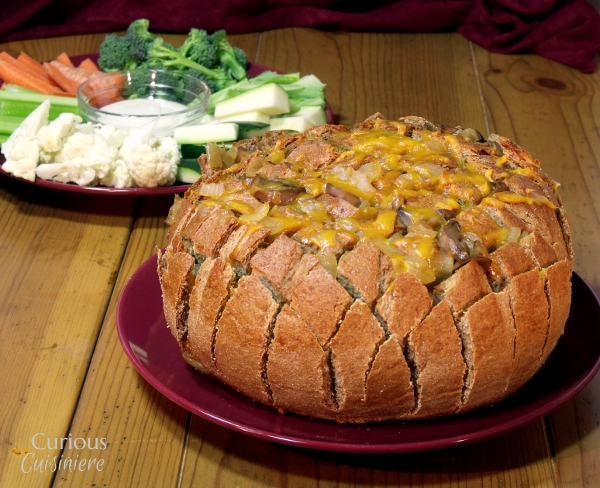 The Packers may not be in the Super Bowl this year, but that won't stop us from partying – Wisconsin style.
Bring on the beer and cheese!
This pull apart bread is the perfect finger-food appetizer, fusing all that is glorious about that combo.
First, the bread is stuffed with a base layer of cheddar cheese, followed by mushrooms and onions which have been caramelized in a beer reduction.  Of course, it wouldn't be finished until we topped the whole thing with more cheese!
A short spurt in the oven brings the cheese to gooey goodness and gives the flavors just the right amount of mingling time.
Then it's time for the crew to sweep in.
You may want to grab some quickly.  This stuff has a way of disappearing before you even knew it was there.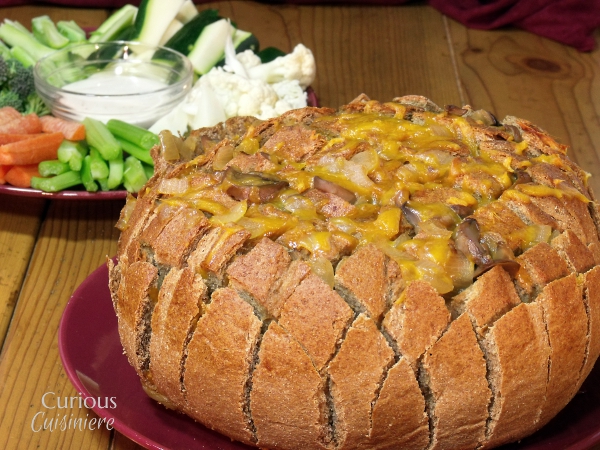 Beer and Cheddar Pull Apart Bread
This party pull apart bread is stuffed to the brim with gooey cheddar and beer infused veggies. Get ready to dig in!
Ingredients
1 (2 lb) round loaf (we used whole wheat)
1 lg onion, diced
1 (4 oz) can sliced mushrooms, drained
1 (12 oz) bottle, lager style beer
1 ½ – 2 c shredded cheddar cheese
Instructions
In a medium saucepan, simmer onions, mushrooms and beer, uncovered, until the beer has been mostly absorbed.
While the veggies are simmering, preheat oven to 350°F.
Slice the loaf length-wise and width-wise, leaving a ½" to 1" uncut at the bottom of the loaf. (Do this carefully, so you don't slice too far through. What end up being your "corners" are the trickiest and most prone to tearing off.)
Place cut loaf on a foil-lined baking sheet.
Stuff cheese into the slits. Follow with the onion and mushroom mixture. Arrange any onions that don't fit on the top of the loaf. Sprinkle with cheese to top.
Wrap the loaf in aluminum foil, so that it is completely enclosed.
Bake at 350°F for 15 minutes.
Remove from oven and peel back the foil, exposing just the top of the loaf. Return to oven to bake 10 minutes more.
Let stand a few minutes to cool before serving.
If you liked this recipe, here are some similar dishes you may enjoy!